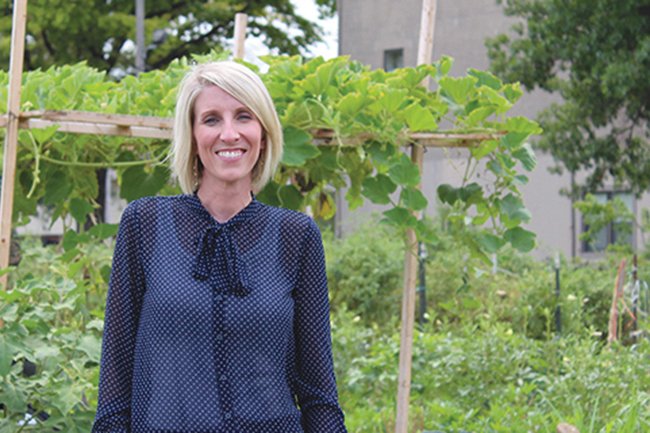 by Lauren Solidum
The heart of Catholic Charities of Northeast Kansas has always been with the heart of those we serve.
That's why we are excited to announce that this summer, our administrative office and food pantry located at 2220 Central Ave., Kansas City, Kansas, is moving to a building situated in downtown Kansas City, Kansas, at 600 Minnesota Avenue.
Catholic Charities is deeply invested in Wyandotte County. It is the place we first called home. We set up a formal office there over 60 years ago, after recognizing the great need for assistance within the community.
Our commitment of serving neighbors in need has grown considerably over the years. We have evolved from being a safety-net agency to one that strengthens individuals and families through skills training, financial education and employment.
Due to the expansion of our services, we have spent the last few years analyzing and planning for a new office space. We were excited when we came across this building space, as it ticks so many of our "must-have" boxes.
Conveniently located on a city bus route, it allows Catholic Charities to be more visible and accessible to those who benefit most from our programs.
Also, it meets our criteria of being near many of the other service agencies that we partner with in the community.
THERE'S NO BETTER TIME TO GET INVOLVED
This new space is not just for those we serve and our staff, but also for our volunteers. Catholic Charities couldn't do what we do without the dedicated volunteers who selflessly serve side by side with us.
Our new location is conveniently positioned with ample parking and easy access from the highway and major thoroughfares.
While our volunteers come from all over our service area, there is no better time for those in our Wyandotte County parishes to take this opportunity to serve in their local community.
Learn more about how you can get involved by visiting our website here.
COME CHECK US OUT!
We can't wait to show you our new digs! That's why, after we have completely moved in, we will be adding 600 Minnesota Avenue to the list of stops we make on our Catholic Charities' bus tour.
Join us to learn more about Catholic Charities' mission and operations and view our exciting new space. Reserve your spot online at: catholiccharitiesks.org/bus-tour.
We look forward to hosting you at our new place, once renovations are complete and the dust is settled.
We will be working closely with our archdiocese to schedule a blessing of our new building, along with an open house and KCK Chamber ribbon cutting.
We appreciate all of your incredible support during this time of transition!