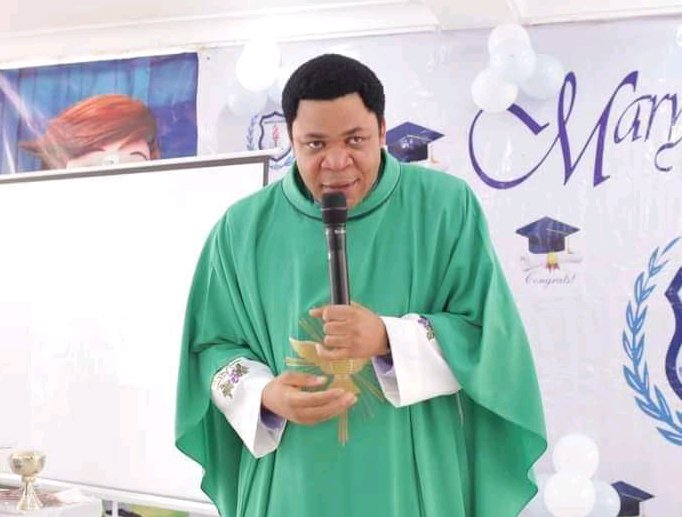 by Ngala Killian Chimton
(OSV News) — Nigerian priest Father Marcellinus Obioma Okide, who was kidnapped Sept. 17, has been freed, his diocese announced. He regained his freedom Sept. 21, according to the Catholic Broadcast Commission of Nigeria.
The Diocese of Enugu confirmed the release, saying in a statement cited by Sahara Reporters it was glad that the priest had been released "from the den of the kidnappers" unharmed.
"We are glad to inform you that our brother and priest, Fr. Marcellinus Obioma Okide, has been released from the den of the kidnappers," diocesan chancellor Father Wilfred Chidi Agubuchie said.
"The Catholic Diocese of Enugu is grateful to the Almighty God for His protection over Fr. Okide, and thanks you for your prayers and Masses throughout this difficult period.
"May Our Lady, Help of Christians, intercede for us and our country Nigeria," the statement read.
The priest was reportedly abducted on his way to St. Mary Amofia-Agu Affa Parish, where he serves as parish priest. Six other people who were traveling with him also were kidnapped.
According to a January report by the research organization SB Morgen Intelligence, no fewer than 39 Catholic priests were killed by gunmen in 2022, while 30 others were abducted. The report also showed that 145 attacks on Catholic priests were recorded within the same period.
Christians in Africa's largest nation have become prized targets for terrorist groups such as Fulani herdsmen, according to Emeka Umeagbalasi, chairman of Intersociety, a nongovernmental human rights organization.
Intersociety underlined in a Sept. 19 report that between Sept. 16 and Sept. 17, on top of kidnapping the priest and six other people, more than 30 passengers "and other road users" were abducted and disappeared by jihadist Fulani herdsmen. "The abductions had taken place in at least three different locations," the report said.
Johan Viljoen, director of the Denis Hurley Peace Institute of the South Africa Catholic bishops' conference, told OSV News that "the situation in Enugu is particularly severe. Enugu state shares a border with Benue state, which has been under sustained attack."
He said the lack of response from the security forces could mean they are complicit in the attacks.
"Considering the complete absence of integrity on the part of the security forces, one can only assume that they are in cahoots with the kidnappers, and share in the profits," he said.
"In Nigeria the security forces are not part of the solution. They are part of the problem," he added.