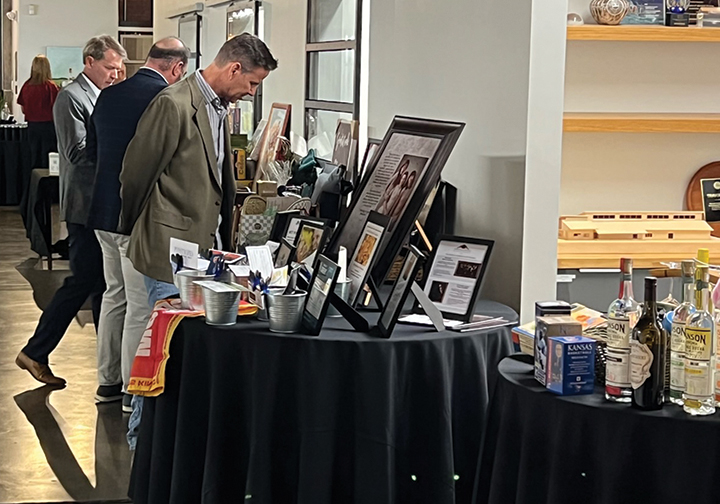 by Ben McCarthy
Special to The Leaven
OVERLAND PARK — Jana and Jaime Rojas, parishioners of Ascension Parish here, lost their 2-year-old daughter Elysa Louise Rojas to viral myocarditis in 2013.
The couple, living in Denver at the time, where Jaime worked as an athletic trainer for the Colorado Rapids professional soccer club, created a foundation in her honor eight years ago.
But ever since Elysa's death, the couple was looking for an opportunity to bring the family back "home."
When an opportunity with Rockhurst University in Kansas City, Missouri, opened up, the couple jumped at the chance.
And they brought Elysa's Foundation home with them.
Once back in Kansas, the couple began to piece together what they would need in order to help grow the research efforts and educate health care providers and the community about viral myocarditis, but also support families affected by it and other pediatric cardiac conditions.
"Over the past seven years, it has filled our hearts with joy and pride to watch this event grow," Jana said. "We are so grateful for our friends in the Ascension Church and School community for helping us spread the word and for helping us fund some very important projects."
The seventh annual Elysa Foundation Gala will be held Oct. 14 from 7-11 p.m. at Travois in the Crossroads District, located at 310 W. 19th Terr., Kansas City, Missouri. The gala is an annual effort to raise awareness of viral myocarditis (inflammation of the heart), and fund further research into the potentially fatal heart condition. Proceeds from the gala will also support the foundation's mission of providing free mental health support to families affected by viral myocarditis and other pediatric cardiac conditions.
The event will feature a silent auction (which will also have a presence online), live music, premium appetizers, drinks and scenic rooftop views. The online component of the auction grew out of the COVID pandemic, and the Rojases say the response has been so great that they will continue to incorporate it into the event moving forward.
Volunteers from Rockhurst University, where Jaime is the head athletic trainer, will assist at the event. This year's goal is to surpass last year's record high of $40,000.
Foundation board member Erica Kratofil also credits Overland Park's St. Thomas Aquinas High School families and alumni for providing significant support to the cause, and Children's Mercy, where Jana works as a patient experience specialist and physical therapist in its sports medicine program.
Although viral myocarditis is very rare and not considered to have a genetic component, the Rojas family almost lost a second child to it when daughter Isla (a student at Ascension) experienced it in 2020. Based on Jana's advocacy, the team at Children's Mercy knew what to look for, and an established cardiologist was in place to monitor the situation and call for additional cardiac testing.
"There were very subtle changes on the EKG (electrocardiogram) that we knew how to identify," Jana said. "We were able to get her diagnosed early and quickly, and she was able to make a full recovery."
Kratofil, an Aquinas graduate like Jana, says the work of the foundation will grow the needed awareness to help catch the specific, early warning signs so that Isla's recovery will become the standard for those affected. The mental health component also figures heavily into the foundation's priorities, by supporting more families with free counseling.
The foundation recently launched "Ollie's Branch" in partnership with St. Louis-based Ollie Hinkle Heart Foundation to provide up to eight free virtual sessions with a licensed therapist for any parent, grandparent or sibling of a pediatric heart patient.
Jana is also optimistic about the foundation's work with the Mayo Clinic in Jacksonville, Florida, and what that could mean for the future, especially after the heartbreak of seeing her second child having to fight the same condition. Currently, there is limited understanding as to why two people contract a virus like this, and one recovers relatively unscathed, while the other progresses to myocarditis.
When it happens twice within one family, it gives added weight to the theory that there is something in the genome that may be able to predict or explain what is occurring.
"One of the research projects that we're hoping to get off the ground would look at first-degree family members affected by viral myocarditis," Jana said. "It would potentially be a groundbreaking study, to identify if there is a genetic link to the propensity of progress to myocarditis."
For more about Elysa's story, the foundation, event and auction, go to the website at: ForElysa.org.