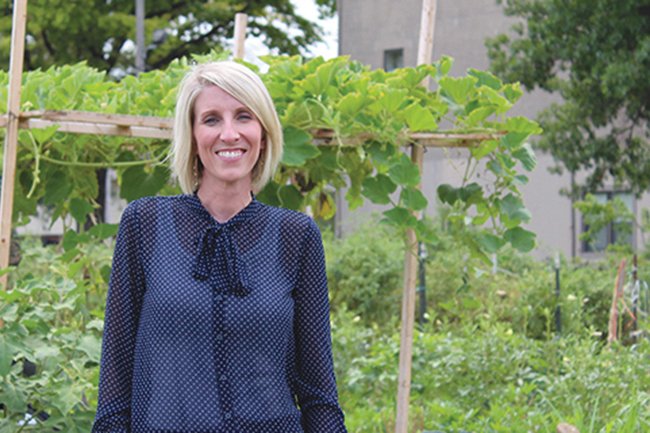 by Lauren Solidum
Abby, a single mother, needed assistance with her electric bill. 
Upon meeting with a Catholic Charities of Northeast Kansas case manager, Abby mentioned that she had three payday loans to help her with the bills, including her subsidized rent.
Living on a fixed income and trying to provide for her teenage children's daily needs, she was fearful of one day losing the place she and her family called home.
Sadly, Abby's story is not unlike many of those we serve. While the utility bill brought Abby to Catholic Charities, simply helping with its payment would not solve her ongoing financial problems.
Abby needed more guidance and support to make an impactful, lasting change.
Recognizing the need to strengthen families — not just stabilize them — led Catholic Charities to begin a shift in 2012 away from one-time, crisis intervention programs to offering a continuum of long-term wraparound services.
As Pope Francis said, "It is not enough to offer someone a sandwich unless it is accompanied by the possibility of learning how to stand on one's own two feet. Charity that leaves the poor person as he is, is not sufficient. True mercy, the mercy God gives to us and teaches us, demands justice; it demands that the poor find the way to be poor no longer."
To better reflect this holistic model of service, our seven emergency assistance centers recently transitioned to being more aptly named family support centers.
While the agency will always provide food, clothing and hope to all those served, the ultimate goal of our family support centers is to move those we serve toward self-sustainability through skills training, financial education and employment.
That is exactly what happened with Abby.
At one of our family support centers, she received case management where, as part of a collaborative process, her needs were assessed through one-on-one communication.
With her case manager's help and encouragement, Abby participated in our Kansas Loan Pool Project (KLPP), where she attended financial classes and was able to pay off her high-interest, predatory loans.
Now, she can start building her credit score, which will help her reach her goal of buying a home for her family.
Abby's help did not stop there. After learning that she was only two semesters away from completing her nursing degree, Abby's case manager referred her to a partnering agency to help get started on her CNA. Soon, she will enroll in a community-nursing program.
It is humbling to realize that through the services that Abby received at a family support center, her life has been transformed.
She walked in needing financial assistance for an unpaid bill. She left with sustainable hope for the future.