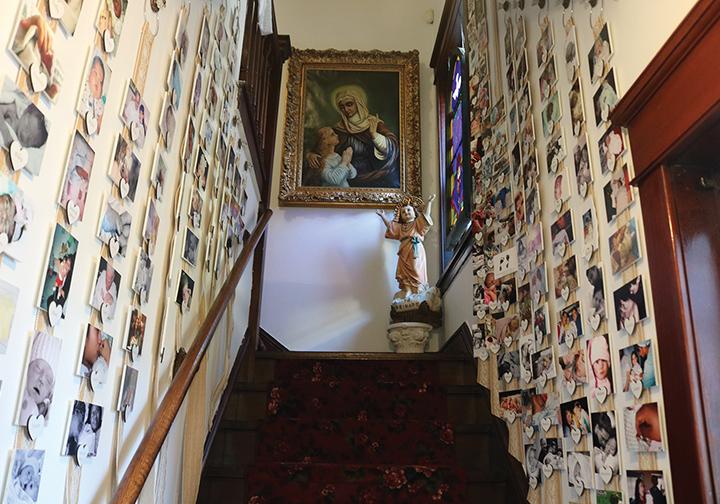 by Marc and Julie Anderson
mjanderson@theleaven.org
Building a culture of love.
That's the mission of Alexandra's House.
It's a ministry that was started more than 25 years ago by a woman who prefers to be known simply as Patti.
On Dec. 12, 1994, Patti's niece Alexandra was born with a chromosomal disorder that resulted in her having 12 toes and 12 fingers. She lived 45 days — days that were filled with a lot of loneliness, confusion and grief for Patti's entire family.
For Patti, the experience of caring for and losing Alexandra brought to light a hidden problem, one stated on the organization's website:
"Medicine, with its immense technical advancements, can diagnose serious fetal defects early in pregnancy. Parents of gravely ill, unborn babies can feel isolated in their grief, in their search for information and their need for support. While hospice services existed then for adults, it was unknown for babies still in the womb. A family should not have to walk this path alone and she, trained by this deeply personal experience, learned what families needed in these situations."
In 1997, Patti established Alexandra's House as a nonprofit dedicated to serving families and providing "a very special place for very special babies."
She received her first referral in 1999. The rest is history.
Today, Alexandra's House operates full time — in person, online or by phone — to serve families in need from across the globe at no charge. Services include everything from grief support groups to funeral assistance. For those families who know of their baby's potential passing ahead of time, Patti encourages the parents to make a customized birth plan. Then, volunteers, staff and a network of others help the families to implement the plan.
"We provide whatever is needed," Patti said.
That can include everything from helping families find baptismal gowns or arranging for a photo shoot to recommending support groups led by others who have experienced similar losses. In some cases, families from out of town can stay at the house itself while being monitored for a high-risk pregnancy.
Most importantly though, Patti said, Alexandra's House provides support to families, helping them to love heroically amid tremendous pain, anguish and suffering through a listening ear, text messages, prayers and support.
Along with five additional staff members and a founder's board composed of doctors and parent guides, the mission of Alexandra's House is to serve families of any faith background (or none). It strives to meet families wherever they are on life's journey as they cope with not being able to bring their baby home for any reason.
Although Alexandra's House itself does not engage in any fundraising efforts, there is a group of supporters known as Friends of Alexandra's House that hosts a benefit each year called Bowties for Babies.
Dr. Kelly Byrd, who has volunteered at Alexandra's House since 2009, said that although the event is a fundraiser, it's also a way to remember the babies Alexandra's House has been blessed by, and a way for the organization to honor the families it has served.
"It's just a celebration," Byrd concluded simply.
This year's event will be held on Oct. 21 at the Grand Street Cafe on the Country Club Plaza in Kansas City, Missouri. For more information about the event, go online to: www.bowtiesforbabies22.com. For more information about Alexandra's House itself, go online to: www.alexandrashouse.com.