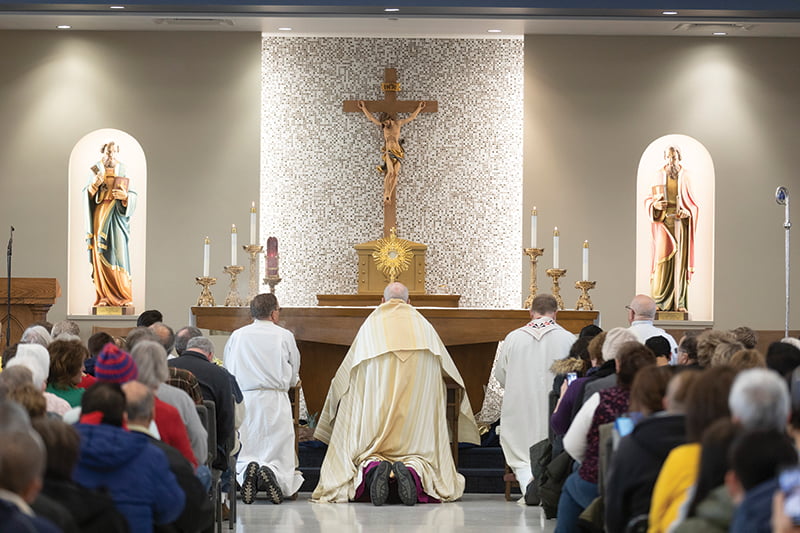 by Joe Bollig
joe.bollig@theleaven.org
OLATHE — As a procession of parishioners led by pastor Father Michael Hermes journeyed to the new site of St. Paul Parish here, Sonya Swinehart waited in the foyer of the new building and mused.
"It reminds me of the story of Moses," she said, "when he led his people to the promised land. As he led his people, our pastor is leading parishioners to our new church and a new era."
On Dec. 29, 2018, Swinehart joined her fellow parishioners in turning a new page in the story of St. Paul Church, the oldest Catholic parish in Johnson County — and perhaps its most relocated.
The celebration began in the former church at 900 S. Honeysuckle Dr., where parishioners had worshiped since 1962. The holy water fonts were full, but the interior was stripped of its liturgical furnishings, except for the pews. Faint shadows of the large sanctuary crucifix and Stations of the Cross could still be seen on the walls.
Some parishioners looked sad. Others chatted excitedly. All were dressed warmly for the four-and-a-half-mile eucharistic procession that would take them to the new St. Paul School and Church at 21650 W. 115th Terr.
Marion and Susan Dome even came home early from a Christmas trip to western Kansas so they could participate.
"It is kind of strange in some ways, since there is so much of our past and our memories of so many things that have happened here," Marion said as he looked around the interior laid bare.
"I have mixed emotions," he added. "I'm happy we're making progress to the new parish. It's always challenging to say goodbye to places of your past."
"I was baptized in this church," said Susan. "It's surreal to see everything removed, but it's exciting that we have a new beginning in the new [site].
"It's sad to see everything stripped and gone, but we know we have a new, exciting beginning somewhere else."
After Father Hermes quieted the crowd, he gave procession instructions in English and Spanish. He returned to the back where he vested and brought the Eucharist in a monstrance to a simple table with lighted candles. There he was joined by Father Gianantonio Baggio, CS, and Deacon Mike Moffitt.
After eucharistic adoration and music, he processed out with acolytes and a fourth-degree Knights of Columbus honor guard, followed by all the people. The Olathe Police Department gave them an escort, and they were accompanied by a pickup truck that played music from speakers strapped down in the back. It was 22 degrees under low, gray skies.
The procession began sometime shortly after 9 a.m. and arrived at the new site at 10:55 a.m. There, they were greeted by Archbishop Joseph F. Naumann, who presided over eucharistic adoration and blessed the new St. Paul School.
It was the decision of the parish to first build a school for phase one, and then build a church and gymnasium for phase two, which will begin when phase one loans are fully paid off.
Until the new church is built, the parish will worship in a multipurpose room that can be subdivided in up to six areas by curtain-like dividers. The area of the altar, along with about one-fourth of the chairs, will be closed off during school hours. The balance of the large room will be used as a cafeteria and meeting space.
For weekend Masses, the multipurpose area can seat 800 people.
In a brief homily, Archbishop Naumann said it was a great delight to be there and, as he was telling some people earlier, "St. Paul is a parish on the move, physically and . . . spiritually," much like their sainted namesake.
"To relocate a parish is more difficult than to start a parish," said the archbishop. "I commend Father Michael Hermes on his leadership in uniting this community to be able to do this, and all of you for all the sacrifices, all the efforts, you made to make this a reality."
In his concluding remarks, given in English and Spanish, Father Hermes thanked many who had a particular role in the establishment of the new parish campus.
"This is the best parish," he said. "It's faith-filled, vibrant, diverse, joy-filled. It's wonderful. Thank you for what you've done and contributed so we could be here today in our brand-new building."
The total campus consists of 20 acres, which was donated to the archdiocese by the Leonard McKinzie family in 2001 during the Future Full of Hope campaign.
The school, which includes the parish office, is 49,000 square feet. The total cost of phase one was $10.1 million. The architect was HTK Architects in Topeka, and the general contractor was Straub Construction Company, Inc., of Shawnee.
The groundbreaking was on Oct. 8, 2017, and completion is scheduled for Feb. 3, although the building was suitable for occupation on Dec. 29, 2018. Classes began on Jan. 10.
The school has 24 classrooms. The lower level has preschool and kindergarten through fourth grades. The upper level has fifth through eighth grades, as well as music, art and meeting rooms. In addition to the multipurpose room that serves as a cafeteria, the school also has a full kitchen, school offices and media room/library.
Amenities at the school include a spacious teachers' lounge and two ground-floor classrooms that are also storm shelters that can accommodate 450 persons. The school also has an elevator. The current enrollment of the school is 200 but can accommodate up to 400.The parish is looking forward to more growth. The parish already has 2,460 registered families and there are 800 families living now within the new parish boundaries who are currently registered with other parishes.