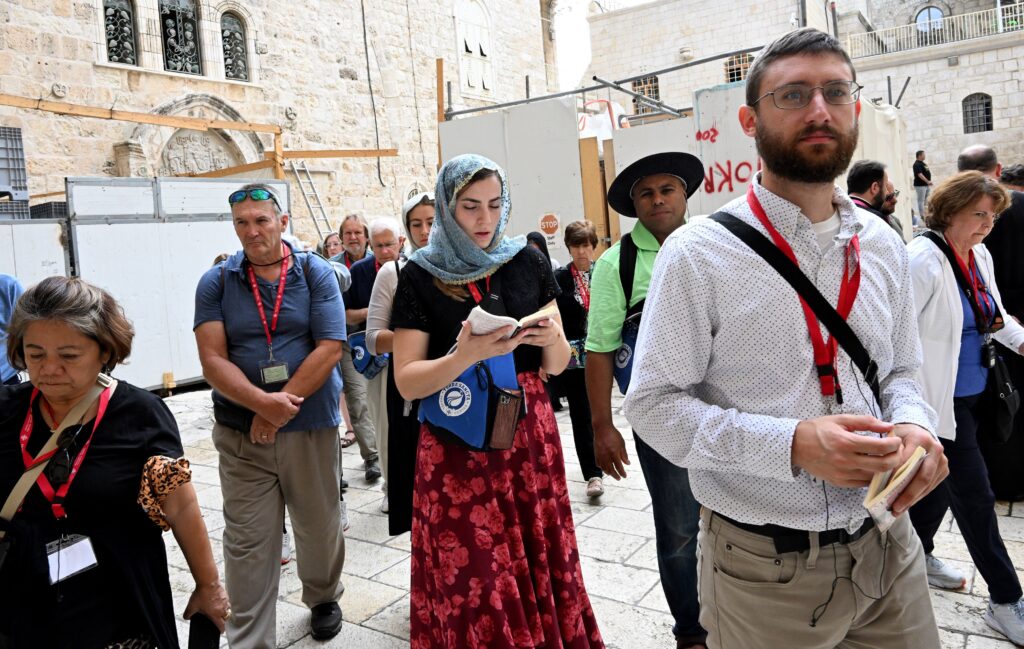 By Judith Sudilovsky
JERUSALEM (OSV News) — Pilgrims who were in Israel following a surprise terrorist attack by Hamas terrorists against civilian communities in southern Israel Oct. 7 lit candles and said prayers of peace at the Church of the Holy Sepulcher as fighting continued in southern Israel.
"I have been praying much more since this happened," said Jan Ulelenbroch, 53, a former priest from Kassel, Germany, who serves as a pastor at Catholic hospital and was on a personal spiritual retreat to the Holy Land.
Having completed a spiritual exercise retreat at the Benedictine Dormition Abbey in the Old City, Ulelenbroch said he had been informed that his planned spiritual retreat at Tabgha on the Sea of Galilee had been canceled. He also had no immediate way of returning home as most flights to and from Ben Gurion Airport in Tel Aviv had been canceled.
"I am praying for peace for all of Israel and Palestine and a solution to this war," he said.
The church was empty save for a few pilgrim groups.
"My family is very worried, but I feel safe. The Holy Spirit is with me," said Miriam Cruz, who is originally from Mexico and lives in Chicago. "It is very sad that innocent people were killed and people are suffering, but I have never felt Jesus' presence more personally with me than during this war."
Israeli security forces continued to flush out Hamas terrorists who had killed at least 900 Israelis, mostly civilians, in a day of carnage, according to an Israeli Embassy spokesperson Oct. 9. Eleven American citizens were killed in the attacks. Another 2,500 people were reported wounded, an Israel Defense Forces spokesperson told CBS News Oct. 9. Israeli airstrikes on Gaza had killed more than 687 people as of that Monday, including at least 140 children, according to the Gaza Ministry of Health, while there were still reports of infiltration attempts along Israeli borders. According to the Israeli army, 13 terrorists are still in the territory of southern Israel.
The attack came after a year of increased settler and army violence in the West Bank. Southern residents were outraged at the time it took for security forces to reach them during the Oct. 7 carnage. Some commentators and opposition leaders noted that more army units were posted in the West Bank to protect settlers and outposts rather than on the southern border as the current government, seen as extreme-right, prioritizes the settlements.
Jerusalem came under rocket attack on the first day of the war and two air raid sirens sounded Oct. 9 as several Hamas-launched rockets landed in the vicinity of Jerusalem. Fighter jets could be heard flying overhead toward Gaza. Israel retaliated in aerial attacks on Hamas targets which left whole exclusive neighborhoods where Hamas targets were located flattened.
Alistair Dutton, secretary-general of Caritas Internationalis, posted on X, the social media platform formerly known as Twitter, that Caritas was "deeply concerned" with the situation in Gaza and Israel.
"Caritas Jerusalem had to suspend its activities but has prepared an emergency plan to offer assistance as soon as the situation allows. We pray for peace and urge both sides to uphold international law," he wrote.
A Save the Children report published last June said that after 15 years of blockade four out of five children in Gaza are living with depression, grief and fear.
Meanwhile, Israeli Defense Minister Yoav Gallant said he had ordered a total siege of the Gaza Strip, cutting off food, fuel and electricity to the more than 2 million Palestinians living in the enclave. "I have given an order — Gaza will be under complete closure. There will be no electricity, food or fuel (delivered to Gaza)," said Gallant in remarks at Israel's Southern Command, according to a transcript released by the Israeli government.
The IDF announced today that 123 soldiers had been killed in battles with the terrorists.
Numbers of the civilians who are missing and those who are dead are still unclear. Foreigners are among the dead. Tens of Israeli civilians including young children, women and elderly were taken captive from Israel to Gaza, and Hamas posted shocking videos of Israeli hostages being paraded through Gaza streets and in unidentified locations.
Several of those taken were active in coexistence and peace organizations. Social media and news reports were filled with family members searching for loved ones who are missing, broadcasting names and contact phone numbers. Bodies of 260 young partygoers who had come to a desert dance rave that weekend were discovered piled atop each other as rescue workers worked trying to identify the bodies.
Army Radio reported the rescue on the evening of Oct. 9 of a group of 30 people, including Israelis and Thais, considered missing, who had managed to hide in a house on Kibbutz Ein HaShlosha when they were finally able to send out a distress signal. Security forces then undertook a rescue operation as there were still concerns that terrorists were still in the area.
Media all over the world reported on identified victims of the attack, including Itai and Hadas Berdichevsky, residents of Kfar Aza, a kibbutz situated a mere 3 miles east of Gaza. Hamas terrorists forcibly entered their residence where the couple tried to save their 10-month-old twins. The babies survived the attack, waiting for help for hours next to their dead parents' bodies.
Tamar and Yonatan Kedem, with twin daughters Shahar and Arbel, 6, and son Omer, 4, were executed in Nir-oz kibbutz. Deborah and Shlomi Matias also were killed by militants after they threw themselves in front of the bullets to shield their son, who survived and is in the hospital. His grandfather and Deborah's father is a professor at Brandeis University in Boston. In a gruesome execution, Hamas terrorists also murdered an Israeli grandmother and then posted the video on her Facebook page for her family to see, which her daughter shared with tears on Israeli television.
Media reported that as many as 40 bodies of the babies were found in Kfar Aza kibbutz, some had had their heads cut off by the Hamas terrorists. Veteran reporters, such as Nic Robertson of CNN, who were on the ground of the attacked kibbutz, as well as the festival where hundreds of young people were slaughtered, became emotional on air while talking about what they've seen.
Meanwhile, more than 670 Polish citizens — mostly pilgrims and tourists —were airlifted by the Polish military from Israel. The head of Poland's National Security Bureau, Jacek Siewiera, said at a press briefing in Warsaw Oct. 10 that "further evacuation flights are scheduled for this afternoon and later in the evening."
Aneta, a Polish tourist and pilgrim who only wanted to be identified by her first name, said that what was a beautiful trip with her husband, Pawel, turned into a nightmare Oct. 7 when their flight home got canceled.
"Until the last day we felt amazing here. We even discussed coming to the airport how amazingly nice the Israeli soldiers were and that we felt so safe there in the Holy Land," she said, emphasizing the irony of her own thoughts when the Hamas attack happened.
"The events of the last 24 hours made us realize how much evil is brought when there is no tolerance and understanding for others," she said after what she earlier thought was a dream pilgrimage and hiking adventure.
Aneta and Pawel spent two nights at the Ben Gurion airport before they finally got out with a flight to Cyprus. They decided to evacuate themselves having little information on how the state evacuation would be organized.
"We didn't have much information from the Polish Embassy, that had simply disastrous communications with us. We waited forever for the consul to come to meet a big group of Polish pilgrims here at the airport and bring us food and water," she bitterly recounted.
"We survived a rocket attack on the airport and ran to the shelter," she told OSV News. In what she will remember as a nightmare ending of her pilgrimage, she said that "around at the airport there were terrified people, with crying children. We were in the middle of the airport, scrolling through our phones where we read the chilling news that the airport is being shelled." On Oct. 9 they were relieved to be reunited with their three sons back in Poland.
Another group of Polish pilgrims was still in Bethlehem Oct. 10, seen in a video in a local church, praying for peace, 46 miles from the Gaza Strip.