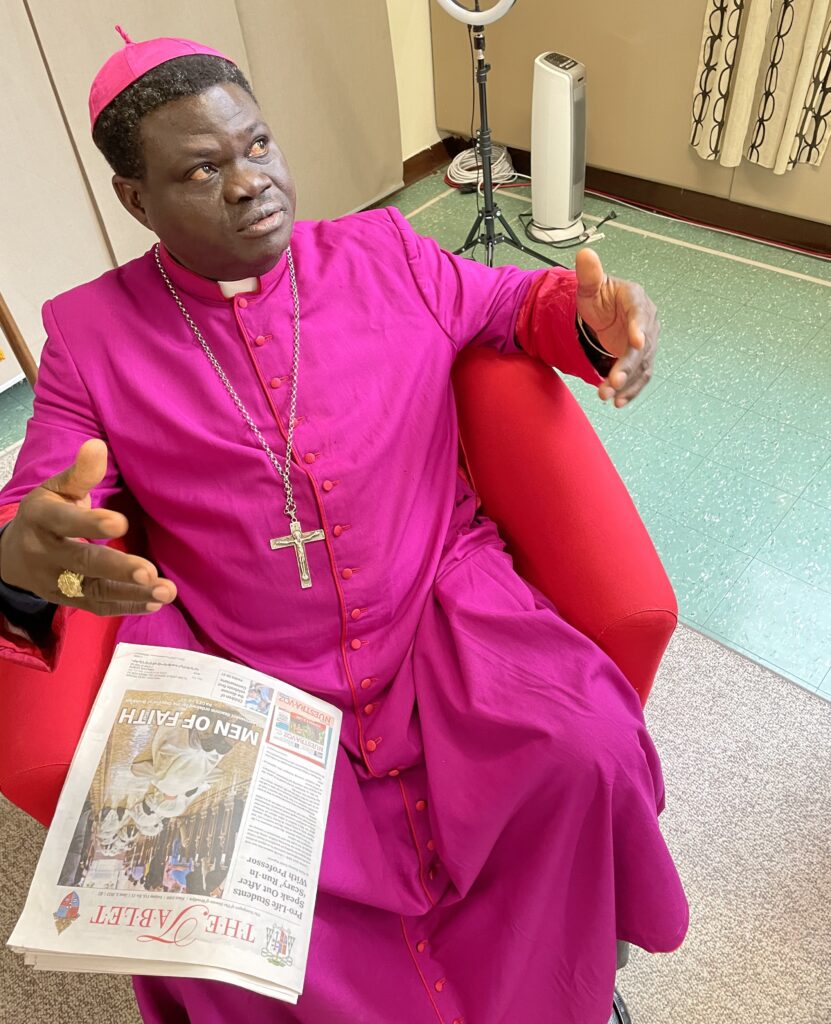 by Kimberley Heatherington
WASHINGTON (OSV News) —"Death does not announce any day," cautions a Nigerian proverb. It's advice the Catholic faithful of the Diocese of Makurdi — in Nigeria's Benue state — are grimly familiar with as they and their Christian neighbors endure a sustained campaign of terrorism now stretching into a second decade.
OSV News recently interviewed Bishop Wilfred Chikpa Anagbe of Makurdi, a Claretian, during a U.S. visit hosted by Aid to the Church in Need, a Catholic charity under the guidance of the Holy Father.

Bishop Anagbe has an urgent message for Catholic Americans: Please hear us, and please help us. 

"In January 2018, we lost about 72 people in one night," recalled Bishop Anagbe. "They came in the night, in an unprovoked attack. In April 2018, two of my priests and 17 worshippers were killed in a church during morning Mass. Gunned down. They died in cold blood; we gave them a mass burial. And so it has continued like that."

According to the Institute for Economics and Peace (IEP) in Sydney, Nigeria ranks eighth on IEP's 2023 "10 Countries Most Impacted by Terrorism" index. The 2023 Watch List released by the interdenominational foundation Open Doors indicates that Nigeria accounts for 89% of Christians martyred worldwide. Nigeria has the largest Christian population of any country in Africa — an estimated 49.3%, or more than 80 million, 21 million of whom are Catholic.

According to an April 10 report "Martyred Christians in Nigeria" issued by Intersociety, over the past 14 years at least 52,250 Nigerian Christians have been brutally murdered by Islamist militants.
In the same period 18,000 Christian churches and 2,200 Christian schools were set ablaze. Approximately 34,000 moderate Muslims also died in Islamist attacks." With headquarters in Nigeria, Intersociety is a research and investigative rights group that has monitored the country's religious persecution and violence since 2010.

In June 2022, more than 50 people were killed during a Pentecost Sunday Mass at St. Francis Xavier Catholic Church in Owo in Ondo state. Pope Francis offered his prayers after the devastating attack, denouncing "this act of unspeakable violence."

"Within the year 2022 and May 2023, you have had about 140 attacks in Benue, and about 591 persons killed," Bishop Anagbe said. "Just on the eighth of April — the eve of Easter Sunday — these terrorists attacked. And the people took refuge in a classroom in a school. They killed about 40 people that night. This is what I live with every day."

The specific threat faced by Bishop Anagbe's diocese has its roots in friction between the predominantly — almost 70% — Christian and Catholic farming communities in Nigeria's agriculturally abundant "breadbasket," and the changed migration patterns of the mostly Muslim and nomadic Fulani herdsmen.
With the desertification of former grazing lands, the Fulani sought other pastures and water sources for their cattle, goats and sheep — but regional agricultural growth cultivated much of the area the Fulani once could access. Farmers were angered by herdsmen repeatedly trespassing of their lands, and livestock trampling and eating valuable crops.
What might have remained a contentious territorial dispute between settled and nomadic populations acquired a murderous dimension when radical Islamic militants began to arm the Fulani herdsmen.
"These are invaders — who come and kill the people, and send them away, and occupy their territory. It's a clear occupation of territory," explained Bishop Anagbe. "They are conquering and destabilizing the Indigenous communities, and conquering their territories."

Farmers have been pushed into cities, uprooted from both their land and their livelihood. Agriculture has been so disrupted that Nigeria's Guardian newspaper reported in September 2021, "Because of the insecurity in Benue state, Nigeria can no longer produce enough food to feed its own population."
As the Washington-based Hudson Institute think tank observed in 2021, "Many Nigerians no longer distinguish between Fulani herders and Boko Haram, seeing both as a singular terrorist front whose sole aim is to Islamize Nigeria."
In September 2022, Gov. Samuel Ortom of Benue state told the Sahara Reporters news website that "Fulani herdsmen militia and other Islamic terrorist groups have been collaborating to sustain their attacks on the state and other parts of the country."
And yet, there's been no pursuit by law enforcement authorities. "Nobody has been arrested," Bishop Anagbe noted. "There's no action by the government."

"As a diocese, between 2014 and 2023, I've lost 13 parishes," reflected Bishop Anagbe. A parish, however, isn't just one church; the bishop explained that, in Benue state, a parish can represent several village churches in a 10-15 kilometer radius. The threat of ambushes has made pastoral visits literally impossible.

"Between 2022-2023, 18 priests have died," Bishop Anagbe said. "We are like an endangered species."

Homes, schools, clinics and hospitals have been destroyed. So for the sake of safety, "we are looking at the possibility of having a kind of a mobile clinic," said Bishop Anagbe. "We would just drive there, and attend to the people. That is what we are planning, and hoping that it will work." He adds that they are still seeking funding for this life-saving venture, which would serve the estimated 1.5-2 million internally displaced persons (IDPs) living in camps.

Father Remigius Ihyula — who heads the foundation for Justice, Development and Peace, an arm of the Makurdi Diocese — reported that 85% of the IDPs are in territories covered by the Makurdi Diocese. 

In October 2022, Bishop Anagbe spoke to the European Parliament in Brussels. Having relied upon filtered government reports, "they were shocked to hear this is happening," he said. "Part of what we requested was to continue with the advocacy — and letting the world know this is not right."

As Father Ihyula observed, such advocacy — whether by highly placed officials or everyday citizens contacting their U.S. congressional representatives — will "let the Nigerian government know that we know that atrocities are happening here, and we know what is going on, and that there should be consequences for this sort of thing. That is the only way that this can change."

Bishop Anagbe is committed to dialogue, but admitted its challenges. "Dialogue is when people are open. And when somebody's not open, but has a preconceived idea, it's difficult."

It's a cruel irony that the explosive growth of Bishop Anagbe's diocese should come from refugees fleeing terrorist violence. Still, in his visits to the IDP camps, despite the harsh conditions, "I see hope alive in these moments," said Bishop Anagbe.

And nonetheless, "the faith is growing, no matter the challenges. The blood of the martyrs is the seed of Christianity," the bishop said. "And actually, in moments like these, I think we have absolutely every trust in God. . . We also have been very faithful in trusting God always. Prayer, we know, works miracles," he declared.

"We are weeping for the soul of Nigeria," Bishop Anagbe said. "And I think we need a concentrated effort and support from every person — men and women of faith, and men and women of good will — to help out, to salvage this nation, whose indigenous communities are going through extinction."