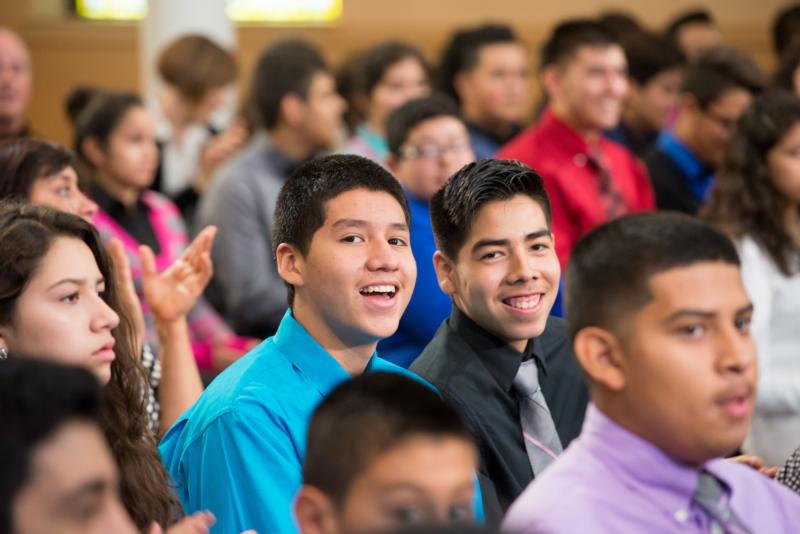 by Catholic News Service
WASHINGTON (CNS) — Pope Francis held a "virtual town hall" with Catholics in Chicago, Los Angeles and McAllen, Texas, in advance of his Sept. 22-27 visit to the United States.
The town hall was arranged by ABC News, which was to air portions of the meeting during its "World News Tonight" program Aug. 31, with an hourlong version of its "20/20" newsmagazine called "Pope Francis & the People" airing 10-11 p.m. EDT Sept. 4. ABC News said the event will be posted in its entirety in both English and Spanish on abcnews.com.
Pope Francis engaged via satellite with students at Cristo Rey Jesuit High School in Chicago, homeless men and women and those working with homeless people in Los Angeles, and members of a McAllen parish located near the U.S.-Mexico border.
"We were allowed inside the Vatican for an hour with Pope Francis, where he greeted us as he prepared for his trip," said David Muir, "World News Tonight" anchor, in a 90-second "special report" that aired midday on ABC.
"He told me he's ready, and he delivered a couple of messages to the American people before his historic visit, saying, 'For me it is very important to meet with all of you, the citizens of the United States, who have your history, your culture, your virtues, your joys, your sadness, your problems, like everyone else. That's why this trip is important, for me to draw close to you, in your path, your history,'" Muir said of the pope.
Muir added, "He went on to say, 'I'm praying for you all, and I ask you to please pray for me.'"
The pope allowed us to visit so we could connect him with people in other parts of the country where he won't be able to visit," Muir said. "He took questions and heard stories of struggle. He also spoke in English in some of his answers, at one point asking a teenager in Chicago fighting adversity to please sing for him. And she did." Pope Francis, a native Spanish speaker, will celebrate Mass in Spanish during his U.S. visit.
"Today was an unforgettable day in the 20-year history of Cristo Rey Jesuit High School," said a tweet from the school after the town hall ended. Chris Meyer, the school's director of technology, tweeted, "A glorious morning at Cristo Rey Chicago," advising in a separate tweet there would be "powerful stories" on the Sept. 4 broadcast.
"The pope did not shy away from some key issues," Muir added, although he did not disclose what issues they were, inviting viewers to watch "World News Tonight" and the "20/20" installment.