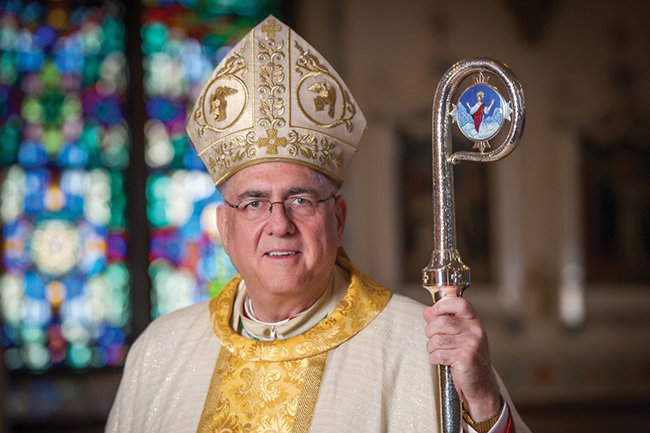 by Archbishop Joseph F. Naumann
The patron saint for both the United States and the Archdiocese of Kansas City in Kansas is Mary, under her title of the Immaculate Conception.
On this solemnity of the Immaculate Conception of the Blessed Virgin Mary, we gather under Mary's mantle, asking her to draw our archdiocese and our beloved nation close to her son, Jesus.
Next Tuesday, we celebrate another special Marian feast, Our Lady of Guadalupe. In December of 1531, while Christian Europe was in the throes of the Protestant Reformation that tragically resulted in the fragmentation of Christianity, Mary appeared three times to St. Juan Diego on Tepeyac Hill in what is today Mexico City. She appeared as a beautiful, young, pregnant, indigenous woman and spoke to Juan Diego in his native Indian dialect.
Mary asked Juan Diego to deliver a message to Bishop Fray Juan de Zumarraga requesting that a church be built on the site where she had appeared. Mary desired this to be a place of pilgrimage where people could come to encounter her son Jesus and experience her maternal love and compassion.
The bishop initially dismissed and doubted the claims of Juan Diego. He challenged him to request a sign from this mysterious woman to prove her identity as Mary, the mother of Jesus. Juan Diego complied with the bishop's request.
Mary instructed Juan Diego to gather roses from the hillside and fill his tilma with the flowers. When he was granted an audience with the bishop and opened his tilma, allowing the roses to fall to the ground, both Juan Diego and the bishop were amazed to find the image of Our Lady of Guadalupe imprinted on his cloak.
Our Lady of Guadalupe appeared to Juan Diego at a very significant moment, when there was great tension between the Spanish and the indigenous people. Up until this time, the efforts of the Christian missionaries to share the joy of the Gospel with Native Americans had been ineffective.
The image of Our Lady of Guadalupe, with its colors, patterns and symbols that hold special significance for the Native American community, opened the hearts of the indigenous people to the love of God revealed in Jesus Christ, the son of God and the son of Mary.
While millions were leaving the Catholic Church in Europe, millions of Native of Americans in Mexico became Christians.
Our Lady of Guadalupe was instrumental in bringing about a tremendous cultural change, one aspect of which was to bring an end to the child sacrifice that was practiced by the Aztecs.
This is why today Our Lady of Guadalupe is considered a special patron for pro-life efforts seeking to end the killing of innocent unborn children.
Today, 500 years after Mary's apparitions, thousands of pilgrims come every day to the basilica in Mexico City to pray in the presence of Our Lady of Guadalupe's image on the tilma of Juan Diego. They ask Mary to intercede for them with her son Jesus, seeking guidance and protection for themselves and those they love.
Saint John Paul II, in his first international trip after his election as pope, prayed in front of the image of Our Lady of Guadalupe. It was during this time of prayer that Our Lord made clear to him that he was called to be a missionary pope — to travel the world to bring the truth and beauty of the Gospel of Jesus to every corner of the earth.
Pope John Paul II designated Our Lady of Guadalupe as the Star of the New Evangelization, seeking through her intercession a new outpouring of the Holy Spirit to enliven the church in her mission to proclaim the Gospel of God's love to all peoples.
Our Lady of Guadalupe is also recognized as a special advocate for migrants and refugees.
I am, therefore, declaring Dec. 12 to be in our archdiocese a special day of prayer for God's protection for all immigrants and refugees. In particular, I ask people to pray that Congress will act swiftly to provide legal status and protection to young people who were brought to United States as children.
In 2012, then-President Barack Obama by executive order instituted DACA (Deferred Action for Childhood Arrivals), a policy granting temporary legal status to about 700,000 young adults. To qualify for DACA, you had to have arrived in the U.S. before you were 16, lived in the U.S. for at least five years and not be older than 30 on June 15, 2012.
Those who qualified for DACA were able to obtain temporary (two-year renewable) visas that protected them from deportation and allowed them to acquire driver's licenses, enroll in college and become employed legally. Individuals with serious criminal records were not eligible for DACA.
Several state attorneys general had challenged the legality of DACA because it was done by executive order. If these legal challenges had been successful, DACA participants would have immediately lost all legal protection.
The Trump administration announced in September an end to DACA, but created a six-month window of opportunity for Congress to enact legislation to continue the program. The president has indicated he will sign legislation duly enacted by Congress, but will require the new law to include measures strengthening border security.
It is imperative that Congress take advantage of this opportunity to give legal standing to the young people currently protected by DACA. For most of these young people, the United States is the only country they know. They are enrolled in college, serving in the military, employed and paying taxes, and, in some cases (5 percent), have started their own businesses.
I urge you to contact your representative in the U.S. Congress, as well as our two U.S. senators (Pat Roberts and Jerry Moran), asking them to act swiftly to pass legislation protecting these young adults from living under the constant fear of deportation and making it difficult for them to participate and contribute to our state and nation.
I ask every member of the archdiocese to pray on Dec. 12 that our nation will be able to take this first step in solving our immigration problems. Let us ask for Mary's intercession to help our nation continue to be a society that offers protection to those fleeing persecution and is generous in welcoming legally new immigrants who desire to share in the American dream.