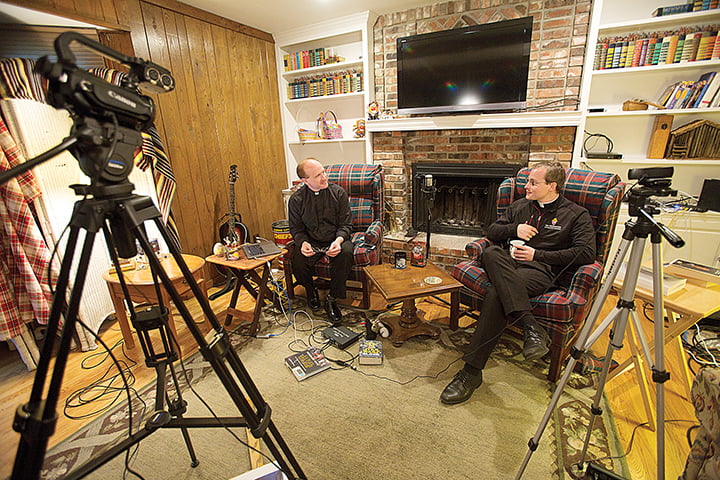 by Moira Cullings
moira.cullings@theleaven.org
KANSAS CITY, Kan. — During the Great Depression and throughout World War II, President Franklin D. Roosevelt (FDR) addressed the United States over the radio.
What became known as his "fireside chats" were designed to connect with the American people in a direct way and to give them hope during a bleak and uncertain time.
It's fitting, then, that Father Kent O'Connor and Father Nicholas Ashmore of Good Shepherd Parish in Shawnee are using the same title for their daily livestream program during the coronavirus pandemic.
"The name came about because this [room] seems like the best place to film, and it happens to be in front of the fire," said Father O'Connor.
"And I think it's the same idea that FDR had of being there with the people in a time of crisis," he added.
During their daily "fireside chat," the priests talk casually then address a church topic in "an attempt on our part to keep the communication open between us and the parish," said Father Ashmore.
It's one of many ways that priests in the Archdiocese of Kansas City in Kansas are reaching out to their flock virtually.
Sweet spirituality
Msgr. Michael Mullen, senior associate pastor at St. Joseph Parish in Shawnee, had never been on Facebook before the pandemic.
But Father Scott Wallisch, the parish's pastor, encouraged him not only to create a personal Facebook account, but also to utilize the parish's Facebook page to connect with parishioners.
Starting in March, Msgr. Mullen began addressing viewers on Facebook Live each weekday at 12:30 p.m. for a segment called "Holy Dessert."
For weeks, he discussed how people can apply Catholic virtues to daily life in a series inspired by Cardinal Timothy Dolan. Now, Msgr. Mullen uses "Holy Dessert" to talk about the mysteries of the rosary, and throughout the program he takes questions from viewers on a variety of church topics.
He is also using his personal Facebook page to post his daily and weekend homilies.
Msgr. Mullen's Facebook experience "has been very positive," he said. "I've received some really interesting questions [from viewers]."
It's also helped the priest reach 40-50 people on average who watch his programs live, and hundreds more after the videos are published.
"This is nourishing them," said Msgr. Mullen. "We'll see how it goes, but I certainly would be open to continuing it when we get back to church and people can come to Sunday Mass.
"I think we've found a niche here in this and in some other things we're doing, too, that are worth continuing."
Creating light in the darkness
Father Justin Hamilton, associate pastor at St. Joseph Parish in Shawnee and chaplain of Bishop Miege High School in Roeland Park, created a livestream called "Light Up the Night" to care for his flock.
One night after Father Hamilton and Father Wallisch finished a livestream Holy Hour, Father Wallisch mentioned how sad it was that the votive candles in the church were not lit.
"We both stopped and noticed how much we missed the gleam of light emanating from the votive candles, which symbolize the prayers of God's people and the sacrifices they make before God for their intentions," said Father Hamilton.
The young priest suggested lighting the candles over livestream, and Father Wallisch thought it was a great idea. Since then, they've encouraged people to send in prayer intentions, and they typically receive 30 to 120 each week.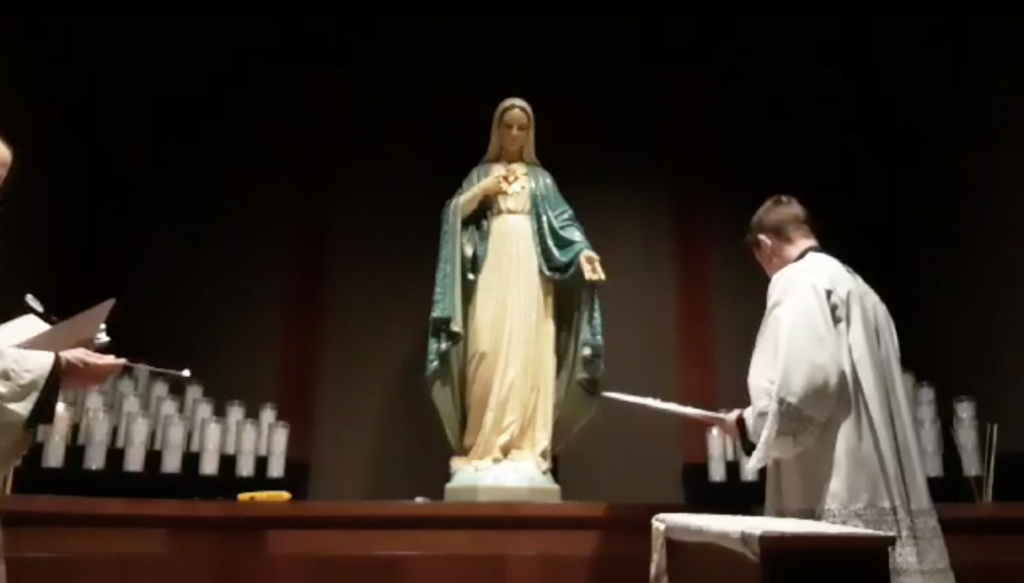 The priests hold a weekly prayer service on the parish's Facebook page, where they light a candle and pray for each intention.
"Sharing your prayer intentions with someone is an act of trust and vulnerability," said Father Hamilton, "and it is humbling to have my parishioners entrust their hearts to me in this way.
"The first time we did this event, I found myself surprised by how meaningful it was to me just to know what was going on in their hearts and lives and being able to better understand their struggles and joys."
Father Hamilton is also mulling over what his parishioners' openness to this experience might mean.
"I think people feel more invited, more welcomed and less intimidated by these opportunities to connect with a church than by perhaps going in person to a Bible study at their church," he said.
A welcoming atmosphere
Father Ashmore and Father O'Connor created their daily "fireside chats" as "a straight response to the pandemic," said Father O'Connor.
The Good Shepherd pastor watched a webinar before public Masses were suspended and walked away knowing that if parishioners didn't feel connected to their parish during the time away from church, they might never return.
"That's when we really began to brainstorm what can we do to make sure that people know that we're still here for them," he said.
The segment has allowed the priests' personalities to shine through in a way many parishioners might not have experienced otherwise.
"We hear from parishioners all the time that one of the things they love about fireside chat is they're getting to know us more on a personal level," said Father Ashmore.
The priests are thankful for the instant connectivity the internet provides.
"We know that one of the most important parts of this whole process is making sure that people still feel connected to our community," said Father Ashmore. "This is our attempt to keep that daily connection."
Meaningful connections
"You can't replace in person ministry and all gatherings completely by online opportunities, said Father Andrew Strobl, pastor of St. John Paul II Catholic Church in Olathe. "However, we have still been able to connect in meaningful ways."
The new parish is holdings Bible studies, youth group, RCIA sessions, staff meetings and prayer gatherings online.
Father Strobl livestreams daily Mass and nightly rosaries on the parish's Facebook page, with opportunities for viewers to comment prayer intentions in the comments.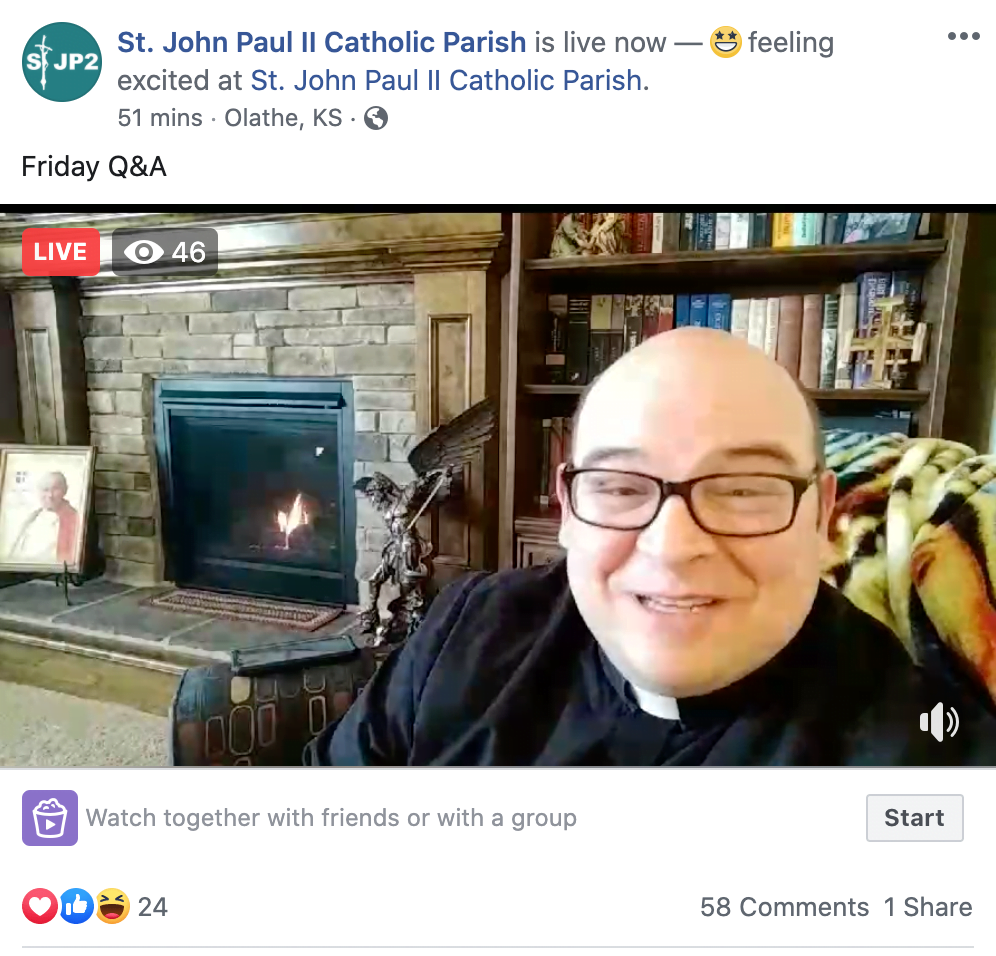 "We even have Curtis Keddy, our director of Liturgy and Formation, doing 'Bible Doodles' each week as catechesis for children and children-at-heart that want to draw along with him," said Father Strobl.
"Overall, it's been quite the adventure to stay connected in meaningful ways while we each stay at home," he said.
A difficult aspect of the pandemic has been parishioners being away from their parishes and priests, which is why Father Strobl and his fellow priests are working hard to remain present any way they can.
"We all desire to be connected," he said, "and the pandemic has highlighted how essential our Lord and the church are for each of us.
"Priests should be a clear sign that God does not abandon his people."
You can find all of the offerings mentioned above on the parishes' Facebook pages. And be sure to check out other opportunities by searching online for parishes across the archdiocese.