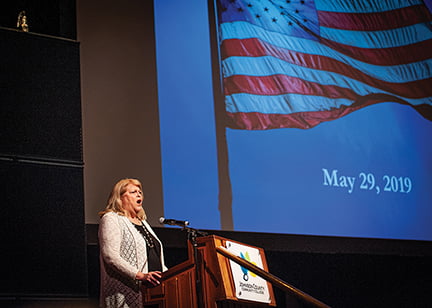 by Susan Fotovich McCabe
Special to The Leaven
OLATHE — Most people take their high school education for granted. Others only dream about it.
For nearly three decades, Prince of Peace parishioner Paula McLaughlin has helped to make those dreams a reality. McLaughlin is the administrative assistant for the Johnson County Community College's (JCCC) Adult Education Program. The program instructs adults in basic reading, writing and math skills in preparation for taking the General Educational Development (GED) test — the equivalent of a high school diploma. 
McLaughlin, who is nearing retirement, said her Catholic faith has been integral to her many years of work in the field.
It was from her faith that she drew virtues critical to easing the fears of adults who are pursuing an education later in life: confronting fears with forgiveness, patience, kindness and understanding.
"My church and everything that springs from being Catholic is what translates to my job helping others get their GED," McLaughlin said. "When I needed a job 28 years ago, I prayed that I would be able to find one that allowed me to do good for people — and pay a little, too."
McLaughlin started as a secretary, taking phone calls from anxious, prospective students who wanted to know more about the program.
"What was interesting about those early years was that I was one of the first people the students came in contact with when they'd call to find out how to get their GED," she said. "Many are feeling fearful and embarrassed. So it's important that the first people they talk to be compassionate. That was the most enjoyable aspect of my job."
McLaughlin is, indeed, sympathetic to the challenges facing students who come through the program. Many lack the confidence to pursue an education, she said, but they desperately want to improve their lives and livelihoods.
"Education is so important. Getting your GED no longer has the stigma it once had. People used to think that if you were getting your GED, you had dropped out of school," she said. "That couldn't be further from the truth. Everyone has a story."
One of those stories involved a man in his 50s, McLaughlin said. Invited back as a graduation speaker, the man shared his story of being a successful business owner in the car industry. Nobody knew he didn't have a high school diploma.
When he earned his GED diploma, he told students, "The lie stops here."
"It's a powerful thing to have," McLaughlin said.
Similarly, another graduate shared her experience after having missed the opportunity to earn her high school diploma.
"I would have graduated in 1962, but, instead, I fell in love and got married," said one of the female graduates featured in a video on the JCCC adult education website. "We raised a great family. Now that they are grown and on their own, I decided it was time for grandma to graduate. As you can see, it's never too late."
This past May, about 100 students walked in JCCC's GED graduation ceremony. On average, about 250 students earn their GED diploma from JCCC annually.
In addition to shepherding students through the program, McLaughlin has been coordinating the GED graduation ceremony for the last 15 years.
And the students come in all shapes and sizes. Student demographics vary by income, ethnicity and age, McLaughlin said. She helped one student who was 83. The minimum age requirement is 16 and they must get a parent's permission.
"We've had many single moms in the program who went back to further their education and their career," added McLaughlin. "This is very difficult, but they are committed to improving their lives and the lives of their children."
Most students don't have to be convinced to participate in the program, she said.
"They come because they're ready," she said, "and because they see the benefits of education and how it can help them."
But her day job is not the only way McLaughlin supports people in transition. She regularly sings at a naturalization ceremony that combines citizenship programs from Catholic Charities and JCCC. JCCC hosts the ceremony a couple of times a year, which welcomes immigrants to U.S. citizenship.
"If you've never witnessed a naturalization ceremony, watching the newest citizens come into our country leaves tears in your eyes," she said.
And now, in a sense, she'll be taking her talents on the road. A member of the choir of Prince of Peace Parish in Olathe, McLaughlin recently told choir director Melissa Jakmouj that she had always wanted to go to Rome.
Jakmouj surprised her by saying, "OK, let's go!" Now, later this month, McLaughlin and choir members from Prince of Peace and other parishes in the archdiocese will join Prince of Peace pastor Father Jerry Volz on a trip led by Jakmouj. The group is scheduled to sing in catacombs and cathedrals across Rome, and in Assisi as well.
The group will be traveling over the solemnity of Sts. Peter and Paul. But before they leave, they'll perform their Celebration of Saints preview concert on June 14 at 7 p.m. at Prince of Peace. It's open to the public."This is a dream for me," said McLaughlin. "I told Melissa I'm probably going to cry the whole time I'm there."