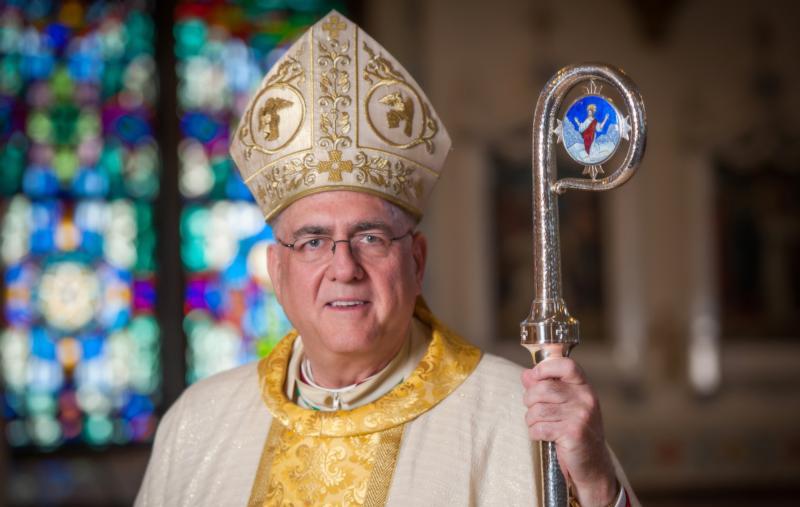 by Archbishop Joseph F. Naumann
In the liturgical year, we begin each November with the solemnity of All Saints followed by the Commemoration of All the Faithful Departed, All Souls Day. This month, in a special way, the church invites and encourages us to remember all those who have died.
In October, I celebrated a special Mass of the Innocents for children who died at birth or children who died before birth as a result of miscarriage or abortion. At the Mass, the parents were invited to inscribe the names of these children in memorial books. Throughout November, we keep one of these memorial books in the chapel at the chancery and another one in the chapel at my residence to remind me and our archdiocesan staff to pray for these children and their parents throughout the month.
I love the solemnity of All Saints, a day when we remember the heroic Christians who have gone before us. The saints are part of our extended family. If you were baptized as a Catholic, a short Litany of the Saints was prayed during the baptismal rite, because on that day you became related to them. You became part of their family.
We do not worship the saints. We do not believe them to be gods or goddesses. They are important to us precisely because they were fully human. They experienced the same challenges and some of the same adversities we do. For this reason, we can identify with them, and they can be for us examples of living a blessed, happy life.
For Christians, death is not an absolute barrier. Through prayer, our lives and the lives of those who have gone before us can continue to touch. Especially during the celebration of the Eucharist, the saints in heaven join us in this great prayer of the church on earth.
We can have special patron saints — saints that we can identify with because we enjoy the same things or experience the same challenges. There are patron saints for lawyers, doctors, police, firefighters, nurses, teachers, hunters, fishermen, actors, dancers, athletes, television, the internet, for those suffering from anxiety, etc. There is literally a saint for every experience and for each of life's challenges.
Many of us were given a saint's name by our parents. They gave us this name, in part, hoping we would cultivate a friendship with the saint whose name we share.
My father died while my mother was pregnant with me. My mother named me Joseph, because Joseph was a good foster father for Jesus. She hoped that St. Joseph would guard and protect me. She also hoped that I would be inspired by St. Joseph to strive to be a man of great faith and virtue.
At confirmation, we had the opportunity to choose an additional saint's name with whom we felt a special connection or with whom we desired to imitate the saint's example.
Each year around All Saints' Day, the Little Sisters and Brothers of the Lamb hold a saints' lottery. They fill a basket with the names of many saints. Each Little Sister and Little Brother, as well as friends of the community, choose a saint. The purpose is for us to grow in our knowledge of our saint and develop a deeper relationship with that particular saint. This year, I drew St. Louis de Montfort, who was a great apostle of the rosary. St. John Paul II had a great devotion to St. Louis de Montfort. I look forward to forging a deeper friendship with St. Louis de Montfort throughout the coming year.
All Souls' Day reminds us to pray for the dead. At the time of death, there are three possibilities for each of us. Some reject God by their choices and actions in this life. God gives us freedom and respects our freedom. Hell is a place of misery because we were created to be in communion with God. The choice to reject God in this life results in us living apart from him for all eternity.
There are some that develop a beautiful friendship with Jesus during this life. These are the saints who spend their entire lives striving to free themselves from sinful attachments. They develop a purity of heart that seeks God above everything else. At the time of their death in this world, they are completely prepared to enter into heaven.
Like most of us, some probably do not definitively reject God by their choices, but neither do they free themselves from idols in their lives — relationships, pleasures or things that they make more important than God. These individuals enter into purgatory, a time of purification.
The church's teaching on purgatory has not been given sufficient emphasis in our catechesis in recent years. This teaching has its roots in the Old Testament and was evident in the practice of the Christian community from its earliest days. The Catechism of the Catholic Church provides the following succinct description of this ancient belief: "All who die in God's grace and friendship, but still imperfectly purified, are indeed assured of their eternal salvation; but after death, they undergo purification, so as to achieve the holiness necessary to enter the joy of heaven" (1030).
Amazingly, we believe that while we are on earth, God makes it possible for us to assist with our prayers those whom he is liberating from disordered attachments and selfishness after death. The exact nature of this purification, we do not know. Yet, we know that such purifications in this world cannot happen without some pain.
In our prayers for the dead, God allows us to love in a meaningful way those who have died. Through prayer, we can accompany others during this process of purification, and in God's economy, somehow we are able to lighten their burden. We might compare it in this world to a friend helping us do some laborious and tedious task. Not only does our friend lessen our amount of labor, but their presence is a comfort and a joy.
Purgatory is God's ultimate mercy, where he purifies us from whatever attachments that prevent us from experiencing the complete joy he has prepared for us in his heavenly kingdom.
Throughout November, I encourage all of us to remember in prayer family and friends who have died. Be aware and grateful for our friends, the saints. Ask them to intercede for you so that you can imitate their example of love for Jesus and pursuit of holiness. At the same time, pray and intercede for friends and family who may be experiencing their time for purification. If you cannot think of anyone to pray for in your circle of family and friends, then offer prayers for the poor souls in purgatory — those who have no one to intercede for them.
Most of all, during November, cultivate a grateful heart. Thank God for the gift of life and the destiny we received through the waters of baptism to live with God and participate in the Festival of the Saints. Thank Jesus for defeating death and winning the victory of life. What an amazing God! What a gift is our Catholic faith!