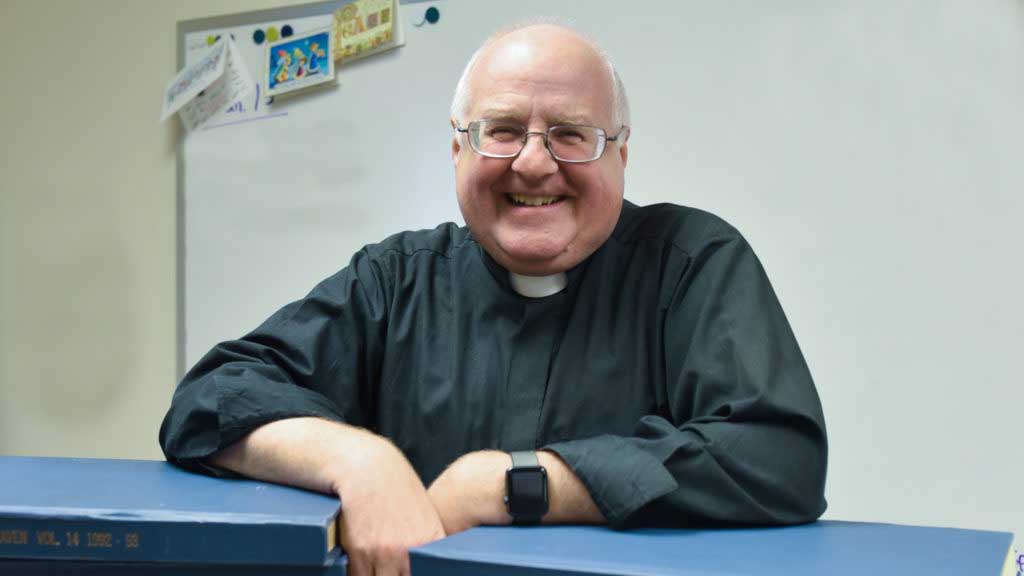 by Father Mark Goldasich
Well, it's time once again to assemble "the kit."
I've already gathered some of the essential items. Large screwdriver? Check. Two small containers of holy water? Check. A couple of ratty T-shirts? Check. A dozen bouquets of "fake" flowers? Check. Large bottle of regular water? Check. The only thing still missing is to draw up a "plan of attack."
So, what am I preparing for? I'll give you a hint: It has to do with the month of November.
I'm sure the first thing that occurred to a good number of readers is: How is Father Mark going to use the items in this kit to celebrate his November birthday? (OK, probably nobody thought this!)
Seriously, the answer is: November is the month that the Catholic Church sets aside to remember those who have died, and my "kit" is what I'll take when I visit the graves of many of my relatives and friends who are buried at Mt. Calvary Cemetery in Kansas City, Kansas.
The large screwdriver is used to poke a hole in the ground in front of the gravestones, to anchor the "fake" flowers. A little history here: As my mom got older and discovered the "reasonably priced" — that is, cheap — artificial flowers at Walmart and Dollar Tree, she insisted on using them at the cemetery. She liked that we could bring these flowers much more often to the graves and they could be easily (and economically) replaced when they faded or blew away in the wind.
The regular water and ratty T-shirts are used to clean off the gravestone from dried grass, accumulated dirt or, in the case of my Grandpa Modrcin's grave, bird droppings. Grandpa had a birdbath in the backyard which he made sure was always full. It was a standard joke in my family that the birds left these little "thank yous" on his side of the gravestone in remembrance of his kindness to them.
Finally, each grave is blessed with holy water while silently praying, "Eternal rest grant unto . . ."
As the years have gone on, the number of graves that I need to visit has greatly increased. That's why I assemble my "plan of attack," to make sure that I don't forget anyone while at the cemetery.
From a young age, I remember heading to the cemetery regularly with family to pray at the graves of deceased loved ones. It never struck me as scary or strange. It was a chance to honor those who had "gone before us in faith" and to savor memories of their impact on our lives.
I'd highly encourage everyone to visit a cemetery during November. Ideally, head to one where your relatives are buried. And you don't even need to take a "kit" with you (although that's not a bad idea). A prayerful and grateful heart are all that you really need.
Another valuable practice in November is to spend time flipping through old family photos, visually reconnecting with the people pictured there. Sharing those photos and memorable stories with younger members of the family can help them to feel a connectedness with relatives they may not have known in person.
I'll close with this inscription found on a 100-year-old Indiana gravestone:
"Pause Stranger, when you pass me by.
As you are now, so once was I.
As I am now, so you will be.
So, prepare for death and follow me."
An unknown passerby read those above words and scrawled the following beneath them:
"To follow you, I'm not content,
Until I know which way you went."
Amen!