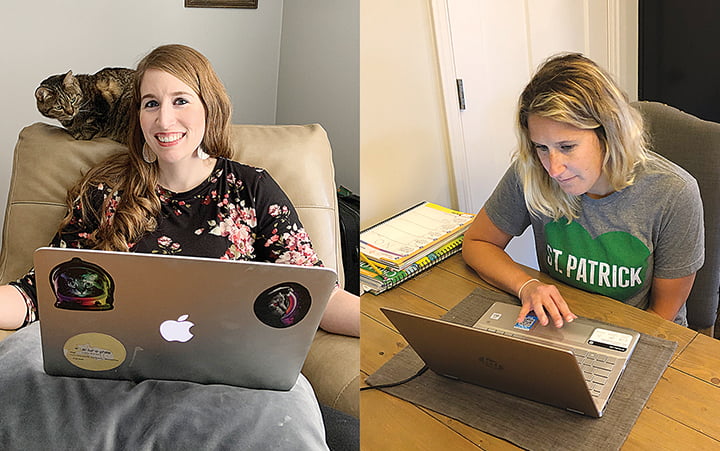 by Moira Cullings
moira.cullings@theleaven.org
KANSAS CITY, Kan. — When schools closed for the remainder of the academic year this past March, teachers and principals scrambled to put together plans for virtual education.
Many of them only had one week to do so before they would begin teaching online.
The implications of this have brought many challenges — but also some unexpected blessings — to school staff members across the Archdiocese of Kansas City in Kansas.
Read what teachers from the entire educational spectrum are doing to reach out to their students — and the surprising benefits they have experienced as a result.
Grade school
"Going completely digital was a shock to everybody," said Julie Leone, third-grade teacher at St. Patrick School in Kansas City, Kansas.
But the transition to online learning went smoothly for Leone and her students because the third- and fourth-grade classes had already begun using Google Chromebooks last year.
"The kids were familiar with technology and Google Classroom," she said.
When schools closed, St. Patrick rented out Chromebooks for students in second- through eighth-grade. Leone now instructs her students Monday through Thursday via Zoom. The students also participate in specials classes each of those days.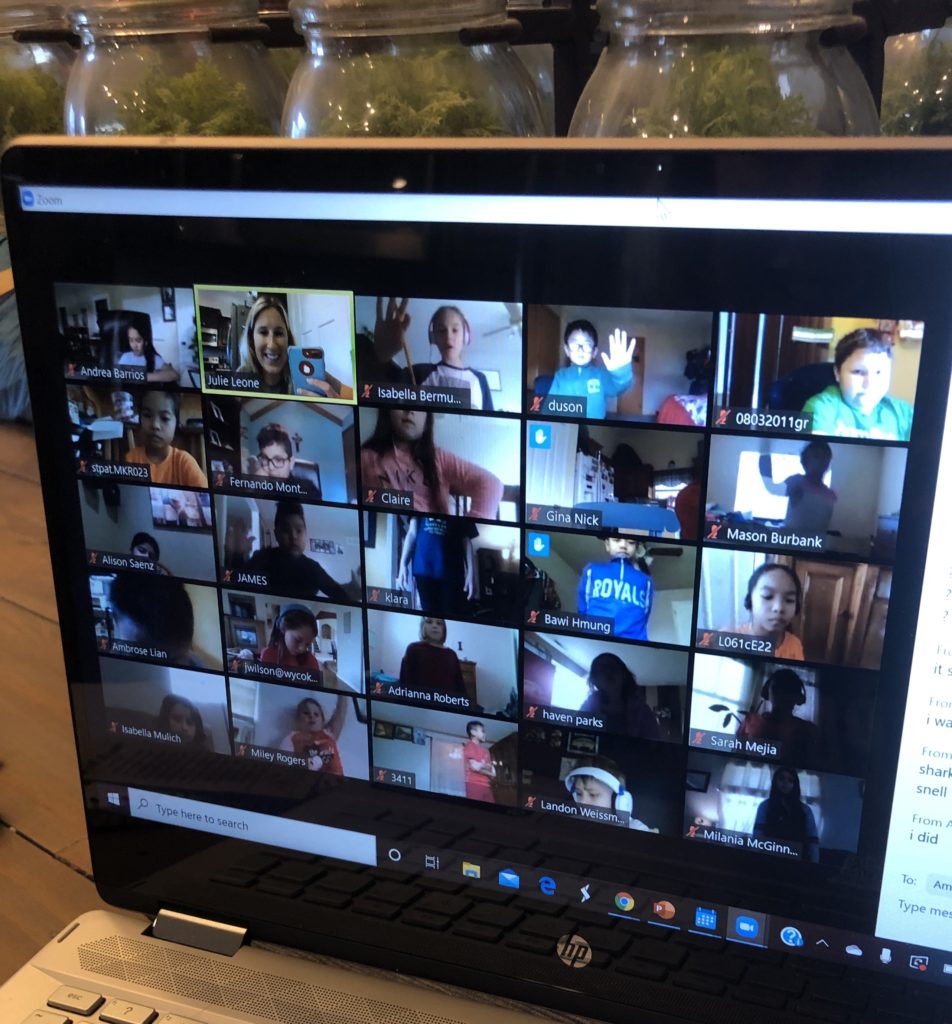 "I've been very impressed at how my students have done," said Leone.
"The kids have really responded well, and the parents have done an outstanding job helping their kids and making sure they're where they're supposed to be and they're doing their work," she said.
Because they are so young, Leone uses a few methods to keep her students actively involved and paying attention, like asking them to put their thumbs up or down, and to stand up or sit down, depending on whether or not they agree with a statement.
When running into any challenges, Leone and her fellow staff members rely on one another for support. Their focus throughout this process has been to pray, learn and stay healthy.
"We wanted to maintain the really positive relationship with [the students] that we had started at the beginning of the year," said Leone.
"I'm very proud of our school community coming together to work together and maintain relationships," she said.
Middle school
Kathy Morton, who teaches seventh- and eighth-grade religion at Holy Trinity School in Lenexa, has witnessed many good things come out of the hardship of being away from the physical school community.
"It was surreal and unbelievable to imagine that this is how we would be celebrating the end of Lent and Holy Week and Easter," said Morton.
"But I do feel with my middle school students it was a great opportunity," she continued, "because they were so much less distracted or involved in so many other things, like sports and springtime coming."
Morton is using Screencastify to connect with her students and has enjoyed helping them learn, even from a virtual standpoint.
The most difficult part has been her eighth-graders missing out on many graduation traditions and milestones, including receiving the sacrament of confirmation, which they were scheduled to do on April 2.
"To have that date come and go was really hard for all of us," said Morton.
But the students had done extensive research on the patron saints they chose, she added, which has come in handy during this difficult time.
"They have a lot of identification with those saints, and they're seeing how real [the saints' virtues] are working in their own lives right now as they try to have courage or persevere through difficulties and cling to their faith in these hard times," said Morton.
The students are also coping with missing a typical graduation ceremony.
"With eighth-graders in a Catholic school," said Morton, "there's so much emotional attachment and joy and celebration for a graduation.
"Many of them have gone to school since they were in preschool together."
Morton looks forward to a day her classes can come together again.
"I know a lot of them are fearful and confused," she said. "And yet, I hear in them the sense of them choosing to say, 'I trust in you, Jesus. I don't get it, but I'm really trying to trust.'"
High school
Moving to an online learning atmosphere has made Alli Jordan, a freshman and junior English teacher at St. James Academy in Lenexa, appreciate the small things in the classroom that she once took for granted.
"There's always the student who's late, but when they come into the classroom, they make a funny joke," she said. "Little things like that are endearing.
"Now, I really try to bring the human element to my classroom virtually."
Jordan teaches each morning via Zoom and takes advantage of websites like activelylearn.com, padlet.com and vocabulary.com to keep her classes engaged.
Her students have taken a virtual tour of Auschwitz and watched interviews with Holocaust survivors.
They've also taken a poetry nature hunt, where they took pictures of different aspects of nature and wrote a sentence about it using a poetic device.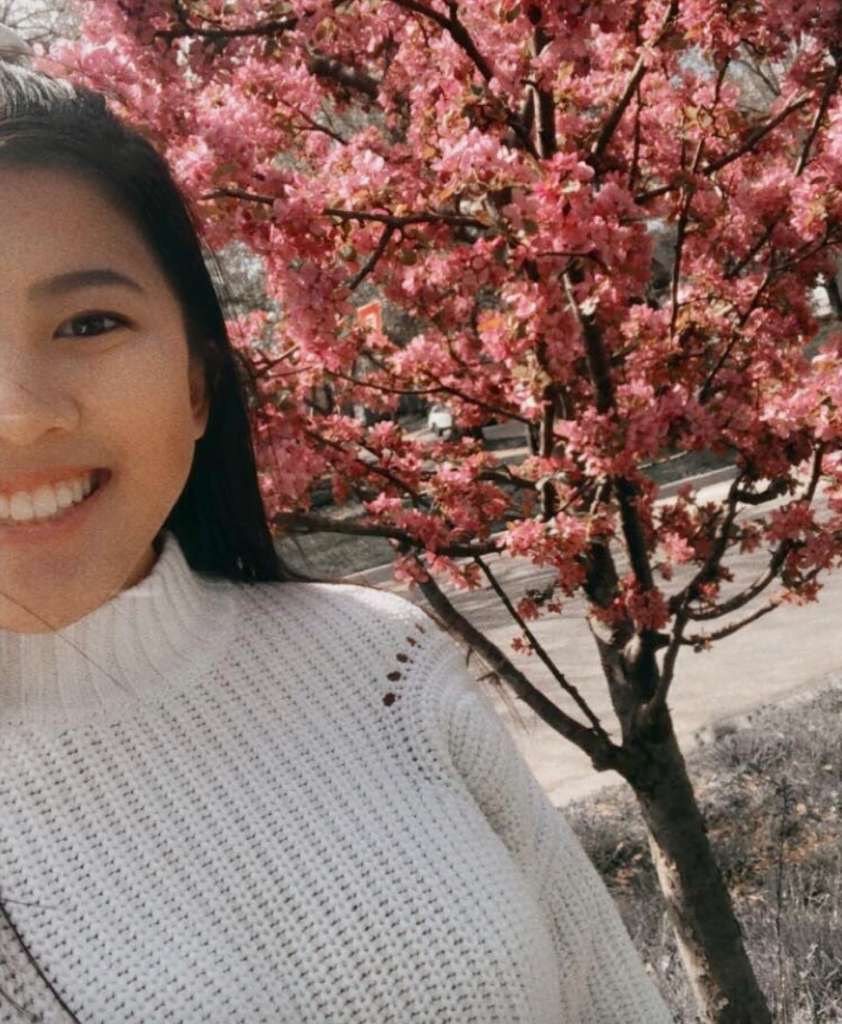 "The students are sitting on their computers all day," said Jordan, "and they're not getting that movement in.
"This assignment I did was really successful because they left their house and went on a walk and relished . . . the beauty of nature for a little bit."
The assignment also prompted a student to tell Jordan something she had never heard before: "Thank you for assigning this. I really needed this assignment."
Jordan tries to devise assignments that are practical but also enjoyable for her students. She's even hosting a cutest pet contest, where students can bring their pets to class and vote on which one is the cutest.
"There's been these cool assignments that I've come up with that I wouldn't have normally done," she said.
College
This is Rick Silvey's 20th year teaching mathematics at the University of Saint Mary in Leavenworth, but his first time lecturing exclusively online.
Silvey offers one synchronous lecture each week using Zoom and records the rest of his lectures using Camtasia. He is also utilizing programs like Liveboard and Kahoot to "spice up" his presentations.
"I am fairly tech-savvy," said Silvey, "but there's still a lot to learn to integrate those technologies into the virtual environment.
"We really just had one week to transition from the traditional classroom to the virtual environment."
Silvey has unexpectedly been inspired to continue using more technology even after students return to the regular classroom.
"The change in delivery has really made me cognizant of ways that I can help the students achieve course outcomes [by] utilizing tools and procedures that I may not have thought about before," he said.
For Silvey, these modern methodologies he has had to rely on have actually come with surprising benefits.
"In some respects, the assessments have become more thought-provoking rather than just simply asking them to recall facts or processes," he said.
"I believe it has made the students become more self-directed and responsible for their learning," he added, "and hopefully [they] have developed a deeper appreciation for the learning process."
The experience has made Silvey and his fellow professors "more patient and caring," he said.
"None of us really chose this environment," he added. "But we realize that everyone is making the best of the situation."