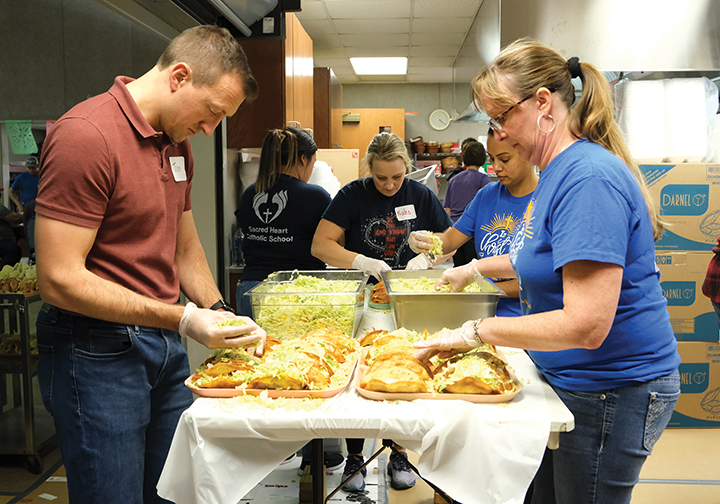 by Moira Cullings
moira.cullings@theleaven.org
EMPORIA — After 50 years, locals can't get enough of them.
"You can smell them, and you know it's happening," said Jennifer Danler, PTO president at Sacred Heart School in Emporia.
The tantalizing scent that seeps from Sacred Heart's parish hall each fall is that of fried pinned tacos being prepared for the school's annual Mexican Supper.
"Everybody in Emporia knows what Mexican Supper is," said Danler. "You mention Mexican Supper, and they think of Sacred Heart School. They think of Sacred Heart School, they think of Mexican Supper."
It's a beloved tradition that began in 1973.
This year's event, held on Oct. 6, fed some 1,400 people.
All hands on deck
The week of Oct. 2, thousands of tacos were carefully crafted and fried to perfection — all in an effort to raise funds for Sacred Heart's PTO.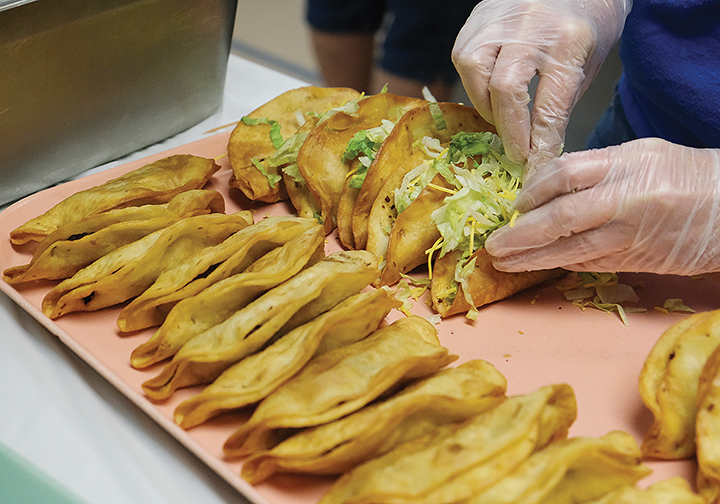 Mexican Supper is the PTO's largest fundraiser and makes a variety of educational opportunities possible for Sacred Heart students.
"It's a really big deal," said Danler, "because our budget encompasses a lot — from classroom materials for the teachers to field trips for the students."
Last year, students were able to visit Prairie Star Ranch in Williamsburg and spend a day at Camp Wood in the Flint Hills.
"We have a lot of different events during Catholic Schools Week," Danler added.
Charisse Arndt and Megan Tajchman were this year's co-chairs and helped coordinate the many volunteers who turned out to help.
"We get support from [the] parish and neighboring parishes with volunteer hours the day of the event, baking and pinning tacos prior to the event and cleaning up after the event," said Arndt.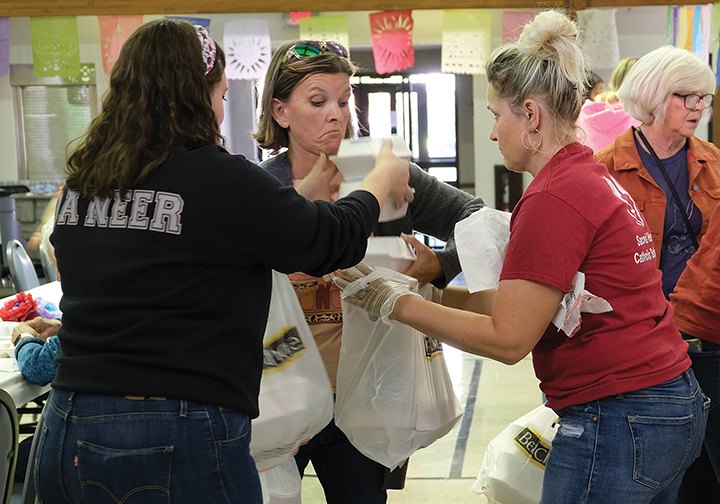 The tacos are the star of the supper.
"They're a lot of work," said Danler. "It takes all week to get them going.
"We have anybody and everybody come in and stuff the meat in the tortilla shells, and then you have to delicately pin the taco shells together with toothpicks."
Once the tacos are ready to fry the day of the supper, volunteers pull the toothpicks out and stuff the tacos with lettuce and cheese. They're served with fresh rice, chips, salsa and dessert.
The day of the supper, attendees have the opportunity to get their tacos to go or to dine in at the parish hall.
This year, those who stayed were treated to entertainment from a mariachi band and dancers.
Arndt said the event is special "because it is truly an act of love by not only the school families but also the huge support we have from our parish as well."
Danler agreed.
"It's a huge amount of work for our little tribe," she said. "We have parish and community members that step up and really help put it on and make it go smoothly."
Sacred Heart students also lend a hand.
"It's really cute to see them help out," said Danler. "They enjoy being a part of it and know that it's for their school."
Danler and her husband have a kindergartner, second grader and fourth grader at Sacred Heart who team up to sell tickets for the supper.
"I pull up to a business," said Danler, "I let all three of my kids out, they go in and I watch through the window as they introduce themselves and tell about what they're doing. They take and count the money.
"They're learning social skills, they're learning math skills, they're learning how to conduct themselves around others.
"They take a lot of pride in it."
Humble beginnings
Mexican Supper traces its roots to a simple gesture of hospitality.
In 1973, St. Catherine School in Emporia was closing its doors.
"In an effort to welcome the St. Catherine's students and families over to Sacred Heart School, they had a taco feed," said Danler.
Gloria Mendoza, her mom and her sister were instrumental in launching the first supper.
"We ended up asking all our neighbors and friends to make tortillas fresh, homemade," and the group fried a few hundred tacos that first year, said Mendoza.
"We had somebody make pinto beans from scratch and rice from scratch," she added. "Everything we had was homemade.
"Afterwards, it just got so big they started buying tortillas."
Mendoza's mom cooked the meat that first year, and it's been a hit ever since.
Mendoza, who had belonged to St. Catherine her whole life, moved her family to Sacred Heart at that time, where most of her children went to school.
Some of her grandchildren and even a great-grandchild attend the school, and she hopes Mexican Supper can continue on for her family's legacy.
"It just keeps on going," said Mendoza. "I hope they continue to do it."
Opportunities abound
Father Carter Zielinski, who's served as pastor of Sacred Heart for the past couple years, said Mexican Supper is a learning opportunity for the students.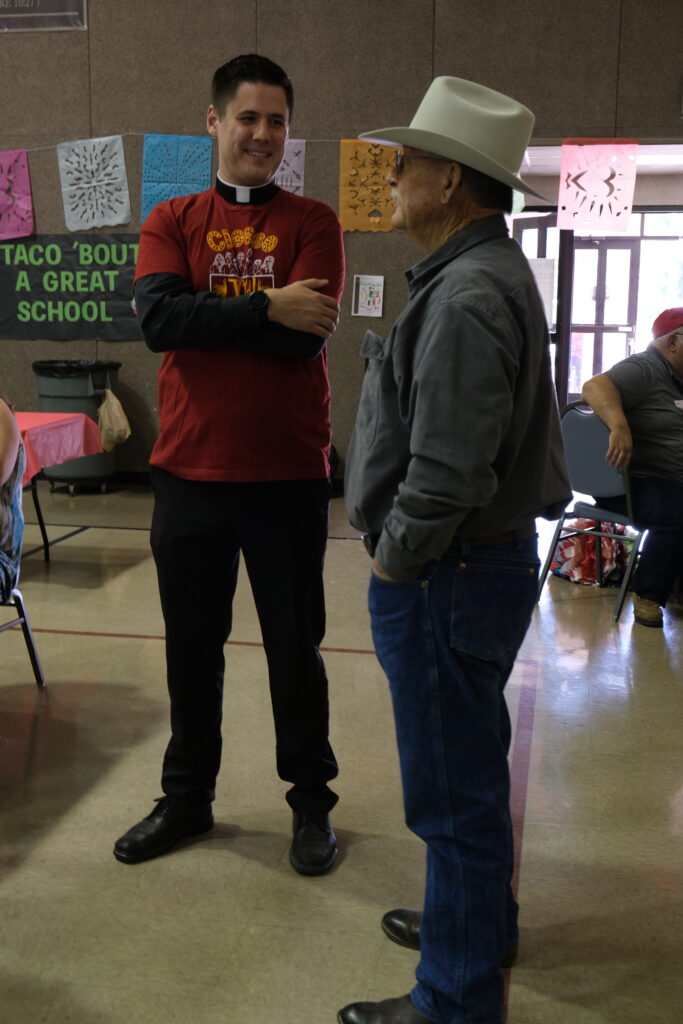 "I certainly hope the students follow the example of their parents and other volunteers who are generous with their time and energy in order to make parish events like this possible," he said.
"Going to Mass and following Jesus are the most important things we can do as families," he added, "and this event can bring our families together."
Danler is grateful her children have the opportunity to attend a Catholic school and that their education is thriving thanks to fundraisers like the Mexican Supper.
"It's a community event that requires everyone," she said. "Because everyone does get involved, it's truly special."