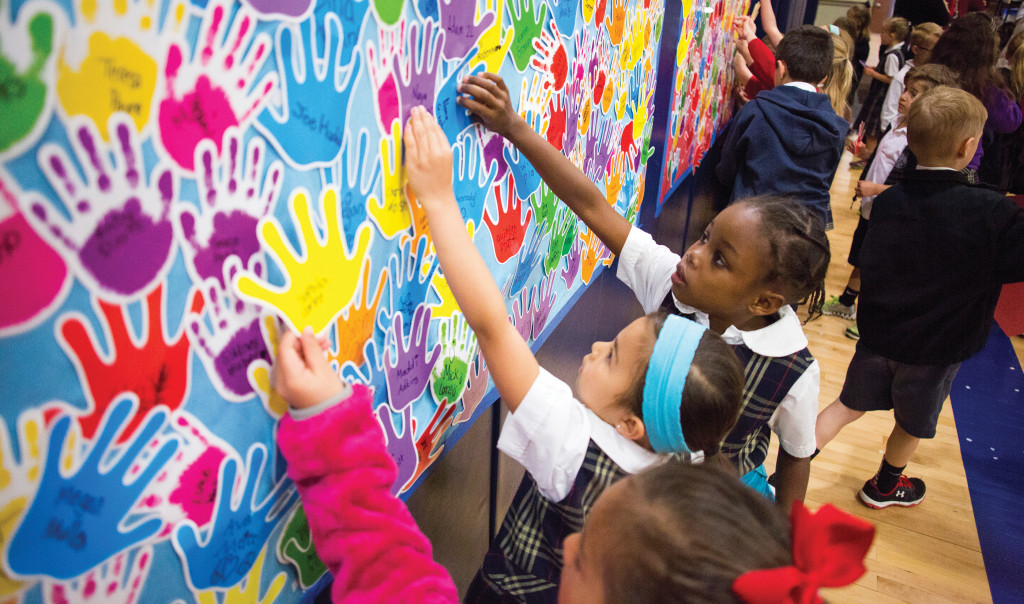 St. Michael students put muscle behind their motto — 'Go forth to serve'
---
by Jessica Langdon
jessica.langdon@theleaven.org
LEAWOOD — It doesn't take fancy math for students at St. Michael the Archangel School here to figure out that some things don't add up   — like the fact that one in every five American children lives in poverty.
That's why the school works hard to instill in each student a lifelong passion for serving others in need.
"The children are learning, 'Sure, we're going to bring in food for the Catholic Charities food pantry' — but [also] 'Why are there people hungry in the first place?'" said Michael Cullinan, principal of St. Michael the Archangel. "We can temporarily help their hunger, but what can we do in the long run to stop hunger and to level the playing field?"
Service projects throughout the year culminate in a school-wide event, this year held on May 2, called "Go Forth to Serve" day, in honor of the words inscribed on the school building.
Dawson Duran, a seventh-grader and a service ambassador who helped plan and lead the day, sees it as "the grand finale of all we've done all year."
An all-school Mass kicked off the day, after which students processed outside for a walk — complete with signs and chants — in solidarity with the poor.
Each pledged to serve by signing his or her name on a handprint. And then the real work began.
They tied colorful fleece blankets for children, the elderly and hospital patients in Honduras — and wrote to people there.
They penned encouraging notes to people who have turned to Catholic Charities of Northeast Kansas for assistance.
They heard the stories of parishioners who serve in many different ways.
They sorted clothing donations that will benefit Catholic Charities.
And they filled boxes with all the supplies necessary for an all-out birthday bash for a child whose family might not otherwise be able to afford a celebration.
They've learned it's hard to provide for a child's wants when a family struggles to meet its needs.
Giving from the heart
Now a seventh-grader and a service ambassador, Kaitlyn Dehais remembers being so excited as a kindergartner to go to the office and pick up her special birthday treat — a bag of Skittles from Cullinan — that she lost her shoe in the hallway.
So she and her classmates love sharing the tradition that has become such a cherished part of their own birthdays over the years with others by tucking a package of Skittles into the birthday boxes along with cake mixes, sprinkles and other party supplies.
The clothing drive, with donations destined for Catholic Charities' TurnStyles thrift store, also made the giving personal.
This was a "cool clothing drive for kids, teens and tweens," said Cullinan. "They were asked to get something out of their own closet that they really like to wear and donate it."
During the commissioning service at the end of the day, Lauren O'Donnell, a seventh-grade service ambassador, told the student body that the kids shopping at TurnStyles want the same kind of clothes the students who donated the items like to wear.
A message from Ken Williams, president and CEO of Catholic Charities of Northeast Kansas, really hit home when he spoke with the service ambassadors during one of their meetings this year, said Karen Dehais, one of the parent coordinators of the "Go Forth to Serve" initiative.
"He talked to them about how it feels to go in the closet and know that all your choices are the things someone else doesn't want to wear anymore," said Dehais.
And so, instead of spending money on bandannas or T-shirts for the whole school for the day, service ambassadors went shopping with parent volunteers for new clothes.
A group came back excited to have amassed more than 60 items — getting help from store employees to get the biggest bang for their buck — that will go specifically toward people Catholic Charities works with.
Changing the world
This school year focused largely on justice for the working poor, said Kaitlyn, who has started to see the world in different ways, thanks this service initiative.
Spending this year as a service ambassador helped Sam Arth, a seventh-grader, discover ways he can help others — and that he's called to do so.
"Change can happen by one person," said Sam. "It can change a city, a state, a country — or the whole world."
The seventh-grade service ambassadors got to see a lot of the behind-the-scenes action before and on the school-wide day of service.
That was fun for Dawson, especially when he saw the younger kids' response.
"I was expecting nothing but the I-don't-care face and that they were forced do to this," he said. "But it was the complete opposite."
In fact, the only complaints he heard were from students who had finished making blankets — and wanted to do more. Christian music had been playing in the room where the blanket- making was going on.
"As the fifth-graders were finishing, they all stood up and they started singing the song together," said Lauren. "It just made us really happy because they were just all coming together, making blankets for Honduras and all singing together."
Children might not have a lot of material wealth to share, said Dehais, but each student had something special to give to others, and this initiative highlights that.
"When you start in kindergarten, it's really easy to build empathy — to build that characteristic in children," said Cullinan. "And though they are blessed with a lot, they're reminded all the time — and so are their parents — that [to] those who are given a lot, a lot is expected of them."
"I hope that they'll make the world a better place," concluded Cullinan. "That's what we're trying to do — to be good, responsible Catholic citizens. That when they see a wrong, an injustice, they'll speak up, they'll do something about it.
"Imagine if everybody did that."