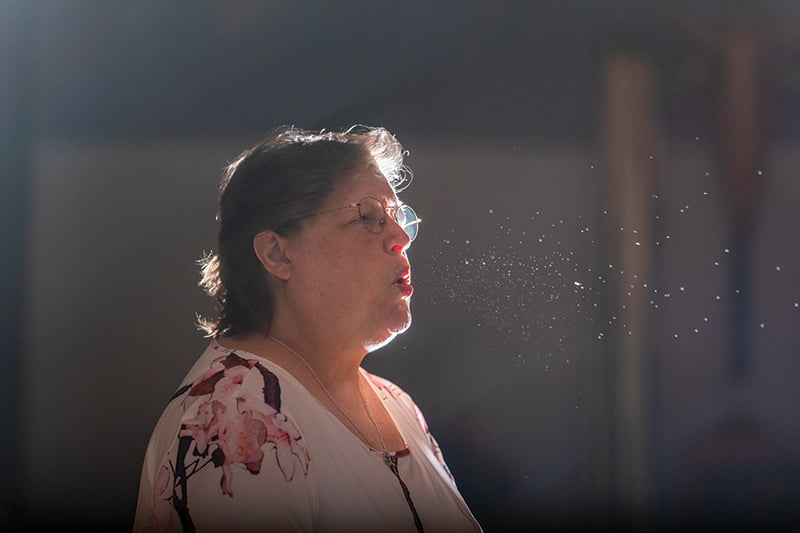 by Moira Cullings
moira.cullings@theleaven.org
KANSAS CITY, Kan. — Music has been at the heart of Mary Jo Mahoney's life for decades.
She spent her grade school days at the former St. Pius X School in Mission and was taught by Benedictine Sisters, who encouraged her to get involved in the choir.
Music became her passion, and she went on to study choral conducting and music education. She now works as the director of music and liturgy at St. Pius X Parish.
So, when Archbishop Joseph F. Naumann released guidelines on the reopening of public Masses amid COVID-19, and it was clear that congregational singing would not be allowed, Mahoney was heartbroken.
"It was the most painful thing to see," she said. "It's just disheartening because that is something I think is so key to our whole celebration of Mass."
But Mahoney is confident the temporary protocol is necessary for the safety of congregants based on the evidence she's seen.
One tragic example illustrates how easily coronavirus is spread by group singing. In early March, before the symptoms and communicability of the virus were widely understood, a choir member — with only minor cold-like symptoms but who later tested positive for COVID-19 — attended a choir practice in Mount Vernon, Washington. During that practice, 52 of the 60 other choir members were infected and later grew ill, according to a report by the Centers for Disease Control and Prevention.
Two people died as a result.
The severity of the situation prompted experts in the singing and performing arts community to meet virtually to discuss what needs to be done to reduce the spread of COVID-19.
In a YouTube presentation entitled "A Conversation: What Do Science and Data Say About the Near Term Future of Singing," Dr. Lucinda Halstead, president of the Performing Arts Medical Association, concluded that singing in a group is not safe unless there is a vaccine and a 95% effective treatment for the virus.
It was no surprise, then, to Michael Podrebarac, archdiocesan consultant for liturgy and sacramental life, that Archbishop Naumann directed his flock to temporarily stop congregational singing from the very start of reinstating public Masses.
Research has indicated that COVID-19, as is the case with similar viruses, spreads largely through tiny droplets released into the air through human breath, said Podrebarac, which is why people are also being asked to wear masks at church.
"What's invisible to the naked eye," he said, "is really significant when you think about the amount of droplets that are released during a cough or sneeze.
"There is an elevated number of these droplets released into the air when we sing."
But not all Catholics are convinced the decision to suspend singing is the right one, said Podrebarac.
The virus is a new one, and its properties and the way it is spread are not always clearly understood.
"One can find a doctor or a group of individuals that will support just about any perspective we can imagine with the coronavirus," he said. "Everybody can easily come up with their own set of 'experts.'
"I don't think it's because people don't want to do what is right."
Instead, said Podrebarac, he sees a church that is hurting and "longing for some kind of return to normal."
"There are people who love to sing at Mass," he continued. "And the music is an integral part of their experience for participation in worship.
"Because that's not possible now, it can cause quite a bit of a strain on the mind and the heart."
It is just human nature, he added, to prefer an explanation that requires less drastic measures than those that have been required.
"So, when we hear alternative explanations to possible risks of spread, in all sincerity, we want to believe whatever makes the situation as minimally threatening as possible," he added.
Podrebarac, who has a passion for cantoring at Mass, empathizes with the pain people feel from not being able to worship the way they are used to.
"Singing elevates our human speech in a way that no other medium does," said Podrebarac. "It brings a certain delight, a certain emotion [and] a certain solemnity, as the Second Vatican Council taught.
"All of these things are brought to human speech through singing and can't be achieved in any other way.
"It's an unsettling sound, this lack of singing."
Although Mass is much quieter at St. Pius X these days, a church known for enthusiastic singers, Mahoney has been inspired by her fellow parishioners who have made the best of the situation.
"I'm just amazed at how people have taken to respecting the wearing of the masks and staying after [Mass] to help wipe down the pews," she said. "It's new protocol, but people have stepped right into it."
Mahoney looks forward to the future when the St. Pius X community can gather together fully.
"As the restrictions are lifted," she said, "I see that soon we'll be singing again."
Podrebarac agreed, and he encouraged Catholics to be patient until then.
"All of this is being done right now so that we can have access to the sacraments," he said. "All of it is being done with an eye toward keeping us safe during this time of pandemic.
"And we'll get back to where we want to be."