For young Catholic couples of the stage, faith is more than an act
---
by Bob Hart
OLATHE — Less than a mile apart, the city's two dedicated theatrical venues — the Chestnut Fine Arts Center and the Olathe Community Theatre Association — are currently hosts to a pair of young Catholic couples. Their shared love of theater has turned into a marriage-strengthening bond.
David and Celia Thompson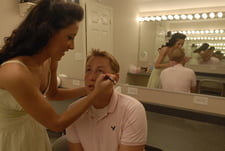 Celia Shea Thompson
Age: 30
Occupation: Optometric technician
David Thompson
Age: 30
Occupation: Operations analyst
Married: June 12; Holy Spirit Church, Overland Park
They met as high school students, each performing in separate productions of Shawnee Mission Theatre in the Park's summer season.
"It was 1997," David Thompson recalled. "She was in 'Crazy for You' and I was in 'Guys and Dolls.'  There was a 'meet the casts' picnic, and my cousins were in the show with Celia. They told her, 'You've got to meet our cousin Dave.'"
Meet they did, and dated through high school graduation, after which inevitable life changes kept them apart for more than a decade.  David stayed in the Kansas City area; Celia went off to what is now Missouri State University.
Both continued to perform.
In fact, as David racked up theatrical credits in the metro, Celia found a surprising new platform for her talents: the Miss America organization. A runner-up for Miss Missouri in 2004, she continues to be active with the Miss Kansas City pageant to this day.
"When someone told me I should enter, I thought, 'Yeah, right,'" Celia said. "Then they said [the pageant organization] could help pay back my student loans, and I said, 'Where do I sign up?'"
A few years later, she found her old boyfriend David Thompson on Facebook and began chatting.
"She said she was single," David said, with a smile. "We went out, and that was it."
As their relationship grew more serious, t
he two began to consider matters of faith. Both had been raised in homes where religion was important. Celia was Catholic; David, Lutheran.
"It wasn't like we were on different planets," David said. "We both felt comfortable at each other's churches. We'd had long discussions with our parents about the similarities and differences of the two religions. Eventually, we decided that we needed to be on the same page. We wanted to go to church together. And when we were ready to have a family, we wanted that to be just one church — not Dad's one week and Mom's the next."
David decided he would be the one to convert and began the RCIA program a year ago.
"I told him, 'I don't want you to do this because you feel like you have to. I want you to do it for you,'" Celia said.  "He said, 'I want to do it for me, and I want to do it for our future.'"
That future, they believed, got off on the right foot with the help of Father Rick Storey, pastor of Holy Spirit Parish in Overland Park.
"One of the great things about Father Storey is that [in marriage preparation classes] he really emphasized the sacrament of marriage," Celia said. "It's not about the day or the dress or the flowers. It's about the sacrament."
That point was driven home when, on the day of the wedding this past June, heavy rains forced a hasty rethinking of scheduled outdoor photos.
"Father Storey's homily was about how rain brings life, and how this was the beginning of our new life," she recalled. "He brought it all together, and it was great."
David echoed that sentiment.
"He knew how Lutheran my family was, and he did a great job of explaining everything. He'd say things like, 'You may sit or kneel here, according to your custom.' He made everyone feel comfortable."
David and Christina Martin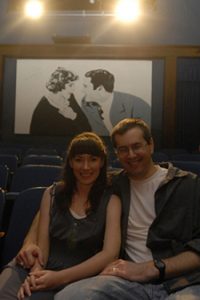 Christina Schafer Martin
Age: 28
Occupation: Advertising project manager
David Martin
Age: 30
Occupation: Banking analyst
Married: Sept. 22, 2007; Curé of Ars Church, Leawood
David Martin remembers it well.
"We met in Room 209, Murphy Hall, on the campus of the University of Kansas, in Acting II class. It was the last semester of my senior year and midway through Christina's third year."
They dated that summer following David's graduation. But, like the Thompsons, they were soon separated.
"I moved to Chicago for a year," David said. "When I got back, we'd see each other sometimes. We'd sort of hang out once every six months or so. Then finally it got to the point where neither of us was seeing anyone, and we started dating again. It was a random, happy accident that we got back together."
The Martins found a kindred spirit in Father Kent O'Connor, who taught their marriage preparation courses and ultimately celebrated their 2007 wedding in Leawood, despite having been recently transferred to a parish more than two hours away. Father O'Connor had once been a professional dancer, and had written an original musical, so he "got" the young couple whose passion for the arts brought them together in the first place.
"We just loved Father Kent," Christina said. "He really knew both of us, and he was with us every step of the way, through the entire process."
Although they have acted together several times, the Martins took on a new challenge late last year, when Christina played a role in David's full-length directing debut: a production of the classic comedy "Arsenic and Old Lace."
"Christina wasn't going to audition," said David, "and I didn't want her to. I didn't want that stigma of, 'Oh, he only casts his wife.'"
Presented with no appropriate options for the ingénue role on Day 1 of auditions, however, he quickly changed his tune.
"I came home and said, 'I need you to be there on Day 2,'" he recalled.
Christina got the role, and what could have been a dangerous marital road was navigated smoothly.
"We're both very easygoing people, so it was great," Christina said. "We just wanted the best thing for the show. I can see how couples might get in a bad situation and it might not turn out well. But we did fine. He's a great director, and we work well together."
The Martins have just begun rehearsals for a production of the classic drama "Our Town," in which they'll play the young romantic leads, George and Emily.
Although they concede it's not practical to always work together, they jump at the chance when it arises.
"It's a demand on your time, certainly," Christina said. "It's hard to spend the entire day apart, then get home and have to turn around and say, 'See you later.' So doing a show together is wonderful."
Her husband agreed, even admitting to sometimes taking part in what he calls "suicide auditioning."
"With certain shows, if Christina's not going to be a part of it, I'll indicate at the auditions that I only want certain roles," David said. "It doesn't always work out. But if I get turned down, the 'downside' is I get to spend time with my wife. Oh, that's rough."