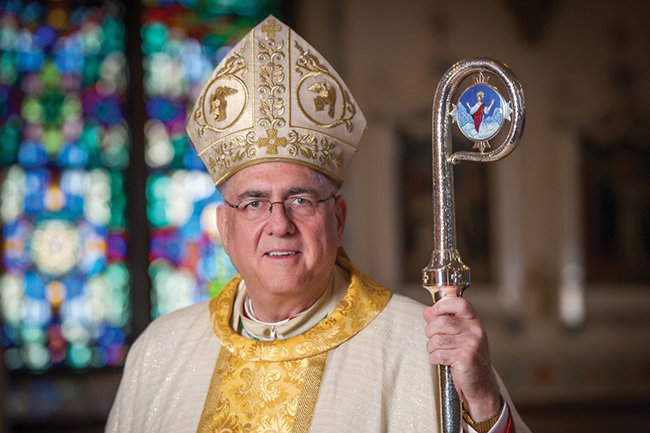 by Archbishop Joseph F. Naumann
This Saturday, May 27, I will ordain two new priests, Father Daniel Coronado and Father Michael Guastello.
This past Saturday, I ordained two transitional deacons, Deacon Justin Hamilton and Deacon Viet Nguyen. Deacon Justin has completed all of his theological studies. God willing, I will ordain him a priest in November.
In September, Carter Zielinski and Joseph Heschmeyer, who attend the North American College Seminary, will be ordained transitional deacons in Rome. Next June, God willing, I will ordain Carter, Joe and Viet priests for our archdiocese.
Three is our magic number for priestly ordinations. Ordaining three priests on average each year allows us to grow slightly the size of our current presbyterate. Though we could use 10 additional priests today, I am very grateful not just for the number of priestly ordinations, but the quality of the men who will be serving the people of the archdiocese for many years as priests.
I have accepted five new men for the seminary for next year and our vocation director Father Scott Wallisch believes that at least three others will complete successfully the seminary application process in time for the fall semester. I am very grateful for all those who are praying for and encouraging young men to consider vocations to the priesthood.
This past Sunday, I had the privilege of baptizing four infants. One of the families, whose baby I baptized, gave me a card thanking me for baptizing their daughter. The following are excerpts from a reflection on the importance of the priesthood that was enclosed in their card. (The reflection is a from a blog post by Tom Hoopes for the National Catholic Register.)
"Thank you, priests, for sacrificing the fulfillment of making it in the world in order to give us a chance to make it to the next world. You don't take on jobs — they are appointed to you. You put your own will at the disposal of the church, for us. We are grateful.
"Thank you for bringing our children into the church, and sustaining their souls with the sacraments. And thank you for welcoming them into the church informally as well. We see them look at you like celebrities, and we're glad the first celebrity they got to meet was a man of God. Thank you for patiently listening to them, for taking such joy in teasing them, and for showing them the true face of Christ: the gentle one who said, 'Let the children come to me.'
"Thank you, priests, for presiding at our marriages, even while you yourselves live such that you can be ready to serve your people at a moment's notice. Sometimes married people sigh and think envious thoughts about living alone. But in the end, it's hard for us to imagine how you do it. Thank you for risking loneliness to serve us and our families.
"Thank you, priests, for putting yourself in the unenviable position of dealing with us at our worst moments — when we're anxious, upset, depressed, even a little out of our minds, focused on our own problems to the exclusion of all else.
"When we see the care you have to take in listening to the problems of so many kinds of people, we can't imagine how you do it. How do you listen to angry people, whining people, weeping people, nervous people, suspicious people and clueless people? How do you listen to us?
"Thank you, priests, for sitting in empty confessionals on Saturday afternoons. You wait there, not even knowing if we'll come, like the prodigal son's father on the road. Thank you for all the times we hear, 'I absolve you from your sins,' and feel a great burden lifted from our hearts. This gift of God's forgiveness brings the greatest joy back into our lives. We can give you nothing in return that even comes close to that.
"And thank you, priests, most of all, for bringing Christ himself into our lives. Where would we be without your astonishing ability to make the body, blood, soul and divinity of Christ present on our altars and in our tabernacles? You are there for us every Sunday, every morning, giving us this infinite gift. Thank you.
"In the end, that's what is so great about you; not you, in yourself, but who you bring us — Christ.
"People call from the hospital and say, 'I need a priest.' They point to a confessional and ask, 'Is there a priest in there?' They approach in the airport and ask, 'Are you a Catholic priest?'
"When people need a priest, any priest will do, because a priest is nothing but a representative of Christ. Christ is the main actor in the consecration at Mass. It is Christ who forgives sins. It is in Christ that we are baptized.
"The story of my priestly vocation? wrote Pope John Paul II. It is known above all to God. At its deepest level, every vocation to the priesthood is a great mystery; it is a gift that infinitely transcends the individual. Every priest experiences this clearly throughout the course of his life. Faced with the greatness of the gift, we sense our own inadequacy.
"Your inadequacy is your secret weapon.
"You aren't acting on your own behalf or through your own powers. You are acting for Christ. And that's why, despite all the attacks, the priesthood will prevail. We depend too much on you to ever let you go.
"Thank you, Father, for being Christ for us!"
What a beautiful reflection on the beauty and the importance of the priesthood. I am very grateful for the goodness and the generosity of the priests of the archdiocese. Without zealous and dedicated priests a bishop is impotent. There is very little that a bishop can do apart from the assistance of his priests.
Please pray for Father Daniel Coronado and Father Michael Guastello, as they begin their priestly ministry, that they will be good and caring shepherds for God's people. Please pray for all of our priests, young and old, that Our Lord will give them glimpses of the great good he is accomplishing through their priestly ministry. Please pray that many more young men will hear Our Lord's call to follow him as a priest and that they will have the courage to embrace the call to be a shepherd after the heart of Jesus Christ!