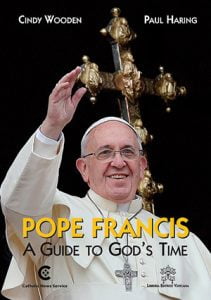 by Jessica Langdon
jessica@theleaven.org
KANSAS CITY, Kan. — The clock is ticking on people searching out that special Christmas gift.
But perhaps it will be found in God's time — or more specifically, a new book called "Pope Francis: A Guide to God's Time" by Catholic News Service senior Vatican correspondent Cindy Wooden and Paul Haring, senior staff photographer for CNS's Rome bureau.
The book, featuring over 90 of Haring's pictures, takes readers through the liturgical year guided by Pope Francis' homilies, addresses and celebrations.
It was the director of the Vatican publishing house who hit on the idea of a book on the liturgical year featuring Haring's pictures, explained Wooden.
"Since so many of Paul's liturgical photos are of the pope at prayer, and since the pope's homilies and Angelus commentaries on the Sunday Mass readings are so interesting, I decided to use them as the guide for explaining the liturgical year," she said.
While Pope Francis' morning Masses in the Domus Sanctae Marthae are technically private, the Vatican provides "extensive excerpts" from his homilies, said Wooden.
"His homilies are not only brief and often filled with wonderful metaphors," she said, but "he follows the day's Scripture readings very closely. Those readings change according to the season in the church's year or the feast day we are celebrating."
It was these excerpts that she drew on in preparing the book.
As she started studying the pope's homilies, said Wooden, it "reinforced my sense that he's challenging me to live my faith better, especially in the seemingly little things, like how I speak of others or how I deal with people begging."
She also found many phrases and masterful metaphors that brought a smile to her face.
"They are so real and down-to-earth and reveal just how much contact he has with real people striving to live as Christians in the world or in religious communities," said Wooden.
"And he's so very serious about recognizing our own sinfulness and being certain that, no matter what, God in his mercy will forgive us," she added.
But it was more than the pope's wisdom that Wooden tried to highlight in the book; it was also the importance of the liturgical seasons of the year and the proper celebration of each.
"Researching and writing the book helped me to appreciate just how important it is for human beings to mark time and celebrate events over and over again," said Wooden.
She likened the spiritual times of Advent and Lent to the physical acts of putting up storm windows and chopping wood to prepare for winter.
And just as greetings from friends and family on birthdays remind her of their love, feast days provide opportunities each year to recall special events in the lives of Jesus and Mary or to remember the saints.
"I hope the book will help Catholics think about why the seasons and the colors of vestments and the readings at Mass change each week and appreciate that it's not just to avoid boredom!" said Wooden. "I know people will enjoy looking at the beautiful photographs that show the pope interacting tenderly with people, but also with images of the Blessed Virgin. He loves Mary in a very touching way."
The photos also detail the pope's love for the Eucharist, she added, noting that she was drawn to all of the images as the book was being produced.
Leaven editor Father Mark Goldasich, a longtime fan of both Wooden's and Haring's, is pleased to have something by Catholic press friends and colleagues to add to his recommendations this year.
"This is a beautiful book for browsing. We can only use a few pictures in The Leaven each week, but in this book Paul Haring's arresting photos show the many activities and locales that Pope Francis is involved in.
"Cindy Wooden's clear and concise writing helps readers walk through the church year accompanied by the pope's words, deepening their experience of each unique season."
Order a copy
"Pope Francis: A Guide to God's Time" is available in English and Spanish at: www.usccbpublishing.org or www.amazon.com.