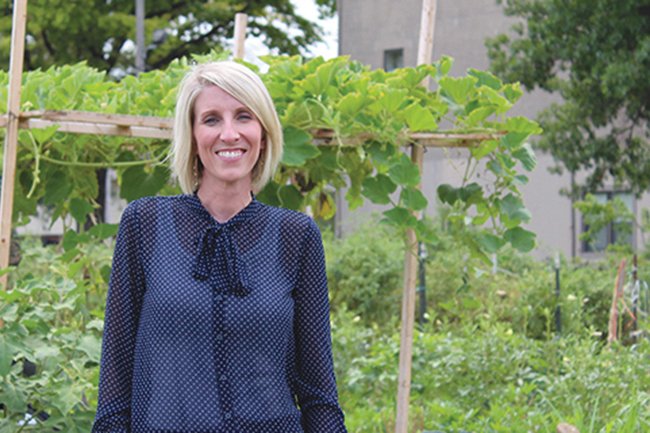 by Lauren Solidum
On December of 1952, the work of Stevan Dohanos adorned the cover of the Saturday Evening Post with an illustration titled "Bus Stop at Christmas." 
In the picture there are people of all ages waiting at the bus stop. Their arms are laden with presents, a tree, a wreath, and even a live Christmas goose snugly tucked in a basket.
It's a spectacular picture. But, what struck me most about the people in the painting is that none of them appear happy.
Now, I can unquestionably understand the goose's demeanor; his fate is almost certain Christmas dinner. However, the distaste on the faces of the people still perplexes me. I am certainly not an art connoisseur, so forgive me when I flippantly joke that perhaps it's because they paid full price for all those packages.
(Cue shameless plug for TurnStyles.)
TurnStyles Thrift, a ministry of Catholic Charities of Northeast Kansas, sells gently used, donated items at reduced prices, with the proceeds going directly back to help fund agency programs.
TurnStyles contributes more than $1 million in annual revenue to the mission of Catholic Charities. TurnStyles shoppers can feel good that not only can they get a great deal on their purchase but, in doing so, they help support our neighbors in need.
We have two TurnStyles locations in Overland Park: 135th and Nieman and 87th and Farley. In October, we were blessed to open a third store location in the Mission Mart Shopping Center in Mission. Stop by and check out our locations, while fulfilling your holiday shopping lists.
Volunteers are crucial to our ministry. They serve our neighbors by processing and organizing sale items. But, most importantly, they bring dignity to the shopping experience.
We strive to make TurnStyles more than just thrift shopping. Our store personnel arrange items as they might be displayed in a boutique, giving consumers a feeling of high-end shopping at budget-friendly prices.
Our efforts were validated when Cathy, a grandmother shopping for her grandchildren, expressed how appreciative she was for the cleanliness, quality items and welcoming environment offered.
She mentioned how proud she was that she was able to buy select items for her family, helping them stay warm and stylish this winter.
When patrons support TurnStyles, they are supporting people like Cathy and — bonus — the 24 other programs Catholic Charities is honored to operate. Remember: Shop, donate, volunteer this season.
If I were an artist, I'd paint my own rendition of "Bus Stop at Christmas." In my version, there would still be a tree and a wreath with festive embellishments.
There would also be a crowd of people with an armful of packages standing outside a TurnStyles storefront.
Perhaps, best of all, they would be smiling.