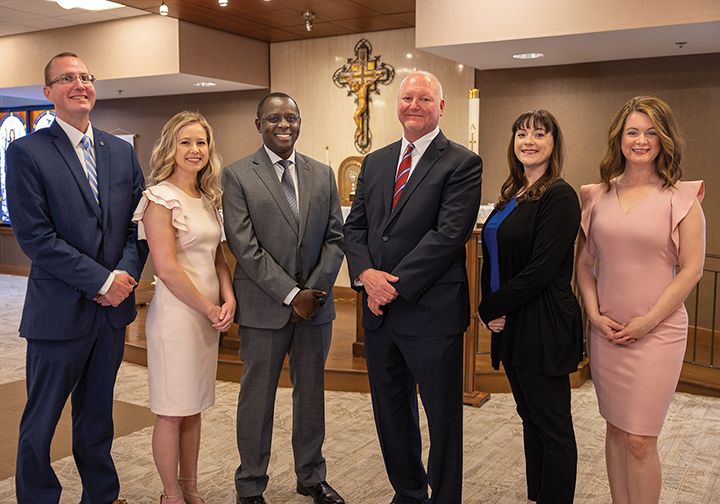 by JD Benning
Special to The Leaven
OLATHE — As Villa St. Francis here, Catholic Community Hospice and Catholic Community Home Care come together to provide a continuum of care to seniors in the Archdiocese of Kansas City in Kansas, Brad Heidrick has stepped forward to lead the way as the new CEO of Catholic Community Health. Having spent more than 35 years in the long term care industry and having previously served on the board of directors of Villa St. Francis, Heidrick brings a wealth of knowledge and experience to advance the mission and ministry of Catholic Community Health.
"I basically grew up in the industry," Heidrick said. A native of Beloit, Heidrick's grandmother owned and operated a long term care facility in the area, later adding a new facility and putting his father in charge.
"Many people say, 'Once you're in this industry, you're in it for life,' and I feel that it truly is a calling," he said. "After college, I pursued my Nursing Home Administrator license, but I also went through the CNA program. To this day, most of my decisions relate back to that, always asking the question, 'How is this going to affect our residents?'
"It's my goal for our staff to ask that same question, always seeking to make a positive difference in people's lives."
The executive team at Catholic Community Health is excited that Heidrick has been brought in to lead the charge.
"It's a blessing to add Brad to our team as CEO," said Matt Kemnitz, Catholic Community Health's chief mission officer. "He is a person of great faith and character that I am excited to work alongside as we seek to bring Catholic Community Health to the next level. Brad's humility and example of servant leadership is inspiring, and it is a privilege to work with someone who demonstrates genuine concern for our staff and the people that we care for."
Heidrick takes the helm of Catholic Community Health at a crucial juncture in the organization's long history of service in the archdiocese. Villa St. Francis recently broke ground on a major facility overhaul that will increase its rehabilitation services along with other critical facility updates. They also recently announced the Villa Fall Ball, an event to raise funds for Villa St. Francis, where services are offered to seniors regardless of their faith background or ability to pay.
Heidrick's father provided him with a strong example of servant leadership.
"Whenever a new class of nursing school graduates would come to our facility, my dad would always remind them, 'If today you hear [God's] voice, harden not your hearts.' He always reminded me that every interaction with the residents is an opportunity to make a positive impact on their lives, even if it's something as simple as a sip of water or just spending a few minutes with someone."
Catholic Community Health provides a full continuum of care for seniors in the archdiocese, as well as offering hospice services in the Diocese of Kansas City-St. Joseph. And CCH is the only Catholic hospice and home care in the archdiocese.
To learn more, visit the website at: Catholiccommunityhealth.org.