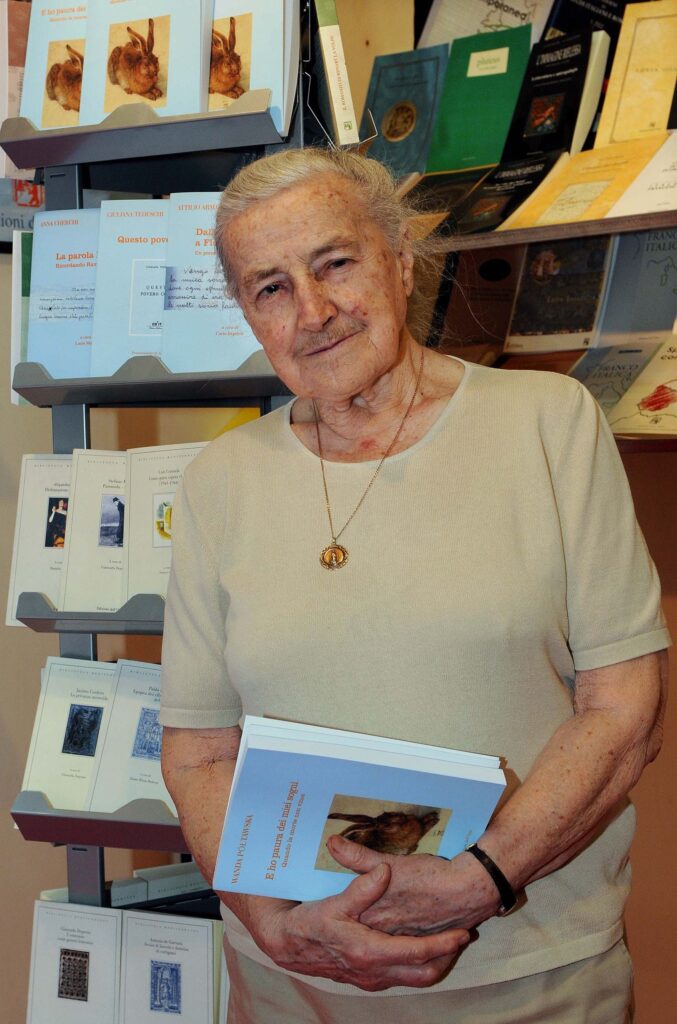 by Paulina Guzik
KRAKOW, Poland (OSV News) — She dedicated her life and career to fight for marriages and unborn children — a battle she would pursue with and for Karol Wojtyla. He signed letters to her as "Brother." She would talk to him daily on the phone when he became Pope John Paul II and was at his deathbed.
Wanda Póltawska, Polish psychiatrist, wife and mother of four, survivor of Ravensbrück Nazi concentration camp and St. John Paul II's friend and soulmate, died at 101 in Krakow Oct. 24.
"I am one and a half years younger than him. I talked to him every day. I read everything he wrote, what he said. Because I was sure he was the smartest man (I've ever known)," she told Polish Television in May 2020.
In August she said goodbye to a place that was dearest to her heart, hidden in the mountains by the Wislok River in southeastern Poland. That was the secret getaway her family would have with Bishop (and later Cardinal) Wojtyla.
"They would go there every summer. Only her family and the future pope. When he left for the conclave and never returned, she would still feel his presence there," Tomasz Krzyzak, author of the biography of Póltawska, told OSV News.
Retired Archbishop Józef Michalik of Przemysl, former president of the Polish bishops' conference, knew Póltawska for decades and accompanied her during the emotional August trip.
"She would arrange a Mass by the river and then we needed to cross it. She was taken through the river on her wheelchair by a bunch of friends," he said, recalling the moving scene. "She had a circle of friends, she had a circle of dedicated people who, for her goodness, for her kindness, for her service were willing to join in, to make the sacrifice," he recalled.
She always had the spirit of service to the cause of truth, life, God and her closest friend.
"Till the end she was fascinated by the teaching of St. John Paul II and was faithful to him, because she had a mission, a goal to extend, as she said, that 'healthy seed' is needed by human hearts, and that it will bear fruit till the end," Archbishop Michalik told OSV News.
"Dusia," as John Paul would call her, and then-Father Wojtyla, a parish priest, met in 1953. She went to confession and was mesmerized by how he pointed directly to her needs at the time.
"Cardinal (Adam) Sapieha (of Krakow) brought a young priest from Rome and gave him an assignment: the pastoral care of doctors and medical students. It was not I who met him, but he met me, because he invited the doctors immediately the next day. And we were meeting from that day until his death, because we worked on the same topic," she once said.
At the time, still haunted by the horrors of World War II, she needed spiritual advice and guidance.
Originally from Lublin in eastern Poland, she was a member of the Polish underground that fought the Nazi terror during World War II. She was caught by the Germans, put in a Lublin prison, tortured and moved to Ravensbrück concentration camp, where she would become a subject of medical experiments of the Nazis.
Her camp number was 7709. She recalled seeing pure evil in the camp, like newborn babies thrown alive into the furnace. There she promised herself that if she survived, she would defend every human life.
"One day a man came in, cut the barbed wire surrounding this small camp with large scissors, and called out: 'Girls, you are free!' At which the other man accompanying him said: 'You stupid, why are you screaming? This is a corpse house!' And I (still) lived and lying there with the cold corpse of a gypsy woman, I decided that I would graduate (in) medicine. It sounds paradoxical — at the time when I was starving to death and death was a matter of days or maybe even hours, I was planning my life," she said in "And I Am Afraid Of My Dreams," a chilling memoir of the camp.
She married a Polish philosopher, Andrzej Póltawski, in 1947 and graduated with a medical degree in 1951. In October 1962, already the mother of four young girls, she got a devastating diagnosis: colon cancer. She knew she might not survive the operation and was ready to die.
Then-Bishop Wojtyla was in Rome for the Second Vatican Council and wrote in a letter to his "sister" friend: "Dusia, I want to mobilize you, as much as I can, to fight for your health and life."
He sent another letter — to a famous Capuchin in San Giovanni Rotondo, Padre Pio.
On Nov. 17, 1962, Bishop Wojtyla wrote: "Reverend Father, please pray for the intention of a 40-year-old mother of four daughters from Krakow, Poland (she spent five years in a concentration camp in Germany during the last war), now gravely ill with cancer and in danger of losing her life: that God, through the Intercession of the Blessed Virgin, may show His mercy to herself and her family."
A friend of Bishop Wojtyla's, then-Father (later Cardinal) Andrzej Deskur, helped send the letter to Padre Pio's spiritual son, Angelo Battisti, called Angelino, and the next day the famous monk, later canonized by John Paul, read it with a remark pointing to Bishop Wojtyla: "Angelino, he can't be refused!" and instructed Angelino to assure the bishop from Poland that he would pray fervently "for this mother."
Bishop Wojtyla's letter to Padre Pio was sent the day Póltawska had her first medical screening before surgery. On the day of the planned operation, Nov. 22, shocked doctors informed her there was nothing to operate on.
"There will be no surgery, the stenosis is gone. . . I have no pain. . . I don't dare say it's a miracle, I push that thought away, I'm afraid of it. . . I didn't pray for health, I'm not the one who asked!" she noted as recalled in Krzyzak's biography.
"Her character was relentless, unavailable and often extremely unpleasant. And what I see here is simply that it stemmed from the tremendous amount of pain she had in her life. She always stuck firmly to her opinion. When it came to issues of defending life, there was no argument at all. There was no room for discussion," Krzyzak said, recalling that next to John Paul she was the most stubborn defender of life in Poland of the 20th and 21st centuries.
"She was for decades a reference point for the church in Poland," he said. "And after John Paul died, she was carrying a testament of his vision that she created with him."
When an abuse scandal broke in Poland with Archbishop Juliusz Paetz of Poznan
being accused of abusing seminarians, she personally took documents of the case to John Paul "under her blouse," Krzyzak said, for which the Italian press called her the pope's "007," referring to James Bond. "She never confirmed it personally, but a person that handed documents to Póltawska confirmed that to me along with another reliable source — a victim of Archbishop Paetz — that this was true," Krzyzak told OSV News.
Póltawska knew that people close to the pope and the Secretariat of State blocked knowledge about the scandal from John Paul II and decided to act "in her own way," Krzyzak said.
John Paul's landmark book on sexuality, "Love and Responsibility," was written with Póltawska by his side.
"She was very helpful in working out his theology of the human body as an integral part, an inalienable part of humanity, that there is no human being only composed of the body and the senses. . . Man is also feelings. . . the will, but it is also the soul — this is a child of God. . . Dr. Póltawska collaborated in this work, helping to refine the theological language," Archbishop Michalik said.
"This book is mine and yours," Cardinal Wojtyla wrote in one of his letters to Dusia.
She never had time to finish her professorship as she was too busy saving marriages and women after abortion, running an Institute of Theology of the Family at the Pontifical Faculty of Theology in Krakow. She also had multiple enemies for her fierce battle against the evil of abortion and saving marriages from divorce.
"He always said this: The family can only be God strong," Póltawska said of John Paul II. "The sacrament of marriage is not a contract between a woman and a man, it is a triangle concluded (with God) and if they are faithful, they are happy," she said. "As of New Year's Eve, 72 years of marriage had already passed," she said in 2020 of her and her husband, Andrzej. "And who is faithful at the moment?" she asked about contemporary marriages.
"Remember, the human body is always subject to the Holy Spirit, or the devil," she stated.
Póltawska defended children from being aborted but also women forced into abortion by their partners. "In the Bible, the man blames the woman, and it's the same in life — the woman is often left alone because the man denies paternity," she once said.
"This love for the church, for Christ, for the truth, for this vision of a happy man, was the driving force for her, making difficult decisions was to help people. She was appreciated by the Holy Father John Paul II, who introduced her to international, churchwide boards," Archbishop Michalik said of Póltawska, who was a member of the Pontifical Council for the Family and adviser to the Synod of Bishops on the family at the beginning of John Paul's pontificate, in 1980.
Her message to journalists also was focused on the family:
"Stop clinging to crime," she appealed. "Show what life is like without crime. Show the values: a large, happy family. People who do not bare their bodies, but respect them. Bear witness to truth and beauty, and not constantly bury yourself in sins."