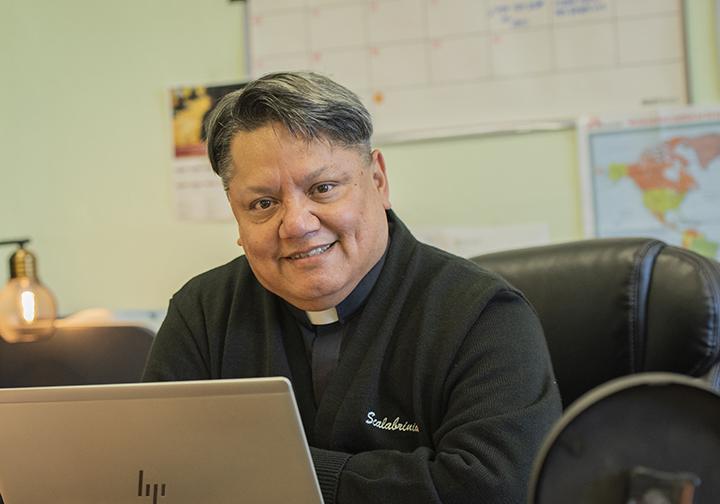 by Joe Bollig
joe.bollig@theleaven.org
KANSAS CITY, Kan. — The new director of Hispanic ministry thought he might have a career in business or even theater.
But God had other plans.
Father Ramiro Sanchez Chan, CS, was completing his last year of studies for a bachelor's degree in business administration at the University of Guadalajara when his parish sponsored a youth group mission to a small town in Mexico.
The experience changed him.
"I saw the chance of being a priest, and I took it," said Father Ramiro. "I never thought I would become a priest. I was a theater actor for three years in my youth, and then I was a clown for a year. I felt the call and decided to respond."
Father Ramiro assumed the position of director (formerly animator) of Hispanic ministry for the Archdiocese of Kansas City in Kansas on Oct. 11. He will work with Father Michael Hermes, pastor of St. Paul Parish in Olathe and vicar for Hispanic ministry for the archdiocese.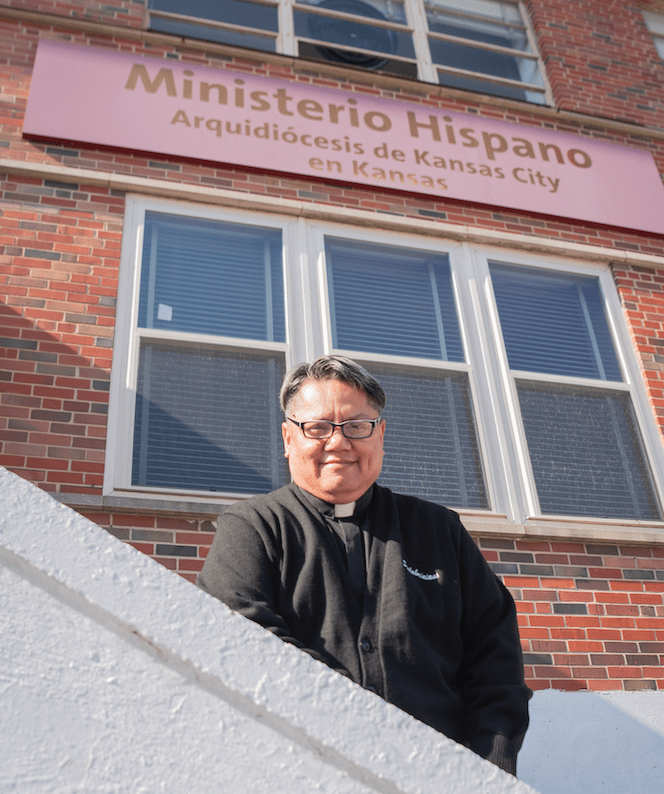 Father Ramiro, a member of the Scalabrini religious order, was born and raised in Guadalajara, in the State of Jalisco, in west-central Mexico.
After graduating from the University of Guadalajara in 1990, he became a Scalabrinian and began seminary studies in 1993. He took his first vows in 1997. He came to the United States and studied at the Catholic Theological Union in Chicago from 1998 to 2003. Father Ramiro was ordained a priest on Aug. 16, 2003, in Guadalajara.
Father Ramiro was a vocation director for his order from 2003 to 2008, and then formation director from 2008 to 2017, at the order's seminary in Los Angeles. Additionally, from 2014 to 2017, he was executive director of the Villa Scalabrini retirement facility. He was pastor from 2017 to 2021 at Our Lady of Guadalupe Parish in Chula Vista, California.
He is no stranger to the archdiocese, however.
"I've known Father Ramiro for 20 years — ever since he was a Scalabrini seminarian in Chicago," said Father Hermes. "He came to St. Joseph-St. Benedict — All Saints — Parish in Kansas City, Kansas, multiple times [in 2001] to help over Christmas break, during Holy Week and even stayed with us for an entire summer.
"We became friends back then and I find it providential that we have been reconnected in ministry 20 years later."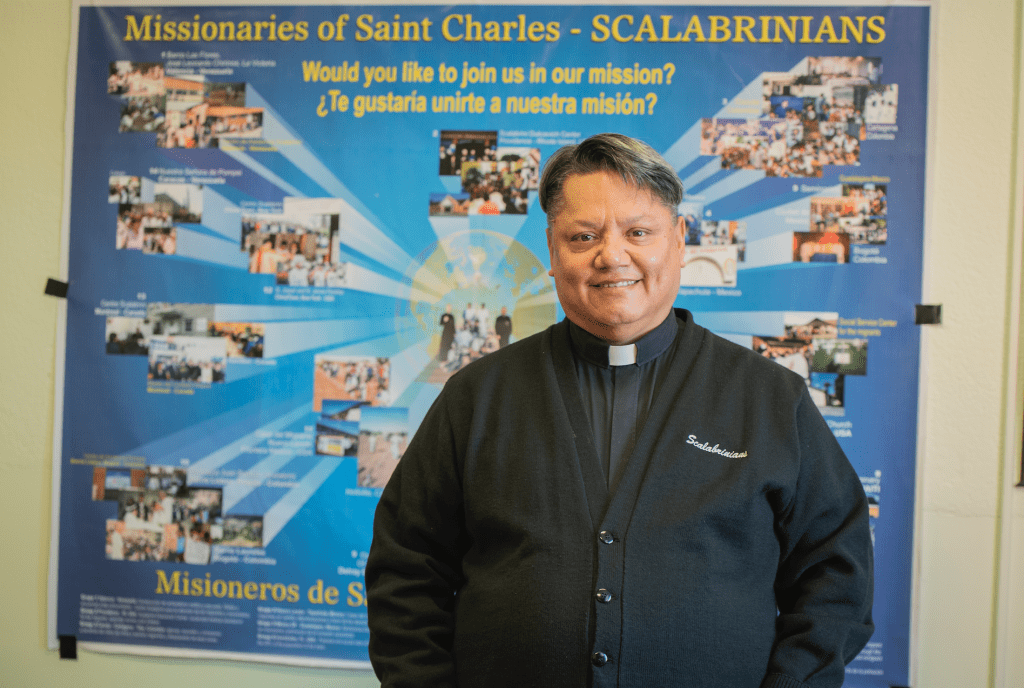 The Scalabrinians minister in 35 countries, focusing on migrants and refugees. They have had a tremendous impact on the development of Hispanic ministry in the archdiocese.
"Each one shared their gifts and talents to help grow the ministry and take it to a higher level," said Father Hermes. "We are very grateful to the Scalabrini community for their support over the years. We would not be where we are without them."
In his position as director, Father Ramiro will help support the 12 parishes in the archdiocese that are designated Hispanic ministry serving parishes. He will support the priests and lay staff at these parishes with the training of lay leaders for marriage preparation, youth ministry and vocational promotion.
"I will work more at the archdiocesan level . . . in helping to integrate the Hispanic ministry into the archdiocesan ministries," said Father Hermes. "A Hispanic ministry that models best practices serves the entire church from the archdiocesan ministries. We will try to make this structural change over the next several years."
The big project for archdiocesan Hispanic ministry in 2022 will be the creation of a new pastoral plan for Hispanic ministry in the archdiocese.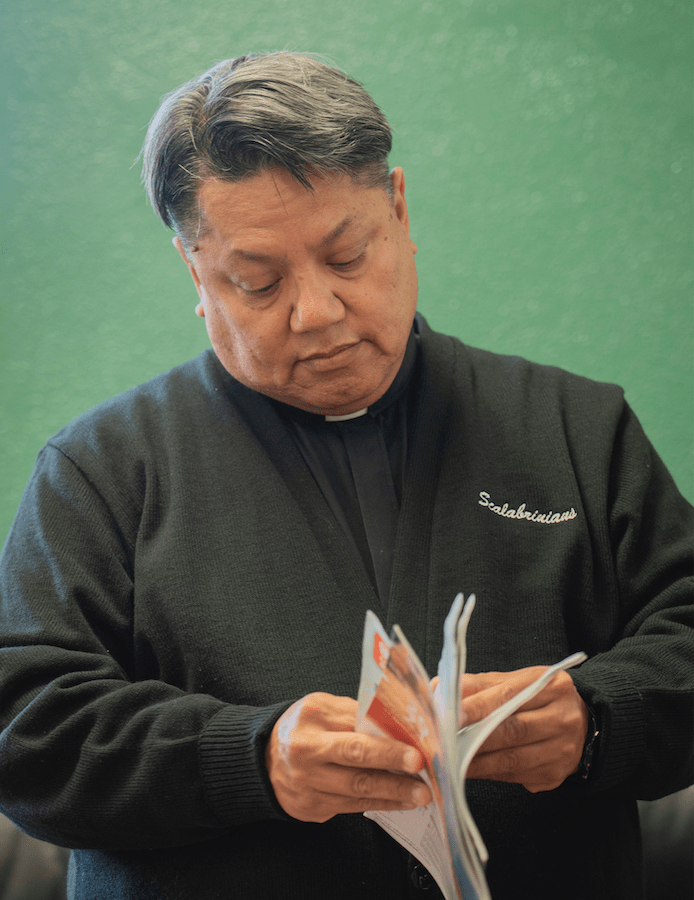 Father Ramiro's own family and personal background informs his approach to ministry to migrants and immigrants within the parishes. His grandparents on his mother's side were Chinese immigrants to Mexico and faced many challenges in their new country.
"There was a moment [of understanding] when I met the Scalabrinians in my quest for the call I received from God — all the stories I heard from my family about how they came to Mexico, all the struggles they had with the language and writing because it was a different kind of writing," said Father Ramiro.
The struggles his immigrant grandparents experienced, his own experiences while a seminarian in Chicago, and ministry on both sides of the Mexico-United States border with immigrants in difficult straits gave him an understanding of what migrants and immigrants face.
"All the things I've been doing as a priest have shaped the way I see how I can serve the migrant community, even here in Kansas City," said Father Ramiro.
Father Hermes is very pleased that Father Ramiro is another in a series of excellent Scalabrinians who have come to minister in the archdiocese.
"We are blessed to have Father Ramiro as the new director of Hispanic ministry," he said. "We look forward to benefiting from his love of the church, plus his new ideas, his sense of humor and his incredible energy."