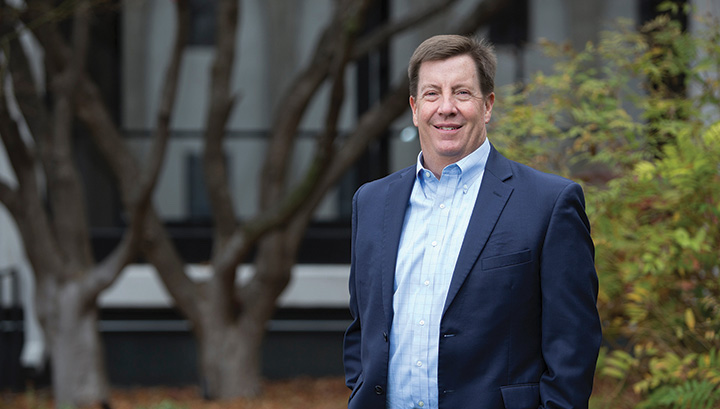 by Bill Maloney
Lou Gehrig, in his famous Fourth of July speech in 1939, claimed he was the "luckiest man on the face of the earth." Well, if Lou Gehrig was the luckiest man, then I guess I am the most blessed man on the face of the earth.
The good Lord never ceases to bless me. As this edition of The Leaven is reaching your mailboxes, I will be walking my youngest daughter down the aisle at St. John Church on the campus of Creighton University in Omaha, Nebraska. What a beautiful day it will be. God has blessed me with three beautiful children and all are now happily married. God is good.
My career in Catholic stewardship and development is another great blessing. Day after day, I witness the generosity and strong faith of countless Catholics throughout the archdiocese.
Later this month, we will be honoring John and Claudia Caton with our Deo Gratias award at the Catholic Foundation of Northeast Kansas Deo Gratias dinner. Their commitment of time, talent and treasure to the church is unparalleled, especially in support of their parish and priestly vocations. I am blessed and thankful that I know John and Claudia.
I am also thankful for all of you who support the Archbishop's Call to Share. This past year, over 13,000 parishioners made gifts totaling over $6.8 million to support our shared ministries.
The ministry offices of the archdiocese that are supported by Call to Share are also a great blessing. This past month, we hosted the annual kickoff lunch for the campaign and each of these ministries went above and beyond to display the work they are doing and to show their appreciation to our pastors for their support of the ministries.
The staff members of the archdiocesan office of stewardship and development and the Catholic Foundation of Northeast Kansas are a fantastic blessing. This has been very evident in recent weeks as we have encountered some challenges and each person has risen to the occasion by saying "yes" to additional duties.
Last but not least are the blessings of my faith life and the people who support and guide me. My pastor Father Bill Bruning is always supportive and inspirational. My Monday night rosary group is a tremendous group of men who come together to pray and lift each other up each week.
I am grateful for my new spiritual mentor Herb, who I am getting to know, and my wife Patrice, who is my eucharistic adoration prayer partner and my constant cheerleader.
All of these people make me the most blessed man on the face of the earth. The question for me this Thanksgiving season, is: Who am I blessing? I'll ponder this over the next week.