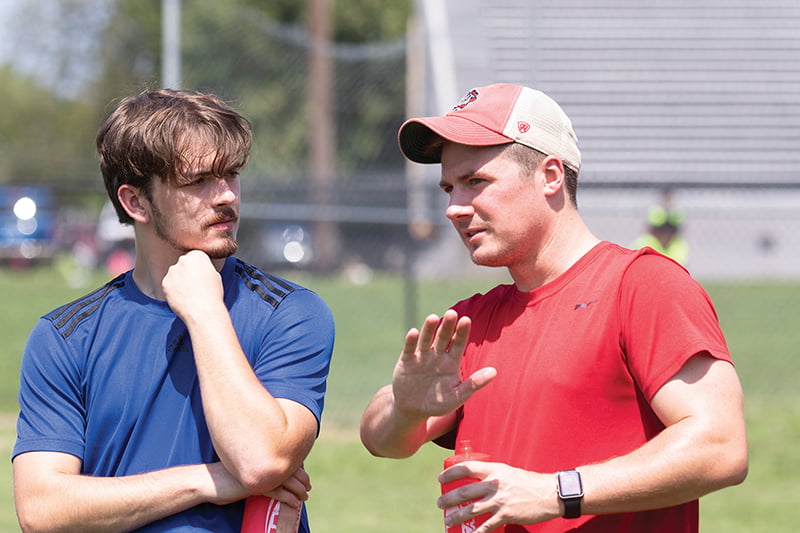 by Ellie Melero
@eleanor_melero
KANSAS CITY, Kan. — When Tony Subasic walked across the stage at his high school graduation, he had no idea that one day he would be back. But here he is.
Subasic graduated from Bishop Ward High School in Kansas City, Kansas, in 2014, and from Kansas State University with a degree in secondary education mathematics in May. In August, he returned to Bishop Ward as a math teacher and assistant soccer coach.
"It's definitely different," admitted Subasic. "It's kind of strange — a little bit funny. But once I get onto a first-name basis with [the other teachers], rather than 'Mr. and Mrs. Last Name,' it'll be a little bit more normal."
Subasic is excited to begin his teaching career at his old alma mater, but his path hasn't always been easy.
Subasic, the oldest of three children, came to the United States when he was just 10 months old. His parents, originally from Bosnia, moved to Croatia in the early '90s. But in 1997, they were forced to leave because of civil war.
The Subasics originally came to Florida, but they moved to Kansas City after about six months because they had heard about the Croatian community on Strawberry Hill. They have lived in the Kansas City area ever since.
Subasic's parents are devout Catholics and wanted their children to attend Catholic schools. Subasic went to elementary school at St. John the Baptist (which became Resurrection Catholic School) before moving on to St. Patrick's and eventually Bishop Ward.
"All the teachers — they took care of you at Bishop Ward," Subasic said. "Everybody knew everyone because we had something like 350 kids in the school. It's more of a family. Everybody's tight-knit at Ward."
Subasic loved his time at Ward as a student, but he almost wasn't able to attend.
When he started high school in 2010, his family was still struggling from the economic recession of 2008, and money was tight. Luckily, he received a scholarship from the Catholic Education Foundation that enabled his parents to enroll him at Bishop Ward.
CEF raises money to help families that would normally be unable to afford a Catholic education send their child to a Catholic school. For the 2018-19 school year, CEF provided about $2.4 million in scholarships to help students attend 24 schools in the archdiocese.
The majority of students who receive CEF scholarships live near or below the federal poverty line — $25,100 for a family of four.
"These [scholarships] are for people who otherwise would not be able to attend a Catholic school," said Vincent Anch, the executive director of CEF. "They get an opportunity to go to a high-quality Catholic school, to get a great education, and also be able to grow in their faith and live their faith every day where they couldn't at a public school."
CEF has three scholarships people can apply for, the first of which — the traditional CEF scholarship — was established in 2006. Subasic is just one of more than 15,000 people who was able to attend a Catholic school thanks to this particular scholarship.
"[CEF] helped my family out in a time of need," Subasic said. "Me being the first of my siblings to go into high school in America, they helped stabilize that transition from middle school to high school, they helped guide my choice of where I wanted to go and started the point on the circle that I've now come full around to."
Subasic was grateful to be able to attend Bishop Ward, and he made the most out of his time there. He was involved in sports and clubs, and he always made sure he kept on top of his studies.
Kelly Lipovitz, Subasic's former English teacher, said Subasic was a leader at the school.
"He was a really hard worker," Lipovitz said. "He would be a typical teenager and have fun in class, but when it was time to get stuff done, he got down to business and did what he needed to do.
"He really wanted to do his best all the time."
Subasic said Bishop Ward taught him many of the organizational and social skills he needed to succeed in college, and he maintained many of the relationships he forged during his time there.
That was part of the reason it was so easy for him to decide to come back.
"When I [interviewed at] Ward, I just felt the comfort and the relative sameness of the school as compared to when I went there," Subasic said. "I felt it was best for me to go somewhere where I knew the system and knew how things worked going into my first year of teaching, especially because the first year is the hardest year of teaching."
Subasic is not the only one who is happy he is returning to Bishop Ward.
His little sister Stella is a junior at Bishop Ward. Though she won't have any classes with her brother, she said she was still excited for him to be there.
"I was really excited for him and I was happy," Stella said. "I was kind of excited because I knew I was going to have someone to talk to who knows me, and I was happy that he was going back to something he liked in a place he was comfortable with."
Subasic has come a long way since applying for a CEF scholarship his freshman year of high school, and he said he is grateful to his parents and family and all of his past teachers — from St. John's through K-State — for helping him get to where he is.
He is also excited to have an opportunity to give back to a place that helped shape him growing up.
"I love the students," Subasic said. "I've always loved working with students."
As for coaching soccer, he is looking forward to that, too.
"I want to contribute as much as I can," he said.