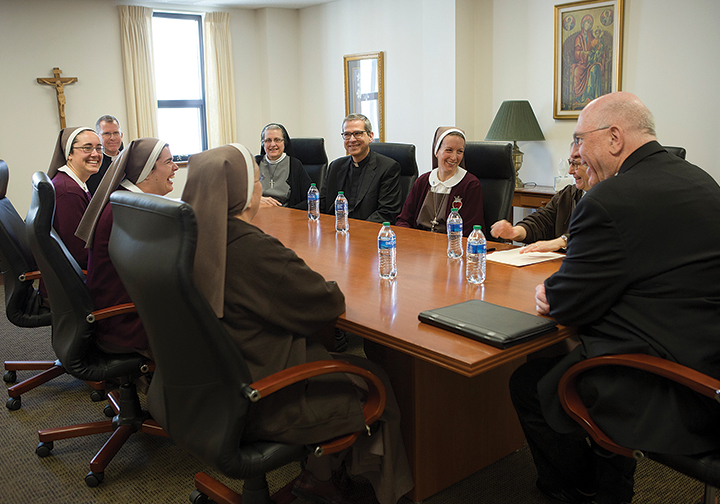 by Moira Cullings
moira.cullings@theleaven.org
LEAWOOD — The smiles on their faces said it all.
"We've just been here for four days," said Sister Lucia, "and it feels like home."
Sister Lucia, Sister Kelly Grace and Sister Monica Bernadette, Servants of the Pierced Hearts of Jesus and Mary, arrived in the Archdiocese of Kansas City in Kansas on Feb. 20.
They will serve the archdiocese and St. Michael the Archangel Parish in Leawood.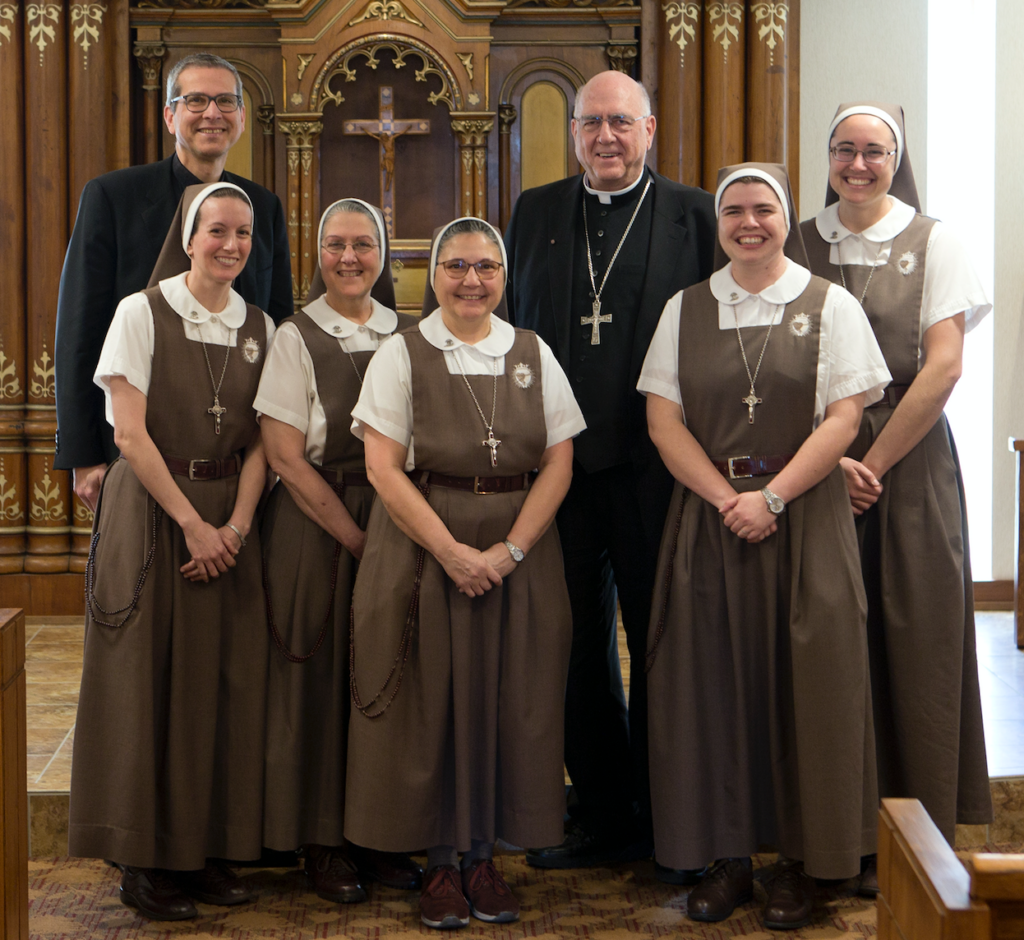 Sister Lucia expressed the trio's gratitude toward Archbishop Joseph F. Naumann and the priests and parishioners at St. Michael.
"They've welcomed us with such a warm spirit and love," she said, "that it feels like we've been here forever.
"We're ready and excited to start serving everyone here."
'Go in haste'
Archbishop Naumann was delighted to welcome the Sisters, whose community is based in Miami, to the archdiocese.
"It is a great gift to have another consecrated religious community serving our people," he said.
Sister Kelly Grace is the new director of religious education at St. Michael; Sister Lucia is the school campus minister at St. Michael; and Sister Monica Bernadette is a consultant in the archdiocesan office of marriage and family life.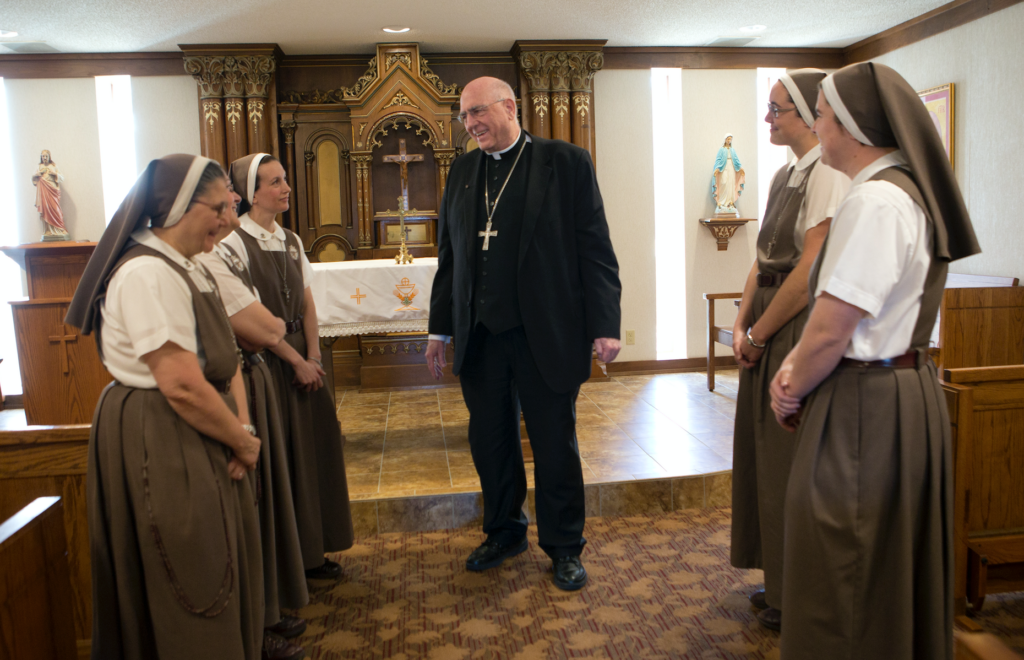 The four fundamental dimensions of the Servants' charism are: eucharistic, Marian, living in the power of the Holy Spirit, and in the heart of the living church.
The Sisters speak English and Spanish, which the archbishop said is a bonus.
"I hope that the Sisters will be able to assist with the formation of our young people and also help us with our efforts to strengthen marriage and family life," he said, "especially in the Hispanic community.
"I also hope that they will help inspire more young women from the archdiocese to consider consecrated life."
When Archbishop Naumann visited Miami over a year ago for a pro-life event, he met some of the Sisters from the community.
At the same time, Father Brian Schieber, pastor of St. Michael, was interested in bringing religious Sisters to his parish and happened to hear about the Servants.
Father Schieber and Father Luke Doyle, associate pastor at St. Michael, visited the motherhouse in Miami and invited foundress Mother Adela Galindo and a few of the Sisters to give a parish mission at St. Michael at the start of this past school year.
The parish, said Father Schieber, "fell in love with their community."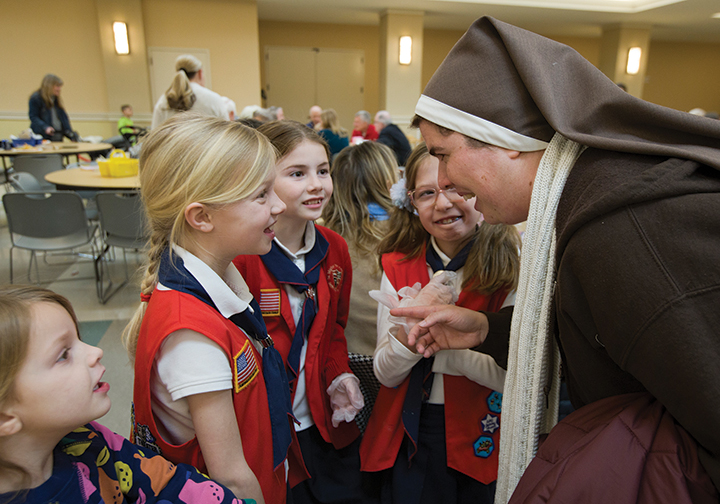 Since the Servants go where they are needed and work in a variety of ministries, coming to the archdiocese seemed like the perfect fit.
"One thing about religious life is, for us . . . the missionary spirit, because of Our Lady," said Mother Adela.
"She's always ready to go in haste," she continued. "The disposition that we have is 'always ready to be sent' — wherever the church and the Lord may need us."
Eager to serve
The Sisters were filled with joyful anticipation when they arrived in Kansas.
"I'm excited for everything that the Lord has in store and everything the Lord will reveal and develop with us here," said Sister Lucia.
Sister Kelly Grace agreed.
"I'm excited to evangelize through our catechesis — to be able to reach all the young hearts that come into our program," she said, "so that they truly encounter the Lord and his love, and that that changes their lives like it did for me."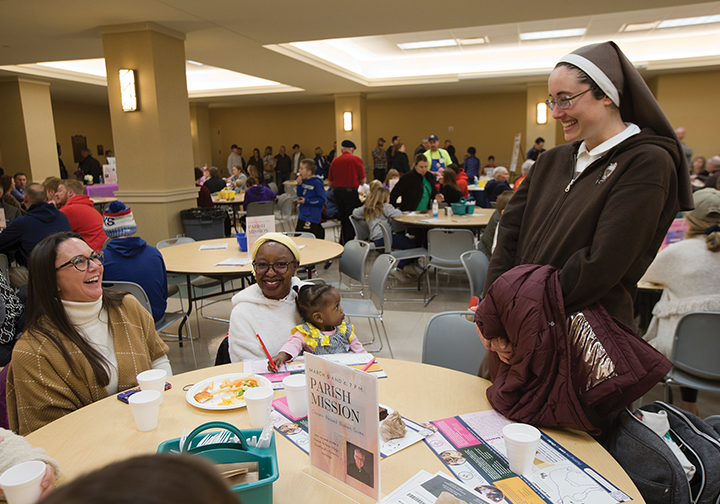 Sister Monica Bernadette looks forward to working with couples, including those in the Hispanic community, to show them "the splendor, the beauty, the dignity of the sacrament of marriage."
"Everything is at the heart of the family," she said. "The family is the domestic church — it's where it all starts."
'God's love . . . matters above all'
Parishioners at St. Michael played a key role in welcoming the Sisters to the archdiocese.
"The parish has acquired a home in a neighborhood less than a mile from the church to serve as a convent for the Sisters," said Father Schieber.
"This convent has been placed under the patronage of St. Jacinta," he added, "one of the saintly children who Mary appeared to in her apparitions in Fatima, Portugal."
Father Schieber anticipates a whole host of benefits as a result of the arrival of the Sisters at his parish.
"There is unique power to the witness of consecrated poverty, chastity and obedience in the time and place in which we live," he said.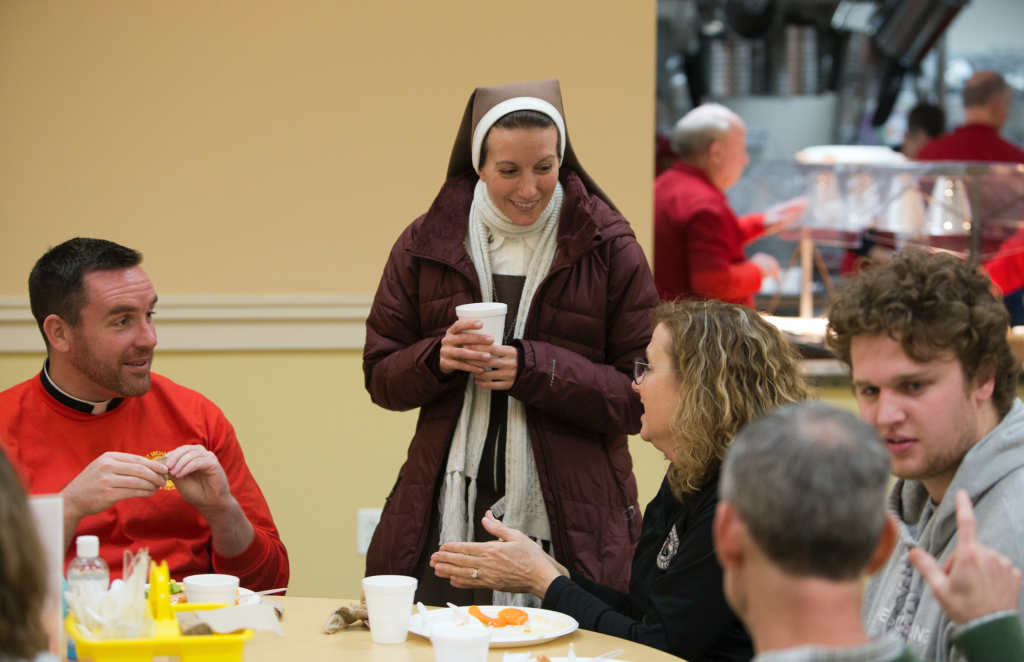 The Sisters' presence, he added, "offers a very joyful, peaceful and loving countercultural witness and reminder for all of us — myself included — that it is God's love and our response to it that matters above all."
Father Schieber hopes his parishioners will experience "God's joyful, unique and personal love for each of his children visible in our parish through these consecrated religious."
'Playing on the Lord's team'
Each of the three Sisters has a unique story to tell.
Sister Monica Bernadette was a successful tennis player with a full-ride college scholarship, but she also had a deep love for God at a young age.
She ultimately discerned multiple religious institutes but fell in love with the Servants and their charism.
"It's an all-embracing motherhood," she said, with the community being involved in multiple ministries.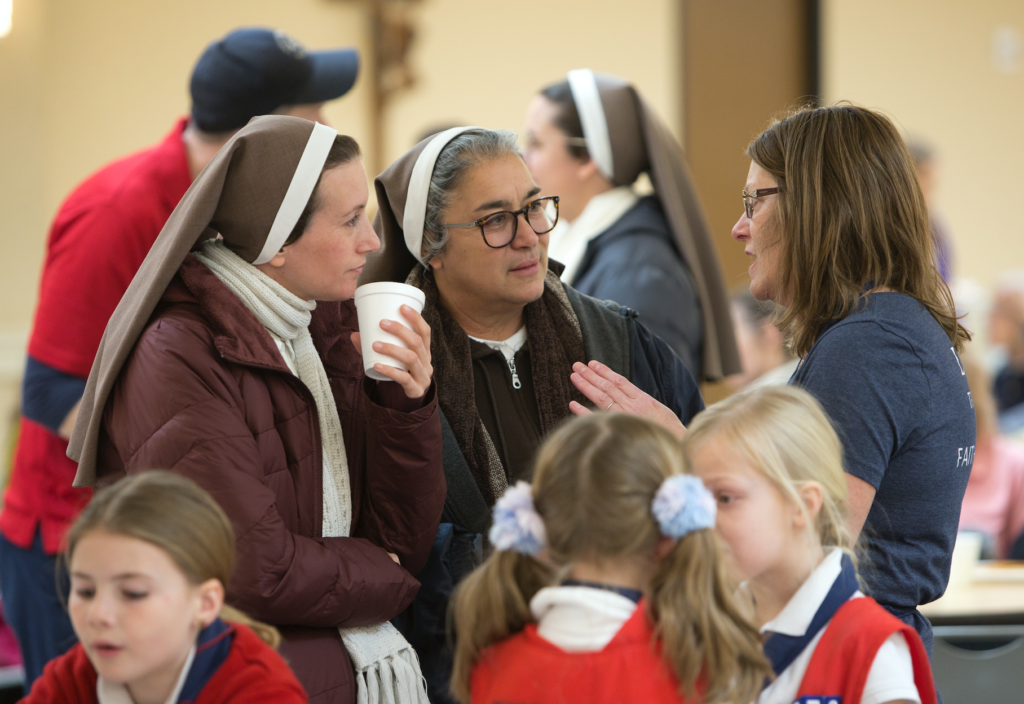 Sister Kelly Grace grew up Catholic but "knew God much more in my head than in my heart."
"There was a moment in my first semester when I realized how empty I felt," she said. "Having searched for fulfillment in so many different places, getting involved in all these things, I felt so empty."
After being more intentional with her faith and learning more about the Servants through her campus' Newman center, Sister Kelly Grace discerned the call to join the community.
"I felt like the Lord was asking me to give it all, but not one thing," she said, "to give my life totally to the Lord and all the treasures that he offers, which is something that I found so much in our charism."
Sister Lucia has known the community since before she was born. Her aunt, Sister Ana Margarita Lanzas, is its vicar.
"Sister Ana was in the delivery room when my mom was giving birth to me," she said.
Although Sister Lucia didn't know it until she professed her first vows, her aunt consecrated her to Mary and God the moment she was born.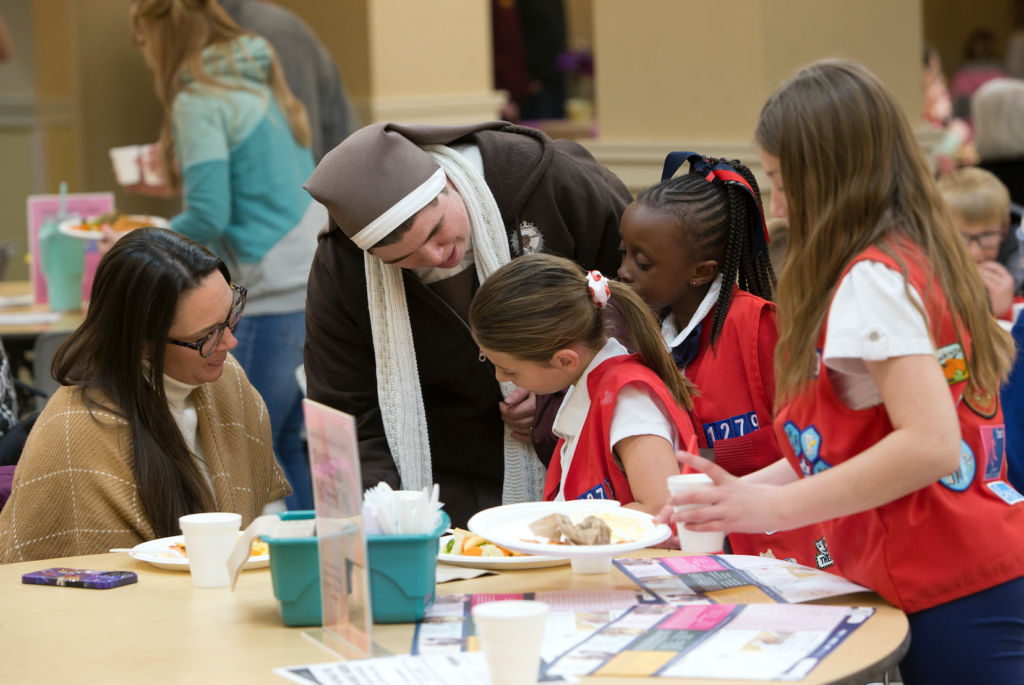 Sister Lucia was a star soccer player who hoped to play professionally.
She ultimately felt the call to religious life during a eucharistic cenacle in Miami and gave up her soccer career to enter the community in 2010 — just one week after graduating from high school.
"I might not be playing soccer and scoring goals in a physical way through the sport of soccer," she said, "but I am playing on the Lord's team, and every soul that is touched because of him through me is a triumph and a victory."
Meet the foundress
The Servants of the Pierced Hearts of Jesus and Mary (SCTJM) are a religious institute of Sisters of diocesan right founded in 1990 by Mother Adela Galindo.
"I was always a leader since I was five years old in kindergarten forming prayer groups," she said. "Our Blessed Mother's maternity was a true reality in my life. She was my mother.
"Everything that happened in my life formed me to become the person I needed to become to be a foundress of religious Sisters, religious Brothers and a big section of laypeople all over the world."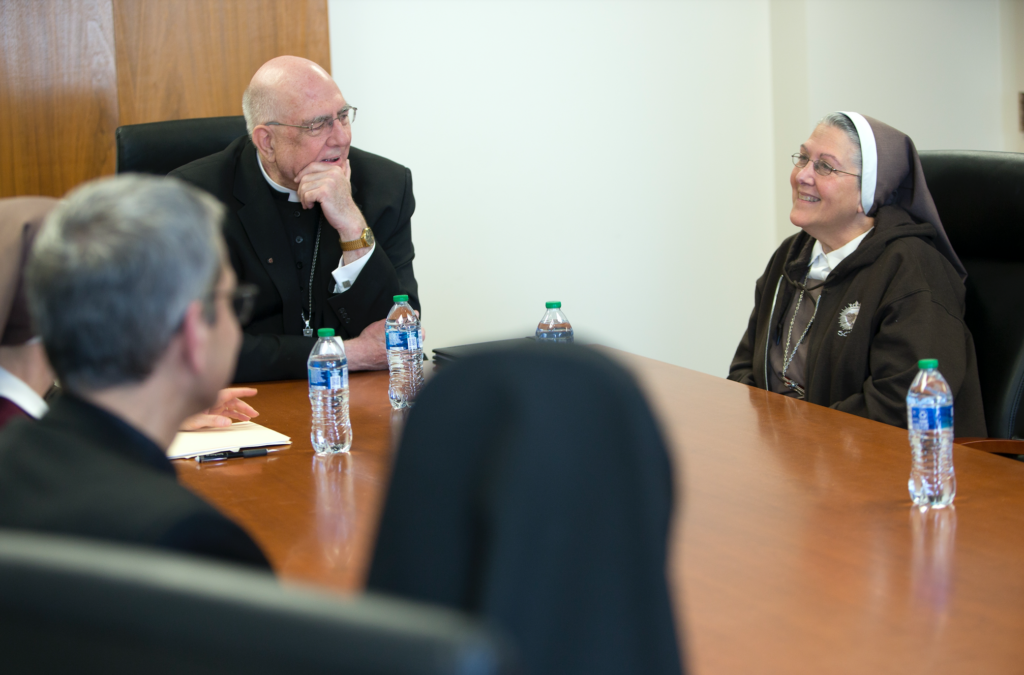 Mother Adela, who grew up in Nicaragua and ultimately ended up in Miami, had a vision during a healing Mass while the congregation was praying for her.
"When they were praying for me, I had this strong physical feeling," she said. "I thought I was having a heart attack — that my heart was being broken in two."
She closed her eyes and had a vision of a pelican, a bird known to break open her own heart to feed her babies when they have nothing to eat.
"From that moment on," said Mother Adela, "something changed in me."
Mother Adela offered her life up to the Blessed Mother and God and ultimately founded the Servants, whose symbol is the pelican. The community now has more than 70 Sisters serving in ministries around the world.
Mother Adela is eager for the three Sisters to make a big impact in northeast Kansas.
"We're bringing the life of Christ to Kansas through Our Lady," she said.
To learn more about the Servants, go online to: piercedhearts.org. To view a full album of photos from the week the Sisters arrived, click here.