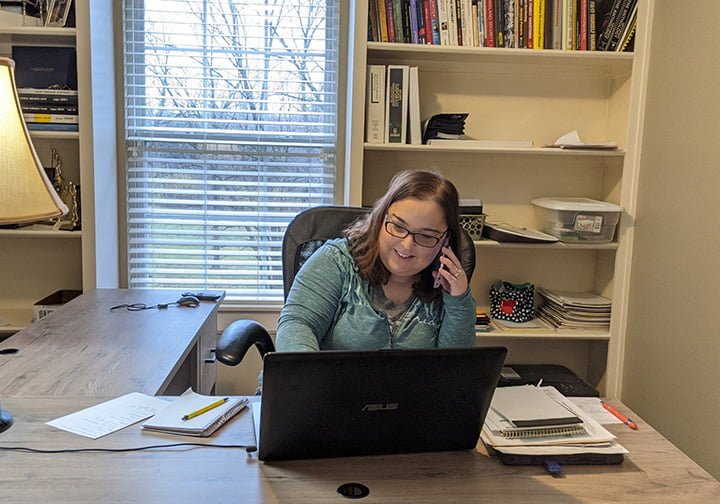 by Moira Cullings
moira.cullings@theleaven.org
KANSAS CITY, Kan. — When the Archdiocese of Kansas City in Kansas' chancery offices closed on March 13, many staff members assumed they would be back within two weeks.
Now, more than nine months later, some are still working from home. Others are back in the office with restrictions, including temperature checks, masks and socially distanced workspaces.
But throughout this year of COVID-19, chancery staff have channeled their inner Patrick Mahomes, quarterback for the Kansas City Chiefs.
They've kept the archdiocese rolling through the good times — and bad.
Archbishop's assistants found 'a lot more grace' in 2020
When the chancery closed in March, work for Stacy Hettinger, executive assistant to Archbishop Joseph F. Naumann, and Amy Huerter, the archbishop's administrative assistant, suddenly became significantly more complicated.
"In the early days of COVID, we spent most of our time trying to field emails and calls with questions and concerns about COVID and what [the archdiocese] was going to do about Mass," said Hettinger.
Meanwhile, they were also coming up with new ways for their office to communicate.
"Stacy's a genius with the Google tools," said Huerter. "She was really good about coming out with an alternate [communication] plan, and Archbishop was able to adapt to it, too.
"In the long run, he's a lot more comfortable with these things now, so we can go back and forth [between in-person and virtual communication] when we need to."
One of the greatest challenges Hettinger and Huerter have faced is keeping up with the archbishop's calendar, which has changed considerably.
In a normal year, Hettinger and Huerter might be looking two years into the future when creating his schedule. Now, it's more like two weeks.
"We're putting our trust in the fact that things are going to work out," said Hettinger, "and not worrying so much about the details, realizing that sometimes it might not be perfect.
"But everybody has a lot more grace and a lot more patience for things changing and situations not being perfect in this environment."
Huerter agreed.
"When you're faced with this cataclysmic event that we've been faced with, and there's only so much you can do," she said, "you realize what the really important things are."
Some archdiocesan employees resumed work in the office in May, and by July, any employee who wanted to return and had enough space to do so safely was able to.
Hettinger and Huerter work in-office most of each week, and they're grateful for each other's company.
"That's one of the big blessings for me — to have Amy — because a lot of people who are in the office right now, they don't have anybody else in their office," said Hettinger.
"We sit in different offices but next to each other," she said. "Without being too close, we can sit and talk and work through the things that are happening."
Together, they've taken on the responsibility of helping Archbishop Naumann get through the difficulties of this year — including losing his mother and overcoming COVID-19 himself.
"I think Archbishop really appreciates how we work as a team," said Hettinger. "He knows he can count on either one of us."
Leaven staffers in four counties now produce paper from cloud
When staff of The Leaven left the office on March 13, they were in the middle of a production week.
Suddenly, "we were going to have to put together a paper remotely," said production manager Todd Habiger.
"We had all the tools available and all the know-how to do it," he said. "But one thing we realized very quickly is that in-office communication was very valuable, and we had to change on the fly.
"That first issue we put out was very difficult because we had to work through those communication problems."
The Leaven adjusted to publishing its paper with its five full-time staff members — and part-time editor Father Mark Goldasich — working from home. Now, all but one — advertising coordinator Beth Blankenship — are still working remotely.
"Right now, we're a pretty well-oiled machine," said Habiger. "I think we had that while we were in the office, and we just had to reinvent ourselves."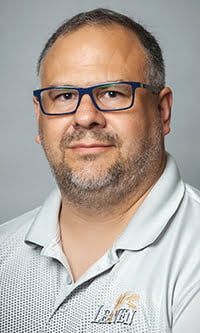 Working from home has its perks, said Habiger, especially the additional time he's been able to spend with his family.
But it hasn't always been easy for The Leaven staff.
Reporters and photographers have had to adjust to restrictions, and Blankenship has worked to keep ad sales up, said Habiger.
"A lot of times we advertise events, and those events aren't happening," he said. "But we've come up with a plan and we've worked on that to try to keep ad sales steady."
One of the best parts of this year for Habiger is the gratification of keeping the archdiocese connected during an uncertain time, especially through Archbishop Naumann's columns, which allow him to reach his flock directly.
And thanks to managing editor Anita McSorley, said Habiger, the publication has covered everything from canceled Masses to personal survival stories of COVID-19.
"Finding quality stories when there are less events happening has to be a chore," he said. "Anita's done an amazing job with that."
Throughout 2020, Habiger said Father Goldasich has been the perfect guide.
"Father Mark is our compass on everything," he said. "He is invaluable for the paper to get done."
Habiger believes Leaven staffers' work is now more important than ever.
"What we want to do is we want to tell people's stories and tell them well," he said. "Even in a pandemic, there's stories to tell.
"And I think we've done that."
CFO's responsibilities soar
Carla Mills, chief financial officer for the archdiocese, was part of the team that decided to close the chancery offices in March.
"We reviewed what was going on with the pandemic and the need for having fewer people in contact with each other," she said. "We decided to go to reduced staff in the office and have as many people we could work from home."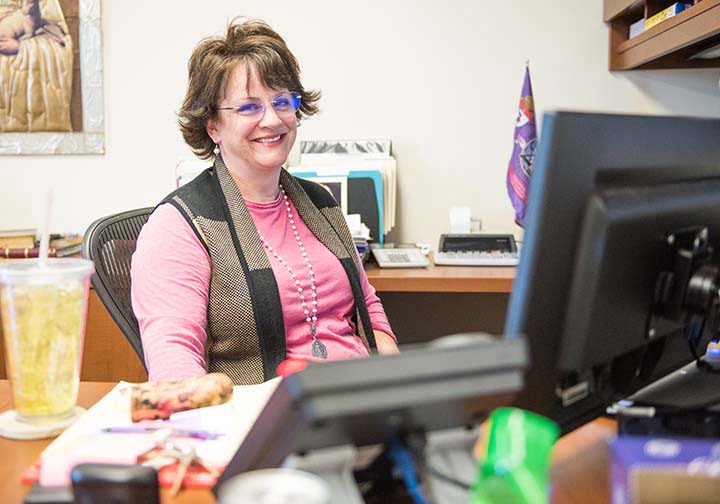 The decision to ultimately send everyone home was due to restrictions put in place in Wyandotte County, said Mills.
At the time, she was in the middle of budgeting and working on the Archbishop's Call to Share. But she was forced to switch gears and spend much of her time in webinars on the Families First Coronavirus Response Act.
And then came the Coronavirus Aid, Relief and Economic Security (CARES) Act, which was introduced to offer economic assistance for workers, families and small businesses.
"I was researching all of the different things in the CARES Act and doing all of my own webinars and learning everything I could to try and communicate it out to all of our entities," said Mills.
"Then [we were] also applying for [the archdiocese] because we are not covered by unemployment insurance," she added.
The extra work was particularly arduous, considering Mills was using a home printer, which required her to scan documents one page at a time.
"There were a lot of frustrations," she said.
When times got tough, Mills found a productive way to reduce her stress.
"Every time I got a phone call, I went outside and pulled weeds," she said. "My yard has never looked so good!"
But the situation wasn't all bad.
This year, Mills and her team recognized they needed to do more work monitoring cash within the archdiocese.
"We just launched . . . the 'cash project' that will enable us to not only track our cash at a finer level, but also forecast it better," she said. "We are investing a lot of time and effort into that process."
The new way of operating will make the budgeting process more effective and will impact analysis across school and parish annual reports in a positive way, said Mills.
"I'm very excited about those possibilities," she said.
Accounting specialist sees 'change for the better'
Keeping track of the cash that comes into the archdiocese is no easy task — and doing it during the pandemic is even more complex.
But accounts receivable specialist Tom Winkelbauer has adjusted to the obstacles this year has thrown at him.
When the chancery first closed, Winkelbauer set his work equipment up at home.
"And then, there were several days where the power at my house just died," he said. "We had power failure."
But his biggest challenge was communication.
"There's a big change in how communication happens," he said. "I like to talk to people versus writing an email, so that was my biggest challenge. My mode of communication had to be adjusted quite a bit."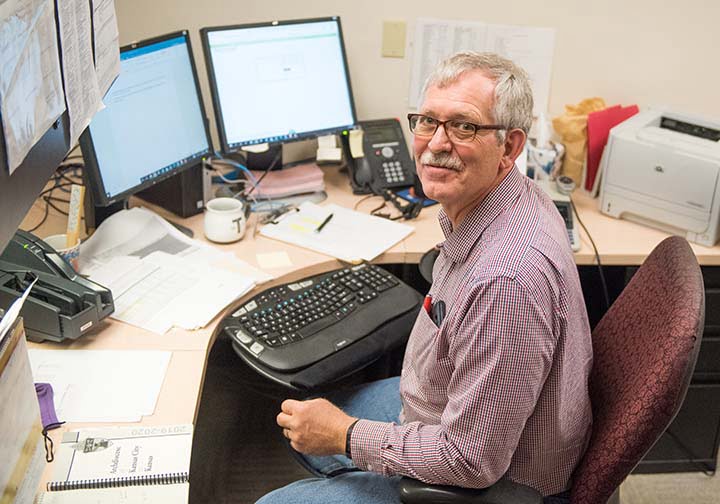 Now back in the office, Winkelbauer has found some sense of normalcy, and the accounting department has discovered a few positives in the changes they've had to make.
"It's forced us to change for the better," said Winkelbauer. "It [also] forced a lot of us to communicate more with all the departments so everybody's on the same page."
It's been a year full of learning for Winkelbauer, who will retire at the end of the year after roughly 24 years working for the archdiocese.
"I was hoping that this pandemic would slow down and we'd get back to our normal situation," he said. "It's frustrating, but at the same time, you have to adapt to it."
Winkelbauer will look back on the past two and a half decades with special memories.
"I'm going to miss a lot of the friendships I made over the years," he said.
"When I came here, I didn't know what to expect," he added. "But I felt like it became a family.
"I think that's what I'm going to miss."
CFNEK controller onboards amid shutdown
In the midst of the first onslaught of COVID-19 shutdowns, Robert Venable's six-month work contract was about to expire, and his role was being terminated.
He needed to find another job, but quickly realized he wasn't alone.
"I saw the news where 24 million people were looking for a job," he said. "It was a little scary.
"Fortunately, through networking and keeping my name out there, I had some responses more quickly than I thought."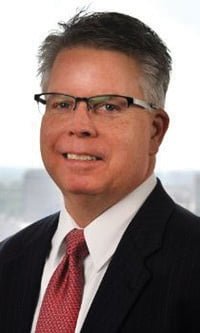 Venable reached out to CFO Carla Mills, who he had worked with previously. She told him the Catholic Foundation of Northeast Kansas (CFNEK) was looking for a new controller. After the application and interview process, Venable accepted the job.
His first day was roughly six weeks after the chancery offices closed, and since then, he's worked back and forth between home and the office.
"It's been very challenging to onboard during a pandemic," he said. "But we've been trying to make the best of it."
Venable's responsibilities include managing budget expenses, calculating semiannual distributions of funds and presenting quarterly financial statements to the CFNEK board.
They're not operating quite the same way as they would during a normal year, he said.
"There's a lot of annual events that we typically do," he explained, "and we just aren't doing them.
"Our board meetings are all remote. I know some of the board members from being a Kansas City guy and a Catholic. But some of them I have not met yet, so that's been a challenge."
It's also been strange to meet people around the office while everyone sports a mask, said Venable.
"You don't really know what they look like," he said with a laugh.
But he still feels at home in the archdiocese's environment.
"It's a small finance community in Kansas City," he said, "and then an even smaller Catholic community.
"It's been unique to say the least. But people have been very generous with their time and understanding, and gracious with dealing with some of the issues we've dealt with."
Administrative assistant navigates new tech before retirement
The archdiocesan vocation office and the Serra Club teamed up to host a "Runnin' with the Revs" basketball game on March 9.
"Little did we know that days later we would be shutting down," said Melanie Savner, vocation office administrative assistant.
Savner ended up working from home — first from her kitchen table, and then in a makeshift office — for two and a half months.
"I learned how to participate in Zoom meetings and often felt like a millennial with my home office and technology connections," said Savner.
"But I also felt very disconnected from the people I worked with," she added.
Upon her return to the office, Savner realized it wasn't the same.
"The back half of our hallway is often dark because no one is there," she said. "Rather than hearing voices or occasional laughter in the hall, I really noticed the silence, which filled the space.
"I felt like our chancery soul was missing."
Savner and vocation director Father Dan Morris talk frequently over the phone. They've experienced many blessings this year.
"The biggest is because some things have been simplified or canceled due to COVID, we have had time to really evaluate what programs or activities bear the most fruit," said Savner.
"Father Dan has been able to cultivate more relationships with the vocation office by working more directly with young men in high school and college," she added.
But despite the hopeful future for the vocation office, Savner's work is winding down. After more than 15 years at the archdiocese, she will retire at the end of the year.
"Originally, I planned on retiring in a year or two, but the pandemic got me to rethink that," she said. "I trusted that God would help me figure it out. And one day this summer, it just became clear it was time."
It will be bittersweet when Savner wraps up her work in December.
"I will finish out seeing our seminarians and a great group of discerners at our Quo Vadis retreat, and will leave wondering which ones will someday become a seminarian," she said.
"I will miss their journey," she added, "but will begin mine."
Stalled projects, virus procedures slowed but did not stop construction in the archdiocese
Work became quiet for Dan Himmelberg when restrictions were put in place in Kansas this past March.
The director of real estate and construction for the archdiocese worked from home until August but was able to slowly start meeting with people outside of various sites.
"I try to always meet them outdoors, wearing a mask," he said. "Not shaking hands in the beginning was a little awkward, but we got used to it.
"Even if I had to go in and look at a building problem, we'd go in and then go back outside and finish the meeting around my car."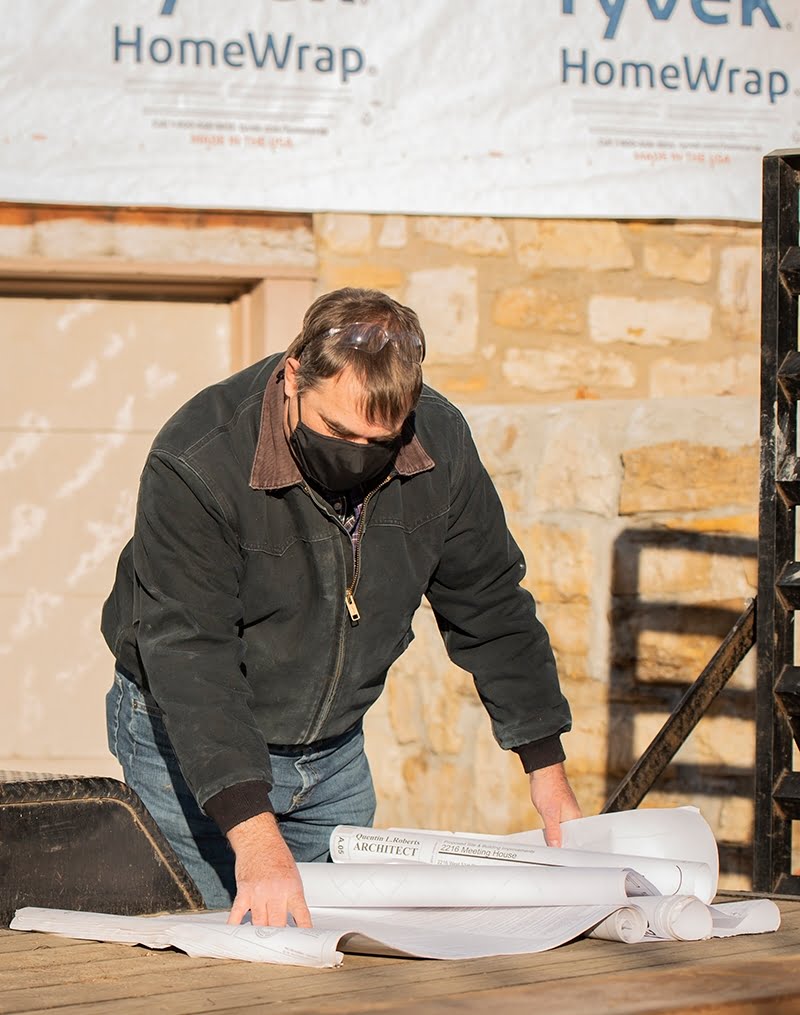 Fortunately for Himmelberg, architecture drawings are created and stored electronically, and meetings with several people could be moved to Zoom.
The biggest difficulty he's experienced has been at sites where active construction is taking place, like Donnelly College in Kansas City, Kansas, which is working on a brand-new building.
"At Donnelly, we had a pretty bad outbreak in the beginning," said Himmelberg. "They were a very busy site, and they got shut down."
The contractors created a way to continue their work, with people taking shifts to work at the site over the span of 12-hour shifts, six days a week.
"They wouldn't work more than eight hours, five days a week," said Himmelberg, "but it gave them more opportunities to spread out."
Another project impacted by the pandemic was Villa St. Francis in Olathe, which is undergoing multiple additions and renovations.
"We shut that down tight quick," said Himmelberg. "We have to finish the hospice area, but we still have three areas that started construction that we can't get into."
His work life at the office has also been subject to changes.
"Everybody that is here is being really good about being careful," said Himmelberg. "We're getting the temperature check and questions asked as we come in.
"I think everybody's really respecting each other's space."
School office 'runs smoothly' from home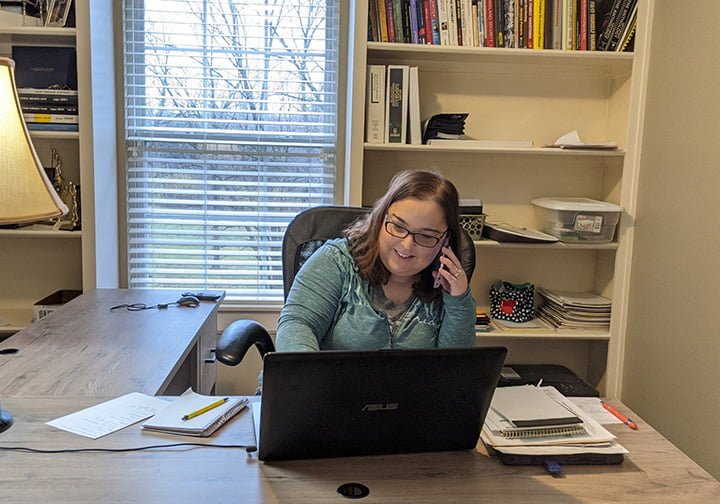 The transition from working in the office to working from home was smooth for the archdiocesan office of Catholic schools, said Amy Lanham, office and research/data manager.
"Our school office is a little unique in the sense that we worked pretty independently already," she said.
Lanham's co-workers, including superintendent Vince Cascone, are often out of the office visiting schools in the archdiocese, so adjusting to working remotely wasn't difficult.
"If anything, our communication is even stronger than before the pandemic as we now use Zoom to meet weekly," said Lanham.
Working from home has given Lanham more time to spend with her husband Kyle and dog Emma.
It's also helped her feel more productive in her work and personal life.
"I am strangely more efficient working from home than in the office because I have less interruptions," said Lanham.
"I eat healthier and love being able to dress casually and work outside on my deck during the nice weather days," she added.
She's also inspired when she thinks about what school staff members have accomplished this year.
"I have always said that the work that I do in our office is nothing compared to what our school leaders, teachers and staff do at our schools in a normal year, let alone a pandemic!" she said.
Lanham is grateful the archdiocese "cares about the safety and well-being of their employees," and that she is part of a team of hardworking individuals who have thrived in the work-from-home life.
"Our office runs smoothly because I work with four other dedicated individuals that are just as committed as me to making this school year run as smoothly as possible for our schools," she said.
"There is no script on how this school year will play out," she added. "But one thing that I do know is that our school office team and our school staff will get through this uncertain time together."