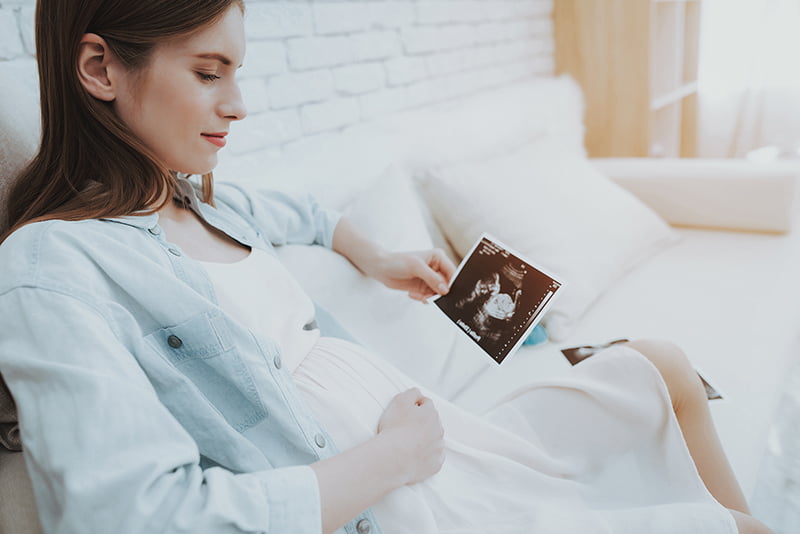 by Marc and Julie Anderson
mjanderson@theleaven.org
LOUISBURG — You can do it. You've got this, and you don't have to do it alone.
That's the message Ashley Lemke wants to give moms facing unexpected pregnancies.
Lemke, a member of Immaculate Conception Parish in Louisburg, is one of 15 angels involved in Gabriel Project KC, a ministry shared by the Archdiocese of Kansas City in Kansas and the Diocese of Kansas City-St. Joseph.
Coordinated by Ann Marie Alvey of the archdiocese and Teresa Hoeppner, program manager of the respect life office of the Diocese of Kansas City-St.Joseph, Gabriel Project KC's mission is simple: to provide support for any woman in an unplanned pregnancy.
With the help of angel volunteers — an accompanying partner for each mom in need — Gabriel Project helps each mother-to-be access pregnancy resources throughout the region that they might be unaware of.
Walking with moms is at the core of Archbishop Joseph F. Naumann's new initiative, "Walking with Moms in Need: A Year of Service."
The year starts March 25 on the solemnity of the Annunciation, when the church celebrates the Archangel Gabriel's announcement to Mary that she would become the mother of Jesus. The angel (for whom the program is named) told Mary, however, that she need not be afraid for "nothing is impossible with God."
Walking with Moms in Need will include a kickoff event (see sidebar), along with opportunities for Catholics to volunteer within their own parishes.
The initiative is not just for the region's two dioceses. Every Catholic parish within the United States has been asked by the archbishop, chairman of the U.S. Conference of Catholic Bishops Committee on Pro-Life Activities, to take part in the initiative, helping more women to choose life for their children. Gabriel Project KC aims to do just that.
By the end of the year, the ministry also hopes to have ambassadors at every one of the 200-plus parishes within the two dioceses.
It was a journey that inspired Gabriel Project in the first place.
In 1990, Cathy McConn of Houston and Rex Moses of Corpus Christi, Texas, saw a sign outside St. Michael Church in Houston. The sign read: "If you will have your baby, this parish will help you in every way." The sign led the pair to develop Gabriel Project within the Archdiocese of Galveston-Houston and the Diocese of Corpus Christi. The ministry has since spread throughout the nation.
And it's definitely a ministry that Lemke wants to help with here in the region.
"I had an unplanned pregnancy," she said, and some people warned her it would prevent her from finishing college or embarking upon a career.
But it wasn't true, said Lemke. Eight years after she found herself facing a pregnancy with a man with whom she had only been with for three months, she is married to that same man, has three children and is currently working toward her master's degree. At first, she admits she was nervous to share news of her pregnancy with her husband.
"I literally told him in a text message because he thought I was breaking up with him," she said.
But when she texted: "No, I'm pregnant," he answered: 'That's it? We've got this.'"
The couple married on Sept. 1, 2012, and their daughter was born a month later.
Lemke said she first contacted Alvey after reading a story on Gabriel Project in The Leaven in May 2019, when she realized she had to do more.
"I contacted Ann Marie and said, 'I'd really like to do this,'" she recalled.
When Alvey heard the words "unplanned pregnancy," she suggested Lemke speak at a Gabriel Project meeting. That way, the other angels could learn from her experience.
"So, I did that," Lemke said. "I think it's really great. I'm all about helping women [realize] that empowerment does not have to mean not having your child."
Similarly, Gina Buice of St. Sabina Parish in Belton, Missouri, was looking for a service opportunity.
While at work one morning, she prayed while vacuuming. She asked the Lord to lead her.
While she was vacuuming, Buice received a text from her sister about Gabriel Project.
"She said, 'You should check this out. I think you'd be interested in this,'" she recalled.
Realizing her prayers had been answered quickly, Buice found Gabriel Project KC online and found what might be her calling.
"It just really struck a chord with me because I was a teen mom. I had graduated from high school, but I enrolled in community college and was taking psychology classes," she said. "I was learning more and more about teen pregnancies and all of the negative statistics associated with the children of those teen pregnancies. What I was learning in my schooling was that it had nothing to do with the age of the mom, but . . . with the support system the mother had."
It took Buice 10 years to earn her degree. Along the way, she researched teenage pregnancy, looking for a way to help other moms, even to the point of drafting a business plan for a nonprofit to serve as a support system for young moms.
"I quickly realized I couldn't do it while I'm raising my children," she said. "There's not enough of me to go around."And then I saw this website."