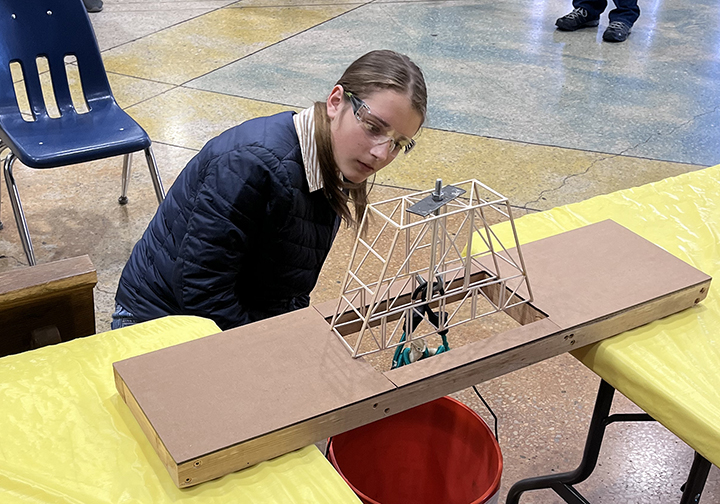 OVERLAND PARK — On April 1, St. Thomas Aquinas High School here hosted a model bridge building contest for Catholic grade school students from around the archdiocese.
The contest was designed to teach the sixth through eighth grade students basic engineering principles.
Each student was given 3/32" basswood, as well as the rules to construct a bridge spanning about one foot. The goal was for the students to create a bridge with the highest efficiency rating.
Lillian Schoenhofer, a seventh grader at St. Paul School in Olathe, was this year's winner. She was awarded a $500 scholarship to Aquinas.
"I thought it sounded like fun," Schoenhofer said about the contest. "I've never built a bridge before and honestly did not think I had any chance to win."
Aquinas senior Brayden Bryer helped run the competition.
"I really enjoyed our bridge building competition because not only was it super fun to build and test bridges to find out what worked best," he said, "but it was also an amazing opportunity for learning the mechanics behind real-life bridges.
"I really wanted the middle schoolers to have that same experience I did, because I know how much I would have appreciated it at their age."
Aquinas students have participated in the Kansas Society of Professional Engineers model bridge building competition for many years, and a student from Aquinas has won that competition for over 20 years in a row.
If your school or middle school student is interested in competing next year, contact Rick Hetzel by email at: rhetzel@stasaints.net.