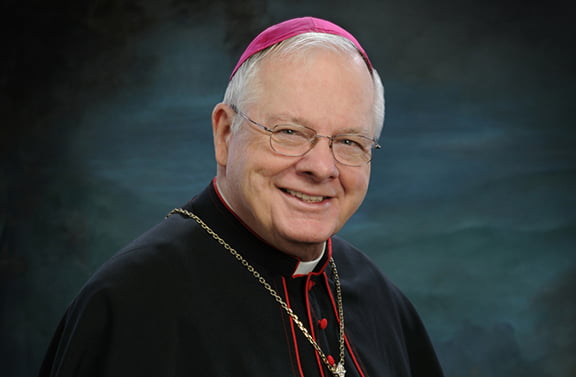 by Jessica Langdon
jessica@theleaven.org
KANSAS CITY, Kan. — Archbishop Emeritus James P. Keleher has no doubt Pope Benedict XVI's decision to step down took many Catholics by surprise.
But after reflecting on it, he believes the pope made a wise decision for himself and the church.
"I was really happy for him,"  said Archbishop Keleher. "He is such a hard-working man, and he knows at his age that he can't do that anymore."
Now 81 — a few years younger than 85-year-old Pope Benedict — Archbishop Keleher has kept his own plate full since he retired from his active duties at the helm of the Archdiocese of Kansas City in Kansas in 2005.
As archbishop emeritus, he still celebrates Masses, takes an active role in prison ministry and celebrates many confirmations within the archdiocese.
"When I see Archbishop [Joseph F.] Naumann and all that he does, I know that I feel I could not do that anymore," Archbishop Keleher said.
"I do a lot," he added, "but it's not the daily burden of running an archdiocese."
Day-to-day demands on a diocesan level are taxing, and that only multiplies in the case of a pope, who not only serves as the bishop of Rome, but as the pastor of the entire Catholic Church, he said.
"He's a spiritual guide to millions of people," Archbishop Keleher continued. "No tragedy occurs that he has not been advised of."
He's also an international figure with "an exhaustive amount of meetings."
'Remarkable ministry'
Still, many expect a pope to continue serving long past the age when a local bishop retires.
"Until Vatican II, bishops never stepped down unless they had a serious illness or death itself took them," said Archbishop Keleher.
"But now, it's common. Reaching 75, every bishop is expected to offer his resignation, and the pope will accept it usually within a year or two."
While local bishops now tend to retire at ages 75-77, popes might serve into their 80s and beyond, and the question has been whether that should be the case, or whether they might follow the path laid out for bishops.
Archbishop Keleher believes Pope Benedict helped answer that question and views his decision to leave on Feb. 28 as a "wonderful precedent" that can guide others in the future.
Archbishop Keleher, who was preparing to celebrate a 6 a.m. Mass in Florida on Feb. 11 when a friend called with news of the announcement, knows the pope made his decision for the good of the church when he felt he could not carry out his duties as effectively as he should.
"He has carried out a remarkable ministry for close to eight years," said Archbishop Keleher. "We think a president who does eight years or two terms does a lot, and that is what this man has done at a very advanced age. He not only deserves to step down, but when he does so, he does so as our pope, whom we believe firmly is Peter's successor."
'God bless him'
Archbishop Keleher last saw the pope about a year and a half ago.
He got to know Cardinal Joseph Ratzinger years before he became Pope Benedict through his "ad limina" visits to Pope John Paul II every five years.
During those visits, Archbishop Keleher and other bishops visited the Congregation for the Doctrine of the Faith, led by then-prefect Cardinal Ratzinger.
"He was so nice to chat with us, to answer any questions, no matter how difficult they might be," he said.
While highly intelligent, holy and prayerful, Pope Benedict has a good feel for what it means to be human, Archbishop Keleher believes.
He will watch with interest the upcoming conclave.
And although many questions remain about who will be the successor and how Pope Benedict will spend his days, Archbishop Keleher has no doubt he will remain a spiritual guide and inspiration.
"He has a very profound message of God's love for all of humanity, and he has broadcast that message all over the world," said Archbishop Keleher. "And I know even in retirement, which he seeks to be a time of prayer and reflection, he will continue to be a wonderful inspiration to the church as well as to the world.
"God bless him."