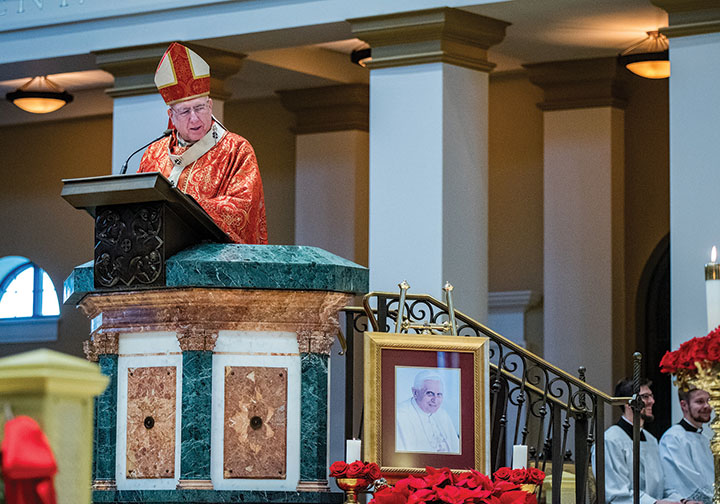 by Marc and Julie Anderson
mjanderson@theleaven.org
Habemus papam!
Father Steve Beseau, a priest of the archdiocese and rector of the Pontifical College Josephinum in Columbus, Ohio, said he never expected to hear those words in person.
Still, on April 19, 2005, Father Beseau found himself in St. Peter's Square hearing the first words of Pope Benedict XVI, who began his pontificate by saying, "Dear brothers and sisters, after the great Pope John Paul II, the cardinals have elected me — a simple, humble worker in the vineyard of the Lord."
Although he met Pope Benedict XVI only once for just a moment, Father Beseau said the pope's impact on his life cannot be overstated.
"I look at my bookshelves, and my shelves are filled with his books. That's really where I came to experience him, through his writings," he said.
Father Nathan Haverland, pastor of Most Pure Heart of Mary Parish in Topeka, agreed.
"His writings, his reflections are incredibly profound and yet very simple," he said. "Whether it be on liturgy, on Scripture or the life of a saint, he had a true gift of teaching and insight."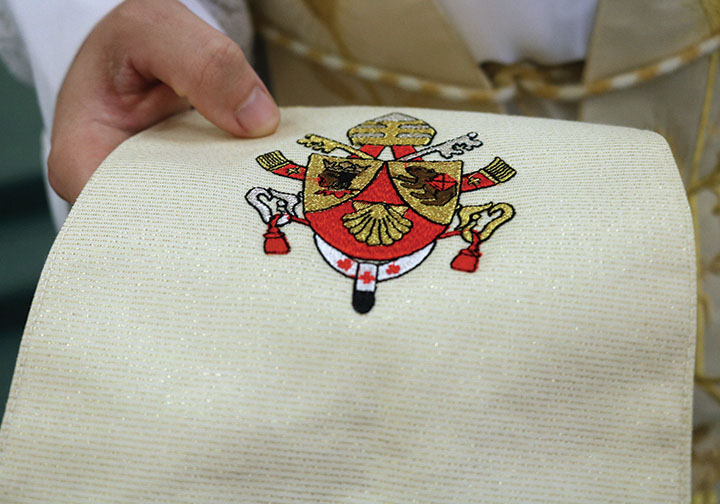 Among some of his favorite writings and reflections are interview-style books which the pope participated in with journalist Peter Seewald. Chief among them is "Last Testament: In His Own Words," initially published in late 2016.
"I love those because it's just listening in to a conversation, just getting a little insight into the journey of him and his thoughts and his reflections outside of a liturgical or formal writing," Father Haverland said.
Pope Benedict proclaimed a Year for Priests beginning on June 19, 2009, on the solemnity of the Sacred Heart of Jesus; it continued through June 11, 2010. The year impacted at least two archdiocesan priests, including Father Carter Zielinski, pastor of Sacred Heart of Jesus Parish in Emporia.
"That was when the first foundations of a vocation started to develop in prayer, and I started to feel a call to the priesthood. . . . I'm convinced that it was the fruit of the church's prayer," Father Zielinski said.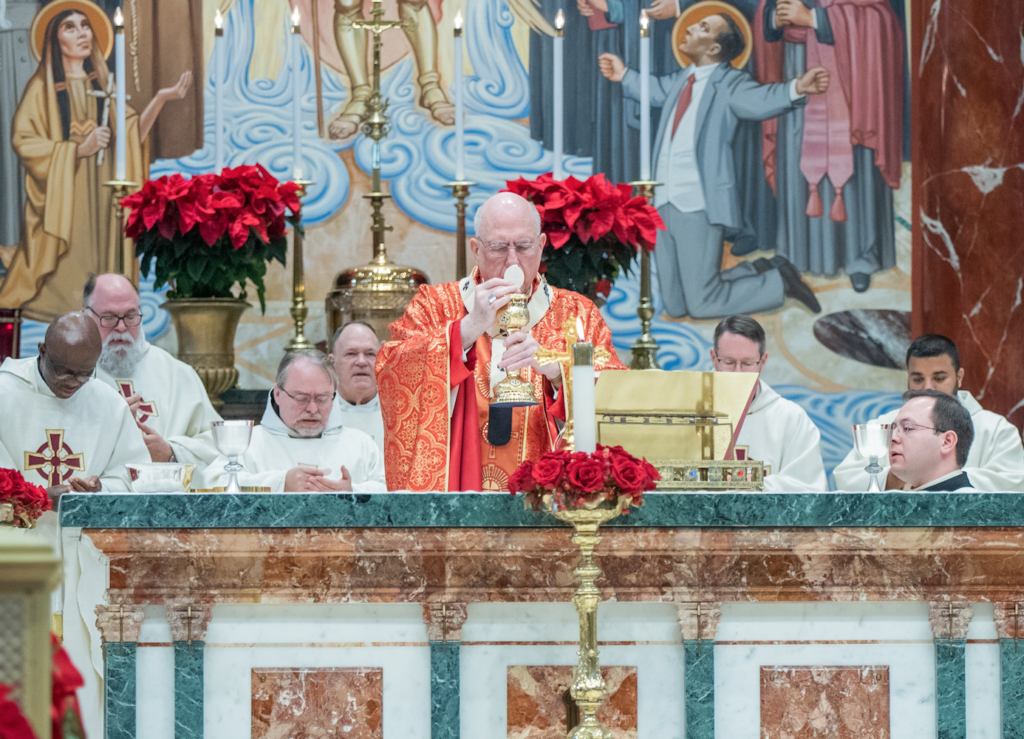 The Year for Priests also had a profound impact on Father Haverland.
Already in the seminary, as part of a summer trip to Rome, he visited the Congregation for Clergy where he received a gift, a stole with Pope Benedict's seal or crest on it. He only uses it for special occasions.
Similarly, Father Anthony Saiki, rector of the Cathedral of St. Peter the Apostle in Kansas City, Kansas, has a cherished papal memento.
"When I was in Rome," Father Saiki said, "I was blessed to be able to exchange a zucchetto (skullcap) with him through a priest friend who had an audience with the retired pope.
"I asked him to exchange zucchettos with the pope emeritus, and so, he did. It has a certificate of authenticity from his secretary, Archbishop Georg Gänswein. . . . Pray God, if he's in heaven, it's a second-class relic."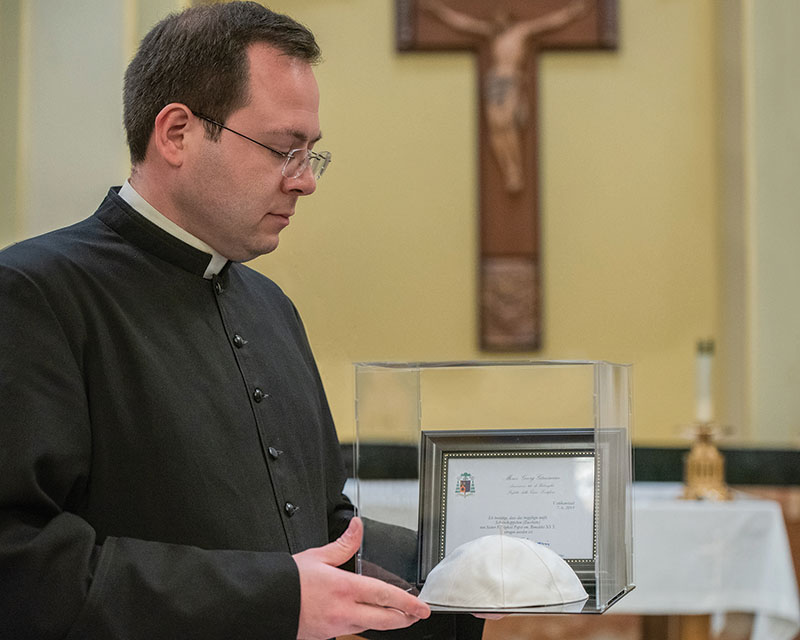 The memento reminds him of times he was in the presence of the Holy Father, including the 2008 apostolic visit to the United States at a rally for seminarians and young people. At the end of that talk, Father Saiki said, he remembers Pope Benedict saying, "Dear seminarians, I pray for you daily."
"He was speaking to thousands of us, but I knew that in that moment, he meant it," Father Saiki continued. "Even though he didn't know who I was, he was praying for me. He was praying for me every day. It was such an expression of fatherhood, such an expression of being our spiritual father. . . . And then at the very end, he said, 'As a pledge of my love for you and your families, I impart to you my apostolic blessing.'
"Even though he was responsible for the entire church on the planet, I really believed it — that when he said, 'As a pledge of my love,' he meant it. He did love us. . . . So, that was a very, very powerful moment."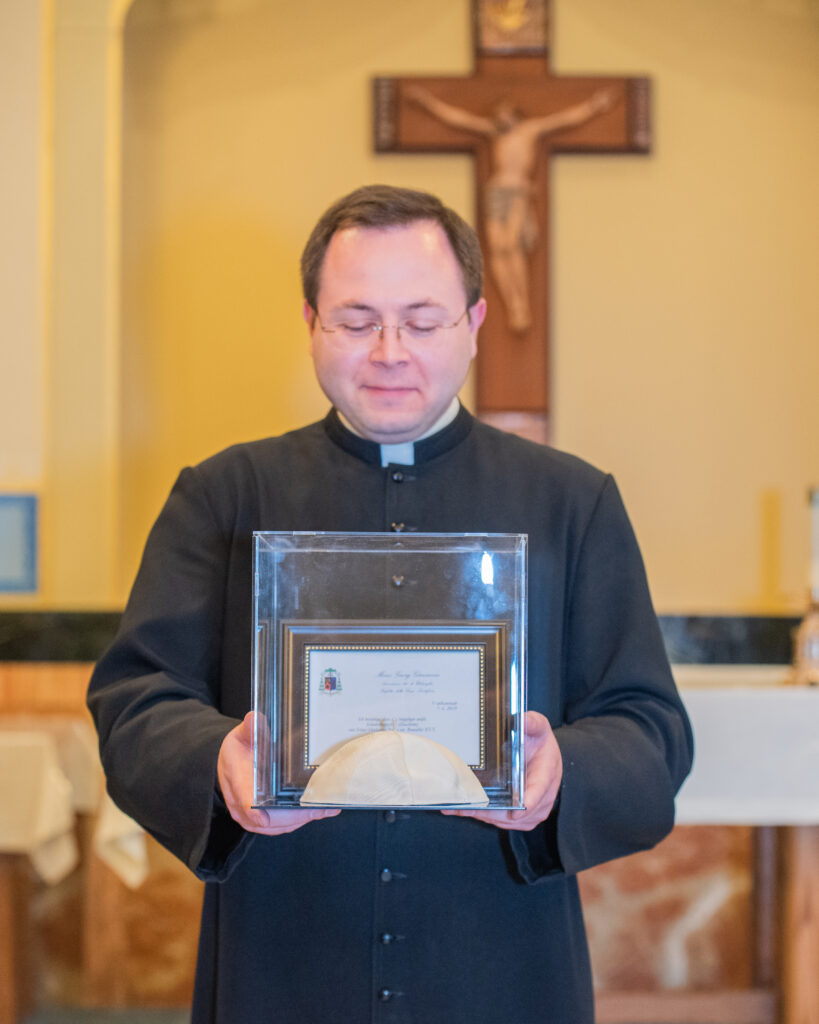 While Fathers Zielinski, Haverland and Saiki never met him personally, there is at least one archdiocesan priest who encountered Pope Benedict XVI numerous times.
Father Richard McDonald, pastor of Holy Angels Parish in Basehor, first met the man who became Pope Benedict XVI during a conference on St. John Henry Newman.
"He was so gracious," said Father McDonald, "and he signed and autographed my program. So, I have an autograph of him as Cardinal Ratzinger underneath a nice drawn portrait of Cardinal Newman from that occasion."
That's not all.
After the conference, Cardinal Ratzinger arranged for everyone in attendance to attend a private audience with Pope John Paul II.
"It was all the doing of Cardinal Ratzinger and how kind and considerate he was of others because he didn't have to go out of his way to do that," he said.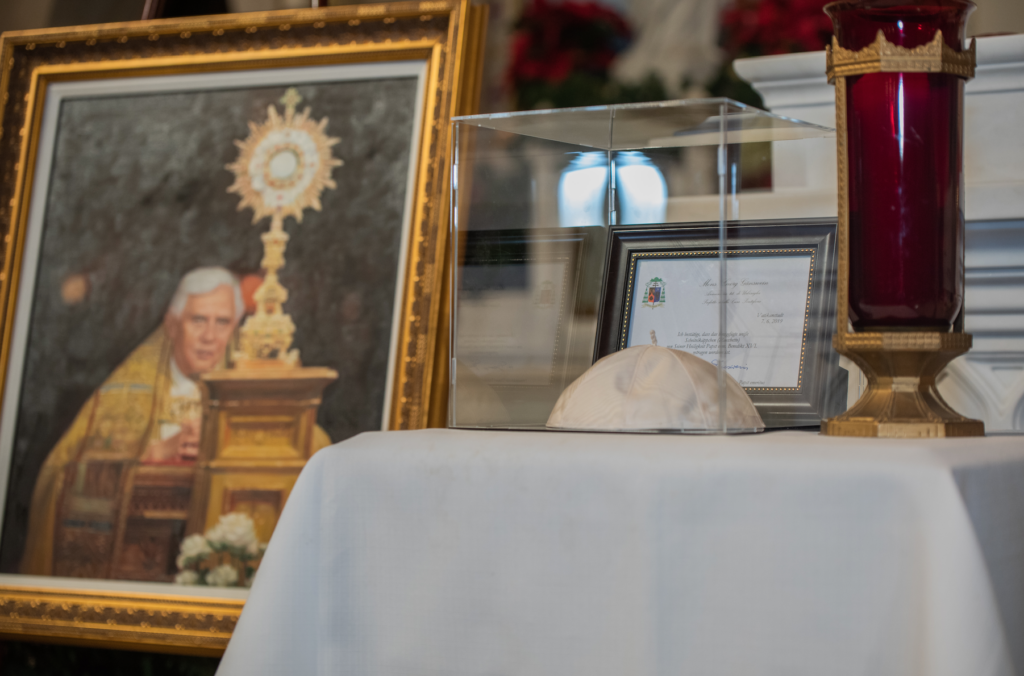 As a seminarian studying in Rome, Father McDonald had Thursdays off from classes. On those days, he often wandered over to the cardinal's morning Mass celebrated in the German chapel, just off the south side of St. Peter's Basilica.
Then there was the time he served as the deacon at a Corpus Christi Mass and procession outside of Florence, Italy, at the Abbazia di Rosazzo, since just the day before he had been ordained to the transitional diaconate.
Father McDonald recalled feeling extremely humbled, honored and blessed serving in that capacity if, for no other reason, than being in the presence of a man of holiness.
"He demonstrated that [holiness] by his silent prayers before and after Mass," he said. "He just recollected himself in the sacristy. . . . He was just such a man of prayer. . . . He didn't let anything else distract him. He was wrapped up in prayer by himself before and after Mass, and that was just beautiful. It very much inspired me."
Years later, Father McDonald was in the presence of the man he'd known as Cardinal Ratzinger for a private papal audience arranged as part of the 150th anniversary of the Pontifical North American College.
And that's when he got a surprise from Pope Benedict XVI.
"I got to spend time [with him], and he greeted me. He recalled me serving as deacon for him so many years before," he said. "He was just an amazing man in every way. There will be no one else like him."