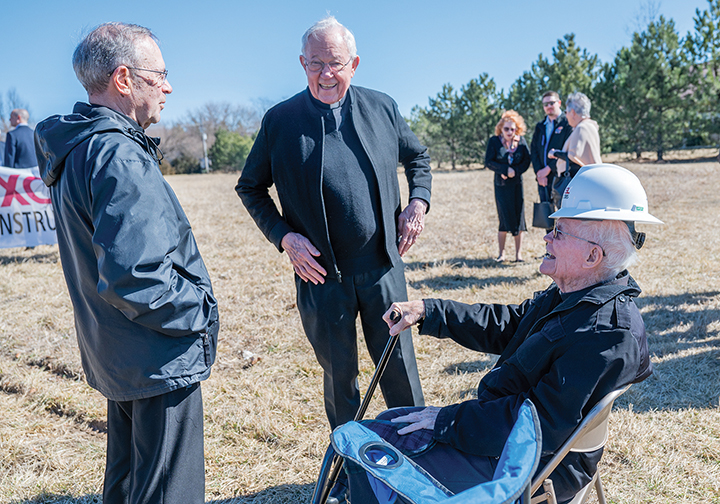 by Joe Bollig
joe.bollig@theleaven.org
OLATHE — He's already packed some boxes and is counting down the days until he can move into the new archdiocesan priests' retirement residence.
"The contractor says he's going to build it in 295 days — that's only about 10 months — and I'm moving in," said Father Al Rockers, a retired archdiocesan priest. "I've got my shovel here [from the groundbreaking ceremony]. I'm going to keep this shovel and come here 295 days from now to move into our new home."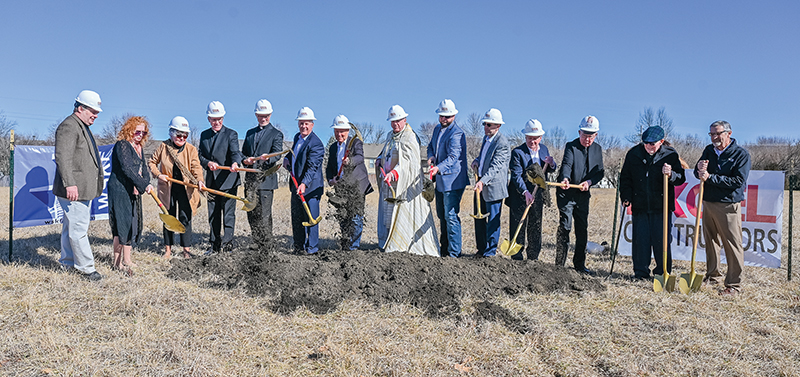 Father Rockers is one of several retired archdiocesan priests who are looking forward to moving into the long-awaited archdiocesan residence for retired priests.
He, as a member of the committee that guided the project, participated in the groundbreaking held on March 1 at the 3.63-acre site situated northwest of the Santa Marta Senior Living Community, near the intersection of W. 116th St. and W. 115th Terr.
Raising the funds to build the $5.2 million residence was one of the top goals of the recently concluded "One Faith, One Family, One Future . . . in Christ" capital campaign.
"This is a wonderful day," said Msgr. Michael Mullen, a retired priest of the archdiocese also at the groundbreaking. "The church is providing for the retirement years of priests. There will come a time for many of us. We'd like to live together to pray together, have social time together and learn together."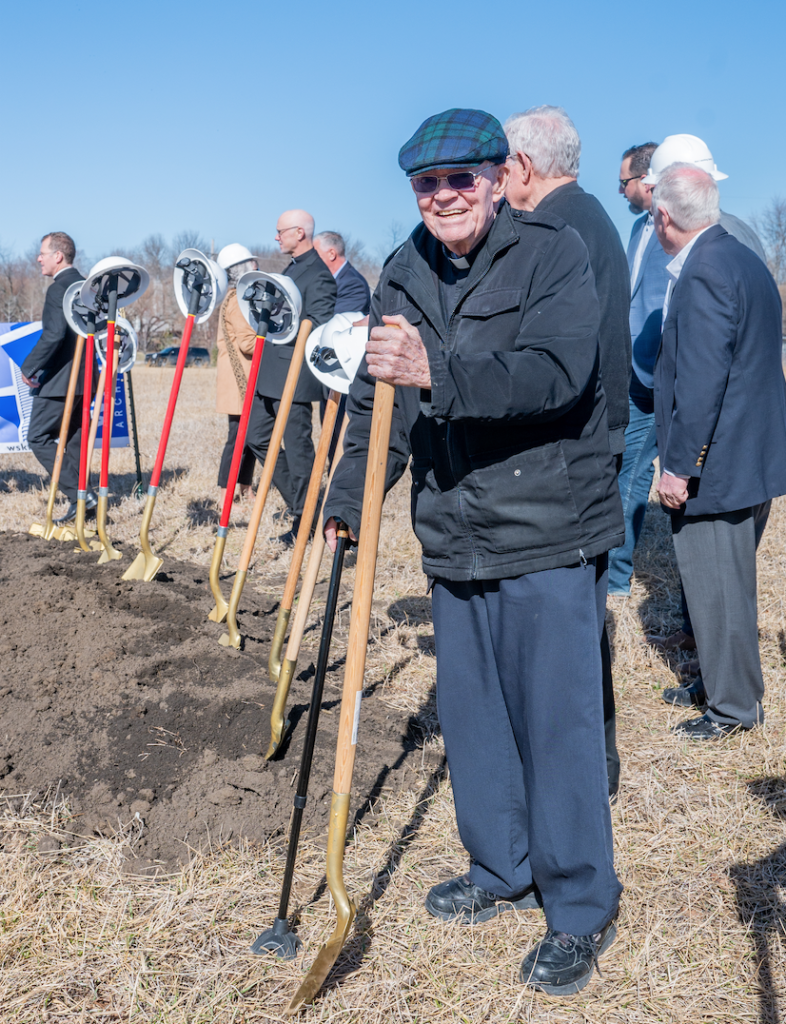 Msgr. Mullen said there was some symbolism in that three of the four original faculty members in attendance at the dedication of the Savior of the World Seminary — Father Al Rockers, Father Ray Burger and himself — were at the groundbreaking of the retirement residence.
The blessing was led by Archbishop Joseph F. Naumann, assisted by Father Anthony Saiki, acting as master of ceremonies.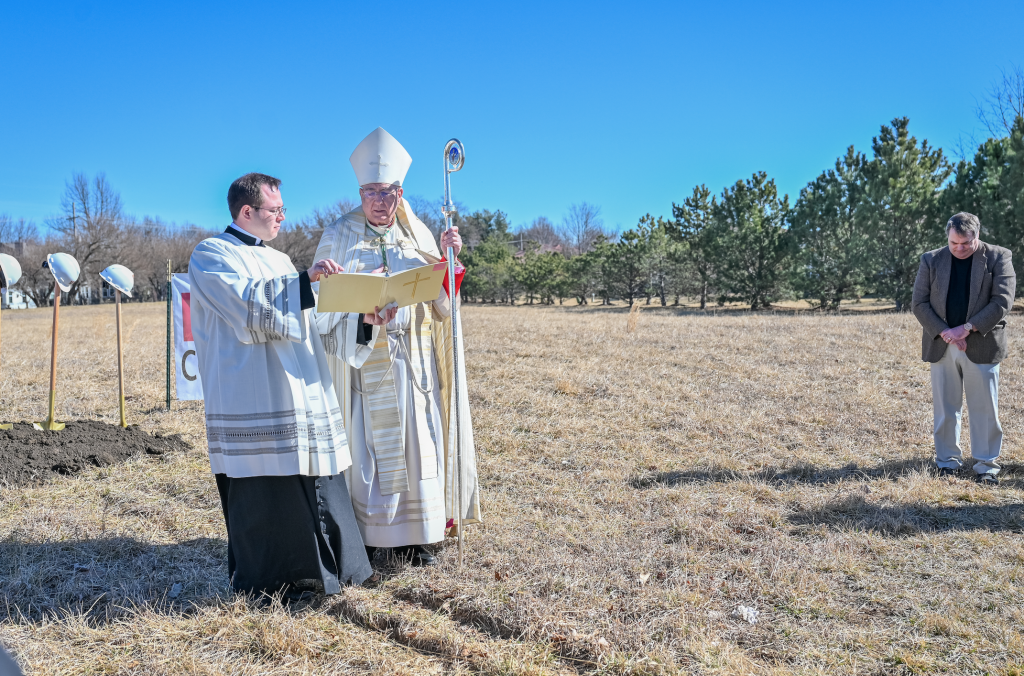 "Today is the culmination of the efforts of a lot of people," said Archbishop Naumann. "The building of this residence is tangible evidence of the great love the people of the archdiocese have for their priests. Their desire to build this residence and, also, to make sure our priests in retirement are well cared for, is one expression of that. So, we are grateful for the generosity of God's people for all they did to make this possible today.
"Also, we are grateful to some of those who have been strong advocates for this — Msgr. Ray Burger — it's good to have him with us here today — and a number of people who've served on the committee. Father Jerry Volz was one of those; Father Al Rockers, who was kind of a poster child for our campaign; Father Frank Burger; and Father John Riley. We are grateful for all of those who have helped bring this to a reality."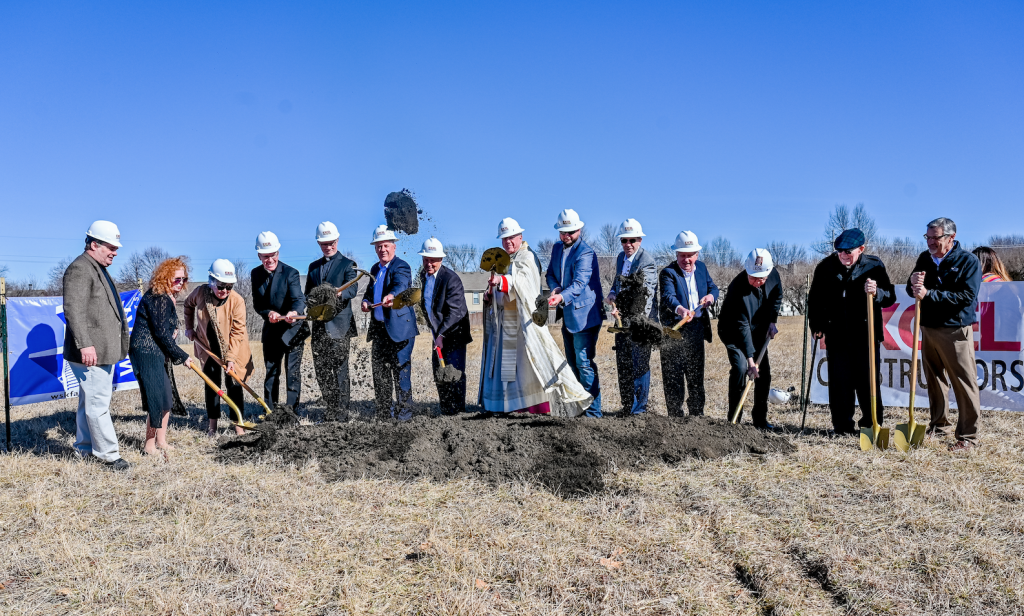 One also remembered was Leon Roberts, former archdiocesan director of real estate and construction, who retired at the end of 2019 and died on Jan. 19. He played a major role in laying the groundwork for the project.
Dan Himmelberg, who succeeded Roberts, arranged for one of the "groundbreakers" to wear a construction helmet featuring a photo of Roberts, and his widow was invited to participate as well.
"It's such an honor," said Patti Roberts, who turned a shovel of soil. "That was the picture we had at his funeral. I'm sure he's here, looking down, and is very happy this is going on. I think he and Mike Johnson are looking down together."
Johnson, president of Excel Constructors, Inc., worked with Leon Robert on the project. Johnson died in October 2019.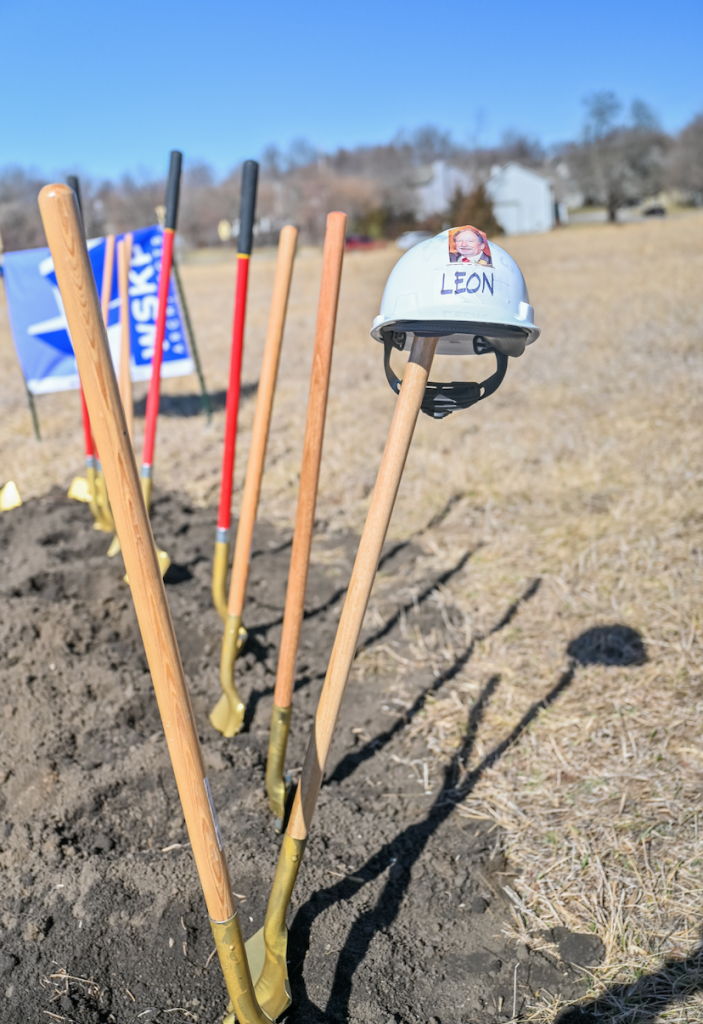 The facility is something that priests have wanted for decades, said Father Jerry Volz, pastor of Corpus Christi Parish in Lawrence, and member of the priests' retirement residence planning board.
"From my experience as a priest for almost 30 years now, this is something the presbyterate has discussed and desired — to have some kind of facility where we could live somewhat in community," said Father Volz. "For many years, there has been interest among priests for this kind of facility."
Some priests would rather live in rectories or on their own, but several priests wanted to live in a more communal setting. Originally, the plan called for 12 individual apartments, but because of COVID-19 and increased construction costs, the plan was scaled back to 10. The facility could be added onto if necessary.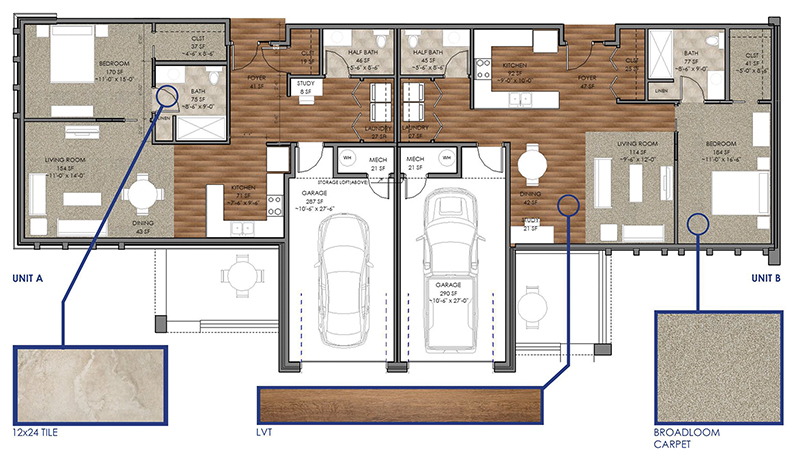 The residence will be a one- story, three-wing, 19,000-square-foot building. The wings will meet in a triangular-shaped commons area with a stone fireplace, library, TV room, dining room and chapel. The chapel will use items salvaged from closed churches and chapels.
There will be a guest suite with a folding bed for visitors, which will also double as a conference room and a storm shelter.
Each apartment will have its own kitchen, one-and-a-half bathrooms, living room, bedroom, walk-in closet, attached garage and outdoor patio. Each apartment will have its own outside entrance, but also a door to interior hallways that terminate in the commons area. Each apartment will also have its own washer and dryer.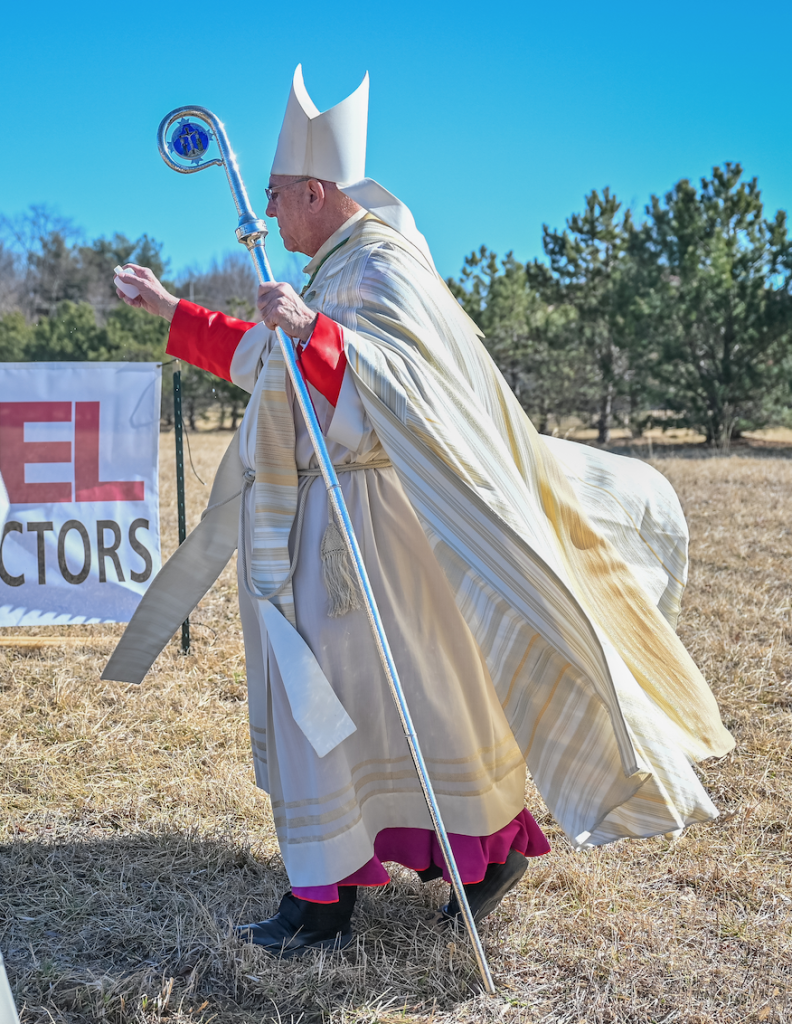 The residence will contract with nearby Santa Marta for housekeeping and some meals. The facility will have emergency call stations that connect to Santa Marta.
The architect is WSKF Architects based in North Kansas City, Missouri; and the general contractor is Excel Constructors, Inc., of Overland Park. Representatives of both firms participated in the groundbreaking.