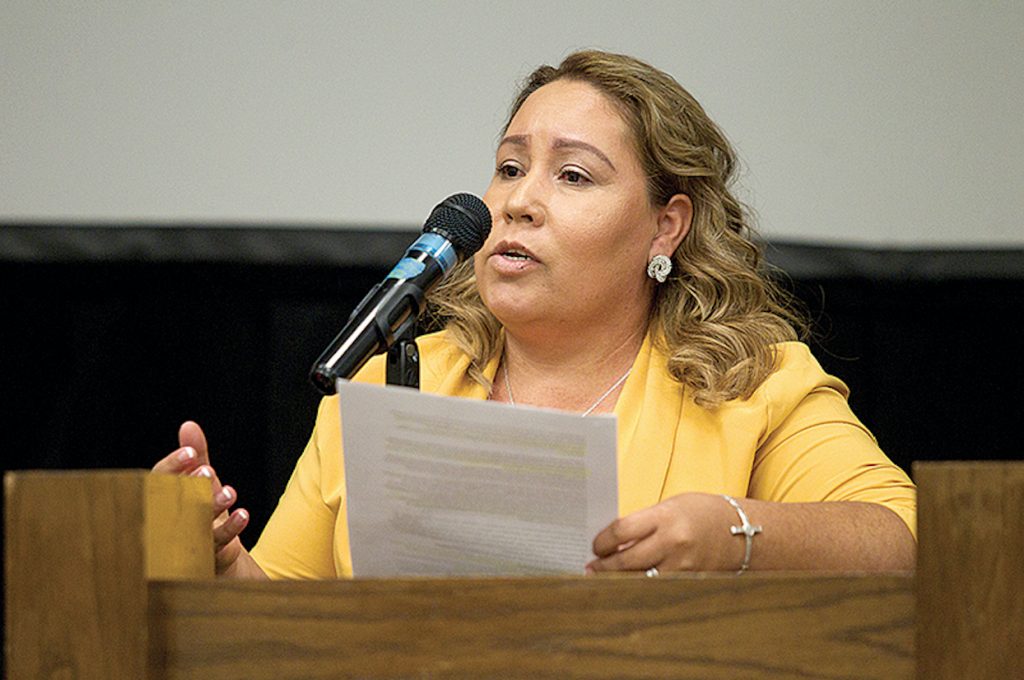 by Ellie Melero
@eleanor_melero
KANSAS CITY, Kan. — Juan Garduno was nervous.
When his name was called, he walked up to the podium and took a deep breath. Then he gave his presentation. He spoke quickly and stumbled over some of his words, but he gave his presentation.
When he was done, he sat back down for a little bit before his name was called again. Then he walked back up, smiling this time, to receive his certificate.
Garduno, a parishioner at Blessed Sacrament in Kansas City, Kansas, was one of the 22 people who graduated from the Hispanic ministry's School of Basic Theology on Aug. 7.
The school, previously known as the School of Evangelization of Our Lady of Guadalupe, is a three-year program intended to form lay leaders for Hispanic ministry in parishes around the archdiocese.
"You want these leaders of the Hispanic community to have this kind of formation," said Father Gianantonio "Giani" Baggio, the director of Hispanic ministry in the archdiocese. "You want them to have not only the ability to lead groups, but also the theological formation in order to ensure that what they teach and the way they lead is following the teaching of the Catholic Church."
The program is meant for members of parishes with Hispanic ministries who have an interest in taking up leadership roles within their parishes.
Over the course of three years, students study such topics as sacramental theology and sacred Scripture as well as the role of lay leaders in the church. At the end of the three years, they have to complete and present a final project.
"They have to go to their parish and see what the parish needs," said Sister Maria Orozco, SCL, the Hispanic ministry's coordinator of adult catechism and evangelization. "Whether it's catechism classes or formation for lectors and ushers — whatever the parish needs. They talk with the priest, and the priest gives the green light to do the project."
This year, the projects ranged from the creation of an immigration ministry to starting summer Bible schools.
Garduno's proposal was to create a Catholic soccer league.
"I coach five soccer teams with kids from 5 to 18 years old," Garduno said. "I love seeing the happiness from the kids and the effort of working as a team, and also bringing them to know Christ through the sport and through prayer and participation."
Archbishop Joseph F. Naumann was impressed with the various presentations. He said his favorites were the ones that dealt with evangelization. He even mentioned Garduno's soccer league as one that particularly interested him.
"When I was a child, every parish had a soccer team," Archbishop Naumann said. "Sports is a way that we can really form our young people. Coaches can have such a powerful influence on the young."
Archbishop Naumann said the growth of Hispanic ministries at parishes throughout the archdiocese gives him hope for the future, and he credits much of that growth to the School of Basic Theology.
Since the program's inception in 2004, it has more than doubled in size. The first class of 10 people graduated in 2007, and this year, the fifth class, had 22 graduates.
Part of the school's rise in popularity is due to the satisfaction of past graduates. As more graduates become more involved in their parishes, more people want to attend. Father Giani said he and Sister Maria have already interviewed 40 people who are interested in enrolling for the next cycle.
The results of the program can already be felt in many parishes.
Father John Cordes, the pastor at Our Lady of Unity in Kansas City, Kansas, has had parishioners participating in the school since its inception, and this year 12 graduates were from Our Lady of Unity.
"The people that have gone, I can see it's been very fruitful for them and also for the church," Father Cordes said. "They just get very involved in different ways, like eucharistic ministers and lectors. They just really love their parish and want to do whatever they can to help."
Some graduates have gotten involved with the parish by helping organize retreats and starting different ministries within the parish, such as a Communion ministry and a cleaning ministry, and even more people want to get involved.
Father Cordes said about eight people have already approached him about enrolling in the school, and he is excited to have more people formed as leaders for his parish.
"I think it's been a tremendous blessing," Father Cordes said. "You can just see the animo (energy) for the people, for their faith. You can see growth in our people, and it's a welcome thing for us."
The graduates are just as pleased with the school as the priests are.
Garduno said he learned a lot about his faith and leadership, and he encourages others to look into the school if they have any interest in helping out more in their parishes.
"It was beautiful," Garduno said. "They taught us about sacred Scripture, Christology, Mariology, human relations. It was very beautiful and very complete. I hope God continues to strengthen this ministry and continues giving many fruits to the entire community."