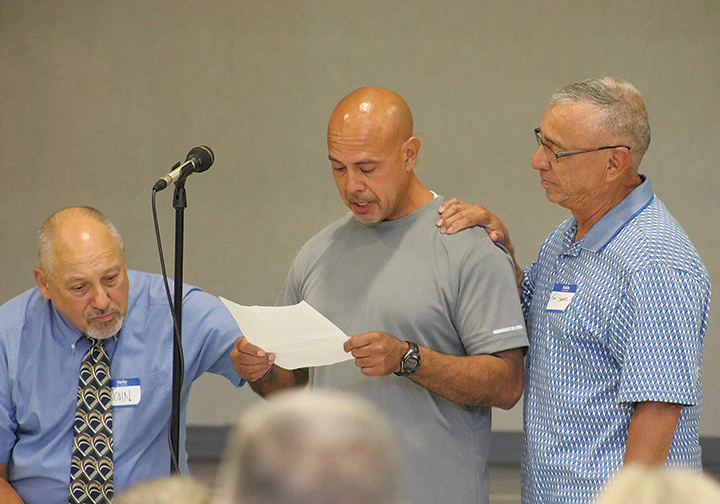 by Marc and Julie Anderson
mjanderson@theleaven.org
KANSAS CITY, Kan. — He didn't practice his Catholic faith for 10 years.
And he never dreamed he'd be speaking about it publicly to a roomful of people.
Yet on Aug. 14, that's exactly what Ernesto Martinez, a man who had been incarcerated for 22 years at Lansing Correctional Facility, did. Martinez was one of the featured speakers at a luncheon held after the archdiocese's first prison ministry Mass celebrated by Archbishop Joseph F. Naumann at the Cathedral of St. Peter in Kansas City, Kansas.
Concelebrating the Mass were Father Roderic Giller, OSB; Father Karl Good; Father Dennis Schaab; and Father Ramon Gaitan, OAR. Several permanent deacons serving in prison ministry assisted in the Mass.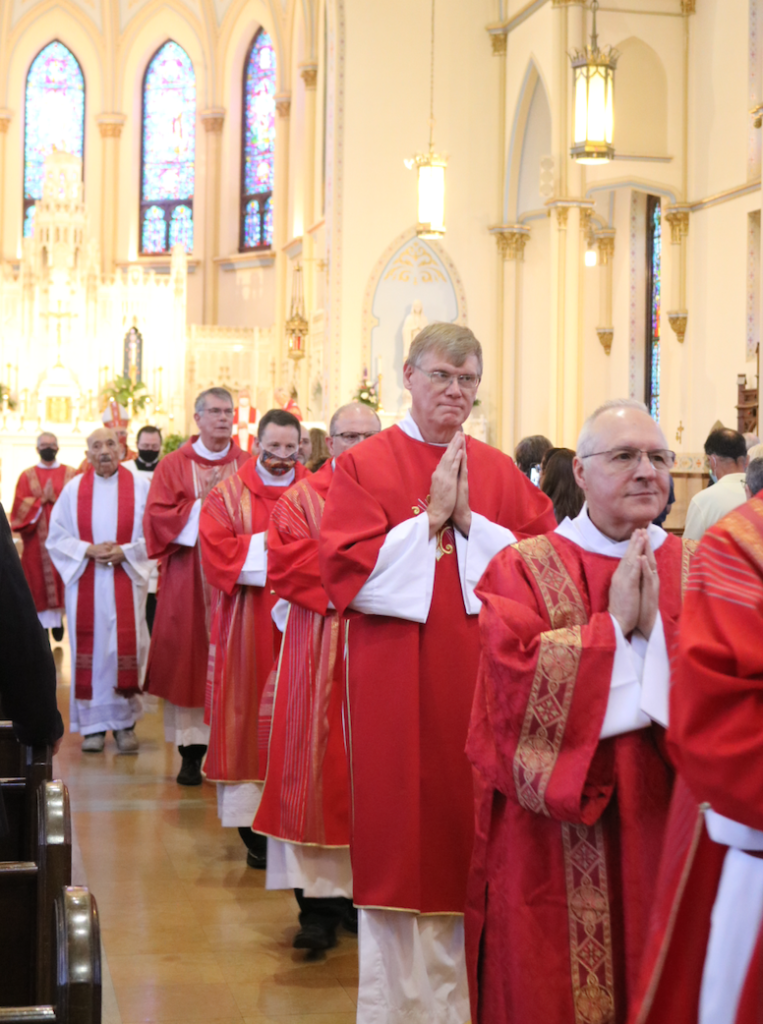 The Mass, celebrated "for all those incarcerated, released, mentors, visitors, family and friends," coincided with the 80th anniversary of the martyrdom of St. Maximilian Maria Kolbe — a Polish priest known as the "Martyr of Charity" for his willingness to give up his life for a fellow prisoner at the Nazi concentration camp at Auschwitz.
In his homily, the archbishop said St. Maximilian Kolbe "showed what true Christian freedom is" and said that it's "an especially important message we communicate to those who are in prison."
"Even though they're confined physically and limited in so many ways," he continued, "they still can live the Gospel. They still can love God. They still can love their fellow prisoners, even their guards. This is the great freedom that we bring to those that we serve."
After Mass, a luncheon was served in the parish hall during which Deacon John Stanley, archdiocesan coordinator of prison ministry, expressed his gratitude to everyone involved in prison ministry.
"I wish that each one of you could have time to tell your stories and share your experiences [of prison ministry]," he said. The purpose of the day's program was for prison ministry volunteers to gather in prayer and encourage one another, but also "to give the archbishop a glimpse of each aspect of the archdiocesan prison ministry."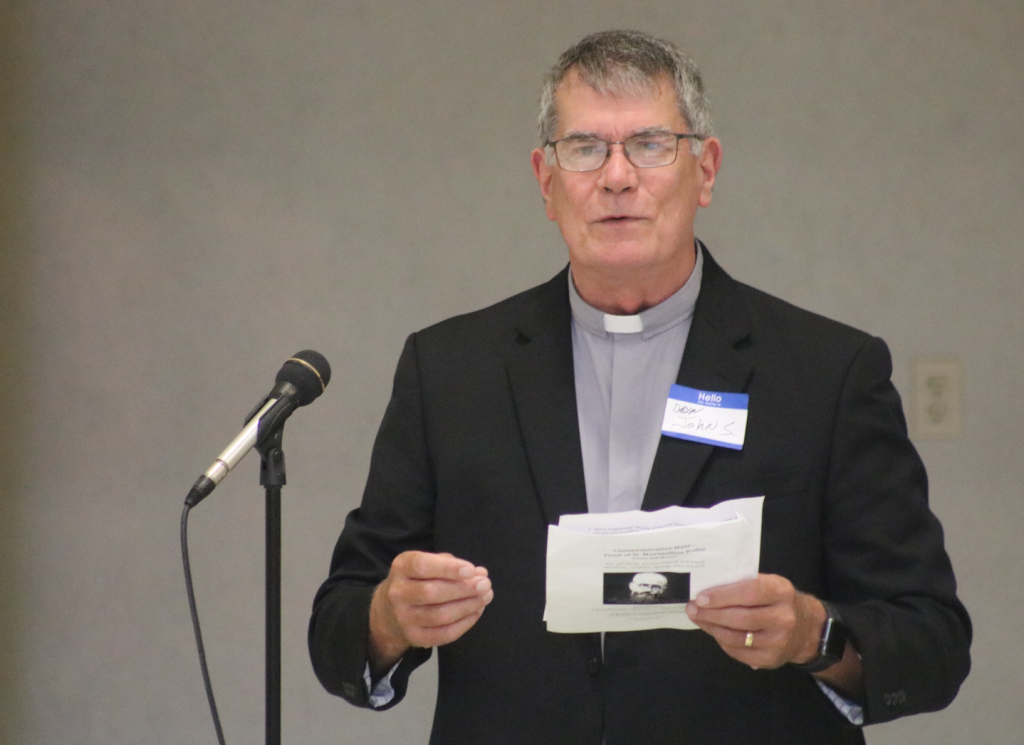 Deacon Marcos Navarro serves as one of the chaplains at Lansing Correctional Facility, one of only five prisons within the archdiocese to have a Catholic chaplain.
Prisons, the deacon said, have dining facilities, hospitals, different living quarters and even a store. Most importantly, though, prisons are full of individuals, all of whom are unique human beings formed in the image of God.
Every single prisoner has unique needs, he continued, just like any other person. Their needs range from purely physical to psychological, emotional and spiritual needs.
"They're all children of God," Deacon Navarro said. Whether volunteers realize it or not, they are bringing to the incarcerated something they need desperately.
"You bring the face of Christ to them," he said. "That's what they really need. That's what they really want, whether they acknowledge it or not."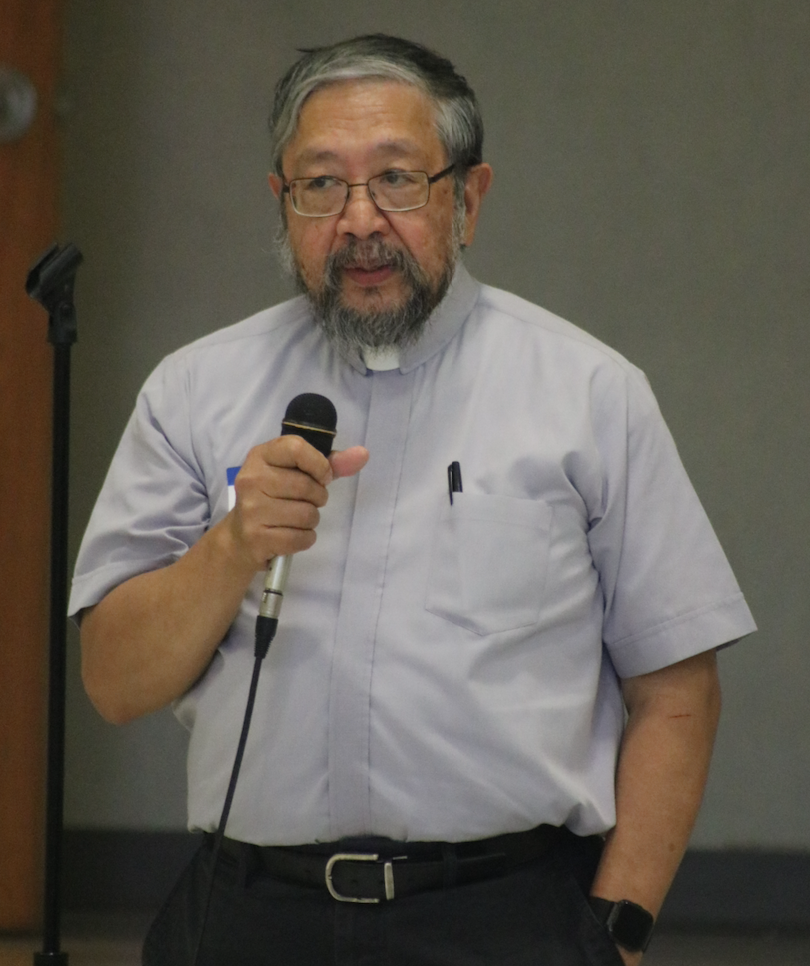 Martinez spoke toward the end of the program. Standing in front of the microphone, hands trembling and his voice quivering with emotion, he expressed his gratitude for everyone in the room — and all those not in attendance — who remember those in prisons either in their prayers or through participation in ministries such as Bethany Catholics.
Having been released from prison earlier this summer, Martinez started his brief remarks by saying, "I'd like to say this is not my plan, but God's plan."
Thanks in large part to a "Catholic callout" he heard in 2008 while at Lansing Correctional Facility, Martinez said he returned to his Catholic faith. (Prisoners stay in their assigned cells or pods unless they are "called out" or invited to participate in specific activities such as religious services.)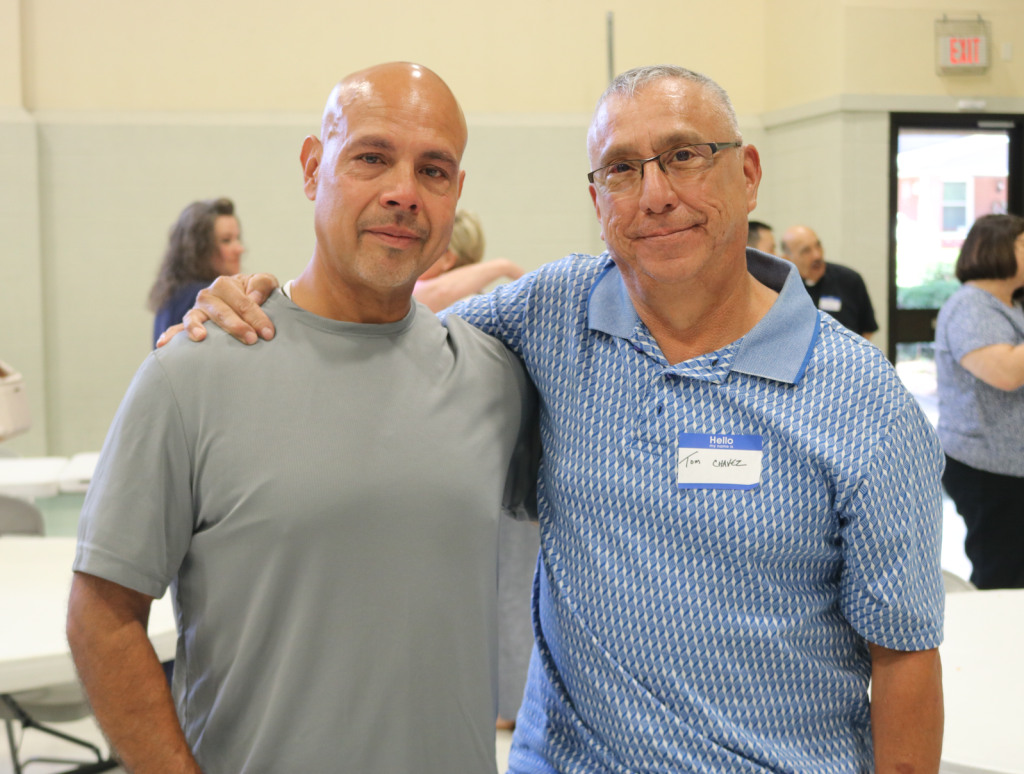 Among those walking beside him on his journey were those involved in Bethany Catholics Prison Ministry, a weekly program in which volunteers visit Catholics inside the prison to pray, read Scripture and share stories, offering words of encouragement and hope.
Martinez was also aided by Mentoring4Success, a program run by the state of Kansas that matches individuals with mentors approximately six to 12 months before the prisoner's release. The mentors help develop a transition plan to aid the individual's successful reintroduction into society.
The program started within Kansas in 2012 and has since lowered the state's recidivism rate substantially. Of those matched with a mentor, only around 8% will commit another crime after leaving a correctional facility.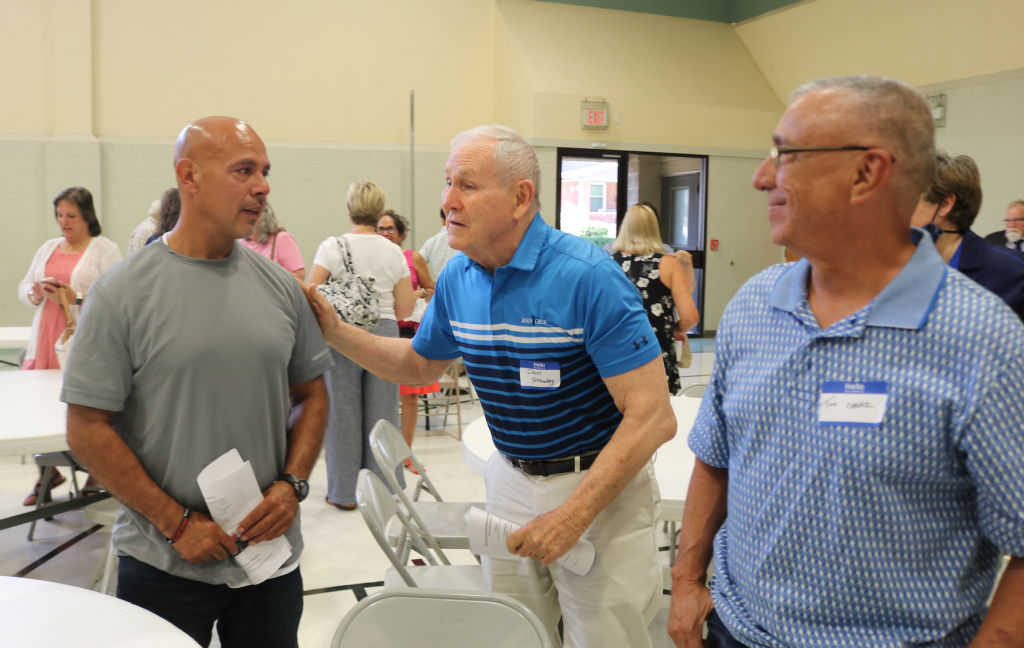 "I'm very thankful for all the support I was given to strengthen my Catholic faith," Martinez said. Later, through his tears, he shared from the Gospel of Matthew:
"For I was hungry and you gave me to eat, I was thirsty and you gave me drink, a stranger and you welcomed me, naked and you clothed me, ill and you cared for me, in prison and you visited me (25:36)."
Of how he was treated by the volunteers and his mentors, Martinez said simply, "I was blessed to see Christ."