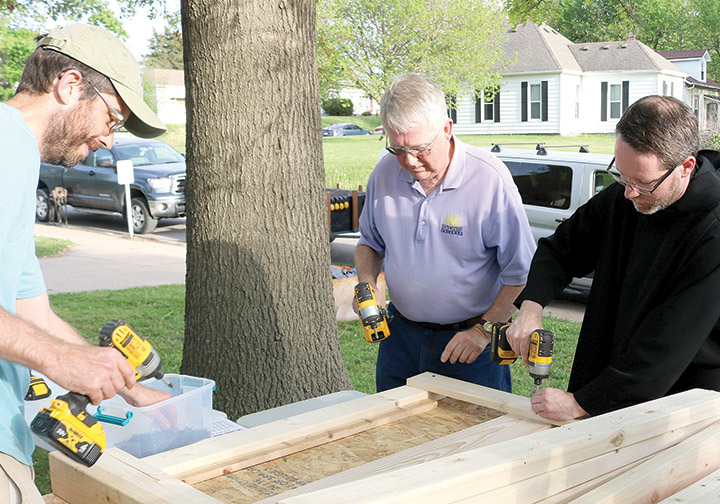 by Marc and Julie Anderson
mjanderson@theleaven.org
ATCHISON — Two-year-old Joseph Minnis might not know much about St. Joseph, but he definitely seemed curious about the statue honoring his patron at the Mass here May 1.
The young grandson of Benedictine College president Stephen Minnis, along with his parents Matt and Mary Katherine and baby sister Mary Eleanor, joined some 500 members of the Atchison Catholic community for an outdoor Mass and celebration of the feast of St. Joseph the Worker, at which a statue of St. Joseph stood beside the altar.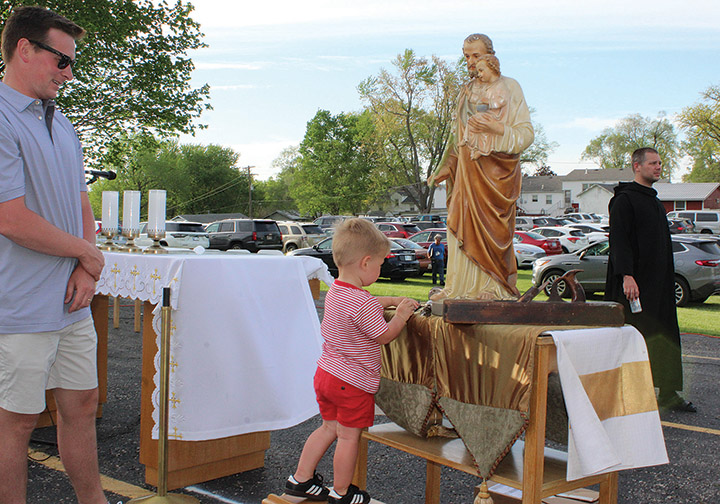 A full evening of fellowship, food and fun followed on the grounds of St. Joseph Church, one of three used by St. Benedict Parish.
In his homily, the parish's pastor and celebrant Father Jeremy Heppler, OSB, discussed St. Joseph and an image of the saint on a prayer card distributed before the Mass. The card depicts a fresco in St. Benedict's Abbey in which St. Joseph and the child Jesus are seen building an altar together.
Calling the fresco his favorite in the abbey, Father Heppler said, "What strikes me so much is St. Joseph kneeling next to the child Jesus. St. Joseph teaching patiently the child Jesus, teaching him the dignity of work, teaching him the importance of completing a task."
"But it's also Jesus teaching Joseph," he continued. "Because as you may recall — what are they building? An altar, and there are three nails by Jesus. Even the picture itself foreshadows what Jesus offers to all of us."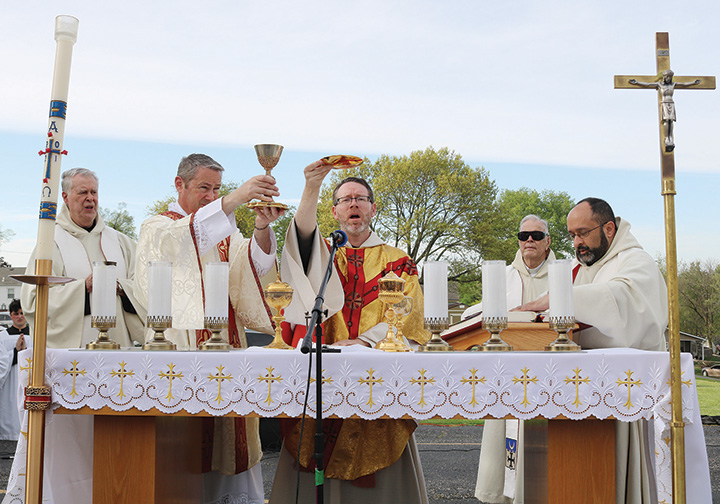 Admittedly, Joseph's role in Scripture is a quiet one.
"All that we see of Joseph in the readings are deeds — and in those deeds, we see him pointing to the One . . . who is the way, the truth and the life," Father Heppler said.
After Mass, a sloppy joe meal and a bake sale, whose proceeds will benefit the parish, were complemented by a particularly appropriate opportunity for the feast day being celebrated. In partnership with Atchison's Benedictine College chapter of Sleep in Heavenly Peace, participants were invited to help build beds for those in need. The national organization solicits donations and then builds and delivers beds, blankets and linens to those in need, particularly children, across the United States.
Formed in 2018, Benedictine College's chapter is one of approximately 200 across the country and has built and delivered more than 500 beds in the past three years. Nine headboards were built throughout the evening by those in attendance, including Father Heppler himself.