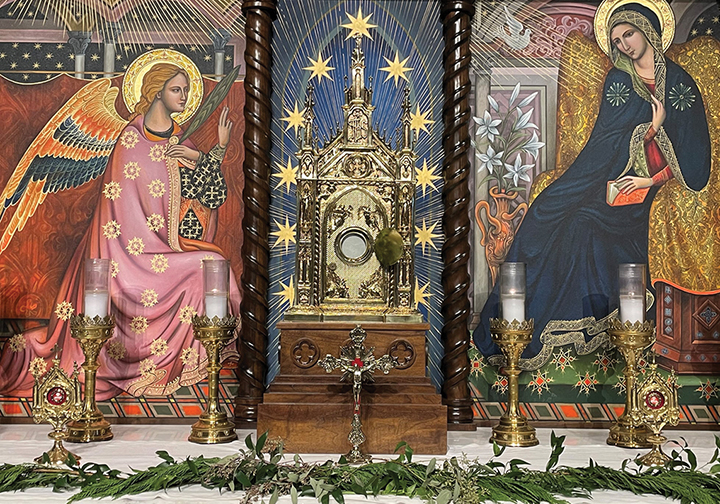 by Therese Horvat
Special to The Leaven
BASEHOR — As the National Eucharistic Revival initiative launches across the United States, a eucharistic adoration chapel within the archdiocese has earned special distinction as an intriguing travel destination.
In an article in the May 27 edition of Our Sunday Visitor, the Our Lady, Queen of the Holy Angels Adoration Chapel at Holy Angels Parish, Basehor, was named one of the "top 10 destinations devoted to the Blessed Sacrament." The list includes shrines, basilicas, a cathedral and a retreat center.
Father Richard McDonald, Holy Angels pastor, said, "I'm very humbled by this recognition. All of the locations identified are very beautiful places, and many are well-established. For Holy Angels to be included pays special tribute to the dedicated people who shared their talents and came together to praise God in supporting, designing and constructing our adoration chapel."
The Basehor chapel takes its inspiration, architecture and name from a small chapel now housed in the basilica near Assisi, Italy. The original chapel was intimately connected with the life of St. Francis. He repaired the structure and marked many important occasions in or near the chapel.
Marion Amberg, who wrote the Our Sunday Visitor article, compiled the list of eucharistic travel destinations after extensive research. When she googled "adoration chapels," Holy Angels, Basehor, appeared first on the page. The writer selected locations based on geography and interesting features. Amberg said that no two chapels are alike. She encouraged a road trip to these destinations with time allowed for adoration and prayer in observance of the Eucharistic Revival.