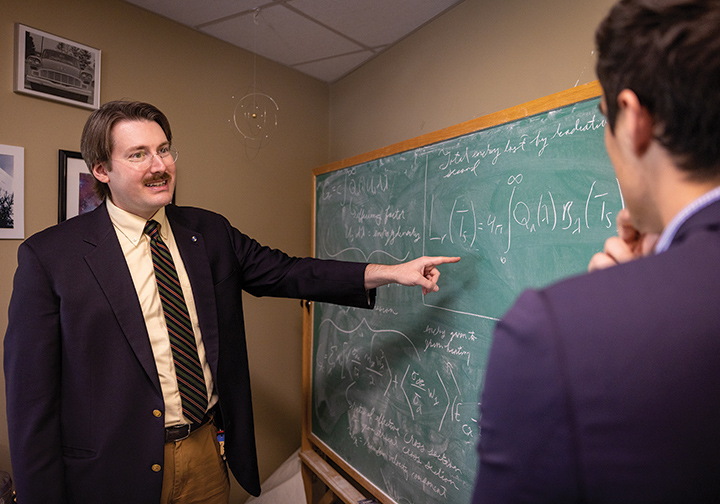 by Catherine Halbmaier
Special to The Leaven
ATCHISON — After decades of setbacks, NASA's James Webb Space Telescope (JWST) is finally operational. Despite high demand, one Benedictine College professor here found himself among the first round of those allowed to conduct research with the telescope.
Astronomy professor Christopher Shingledecker says he has been preparing for this opportunity since graduate school. Over the summer months, his research will continue with the help of a student intern. Shingledecker and his team hope to study the formation of solar systems, gaining a better understanding of how they came into being.
"What we are looking at is star-forming regions with JWST," Shingledecker said. "So, these are the regions of molecular clouds which are collapsing, forming stars, and around the stars, solar systems. Baby stars and baby solar systems — so sort of like the egg and the egg yolk."
Shingledecker's research seeks to understand the formation of complex molecules in space. This will lead to a better understanding of our solar system and others, according to Shingledecker.
"What we're looking at are developing star systems," said Shingledecker. "You can think of it like bricks. A solar system is like a building made of bricks. Well, what we're studying is the mud from which you make those bricks and how that affects the resulting building.
"So, what we want to know is: How does the material from which a solar system forms affect what that solar system will look like? We want to know how those are connected so we can better understand what's out there."
The James Webb Space Telescope allows Shingledecker's team to look into these star-forming regions. Shingledecker described the role of stardust in the formation of molecules.
"Stardust is kind of like a train depot," said Shingledecker. "It serves as an important hub for chemistry, as it turns out, in molecular science. The James Webb Space Telescope gives us an X-ray view into the depot. We can see which molecules are hiding out there. There are still mysteries remaining."
Shingledecker is not alone in this endeavor, nor is he the only Catholic to be involved with the James Webb Space Telescope. Others include Michael T Menzel, JWST mission systems engineer at NASA, and Massimo Robberto, branch lead of NIRCam, the near-infrared camera of the JWST.
In addition to his peers, Shingledecker will enlist a student research assistant over the summer. Benedictine College junior Joseph Wandishin is an astronomy major from Denver. He looks forward to his research experience with the James Webb Space Telescope.
"I had always really liked physics from a young age, learning how things worked and applying that to the universe itself," said Wandishin. "Astronomy is really an extension of physics for me. What I really love about astronomy is looking at a star and wondering, 'OK, how does it work, how does it function, what rules is it governed by?'"
Wandishin has worked on research with Shingledecker since his freshman year. This is the latest of several projects he will assist with.
"I had a class with him freshman year," said Wandishin. "My freshman year was [in the] fall of 2020, when they were threatening the lockdown. So, I was like, well, I don't want to be bored, so I'll just ask to do research."
That simple request has turned into several summers of research experience for Wandishin. This summer, he hopes to explore possibilities for the future while in Atchison.
"I like a lot of things," said Wandishin. "That's one of the things I kind of want to figure out over the summer, talking to professors and trying to figure out what would be a good career path."
With the help of Wandishin and his colleagues, Shingledecker hopes to continue this research into the summer and beyond.
"We still have more we need to observe, probably in the summer," said Shingledecker. "But even after that, we're hoping to continue this project. It will help us to solve this mystery."