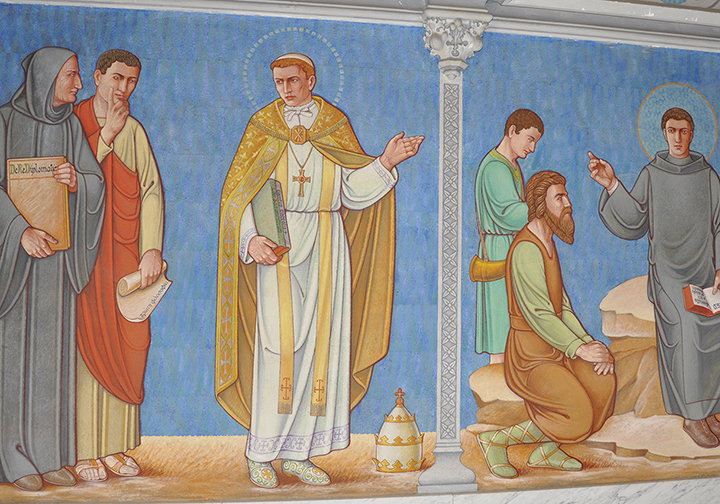 ATCHISON — Benedictine College here is proud to announce the establishment of the Sheridan Center for Classical Studies. The institute is named for Dr. Thomas F. Sheridan, whose multimillion dollar gift is one of the largest the college has received in its more than 160-year history.
"Benedictine College is heir to the 1,500-year tradition of Benedictine education. This center will build on that legacy and position the college at the forefront of the movement to examine the foundational truths of culture in order to influence the future," said Benedictine College president Stephen D. Minnis.
The Sheridan Center for Classical Studies will promote and help guide:
• the college's Great Books Program, which has been named one of America's Top 25
• the newly established classics department, which will contain the classics major and be led by the new Sheridan Chair of Classics, Dr. Edward Mulholland
• the Honors program, led by the newly appointed Sheridan Senior Scholar, Dr. Susan Traffas, and the Sheridan Center director, Dr. Andrew Salzmann
• the Classical Education track in the Benedictine College education department
• a proposed new master's degree in classical education
"The Sheridan Center for Classical Studies is important to our Transforming Culture in America plan," said Minnis. The college's strategic vision was developed in two years of meetings of community leaders from a variety of fields with Benedictine College faculty, board of directors, staff and students. Out of it grew four priorities.
"This new center meets each of the plan's priorities," Minnis said. "The Sheridan Center will help us to form students in the Catholic intellectual tradition; to prepare them to succeed at a high level; to further articulate the value of liberal arts; and to grow the college's endowment."
The college's Transforming Culture in America plan was inspired by St. John Paul II's apostolic exhortation "The Church in America." The document calls for American colleges to "train truly Christian leaders in the different spheres of human activity and in society, especially in politics, economics, science, art and philosophical reflection." With the addition of the Sheridan Center, with its emphasis on classical thought, Benedictine College will now offer centers of distinction in each of the concerns St. John Paul II identified.
"Saint John Paul II said, 'Through [Our Lady of Guadalupe's] powerful intercession, the Gospel will penetrate the hearts of the men and women of America and permeate their cultures, transforming them from within,'" said Minnis. "The Sheridan Center will help fulfill that promise."