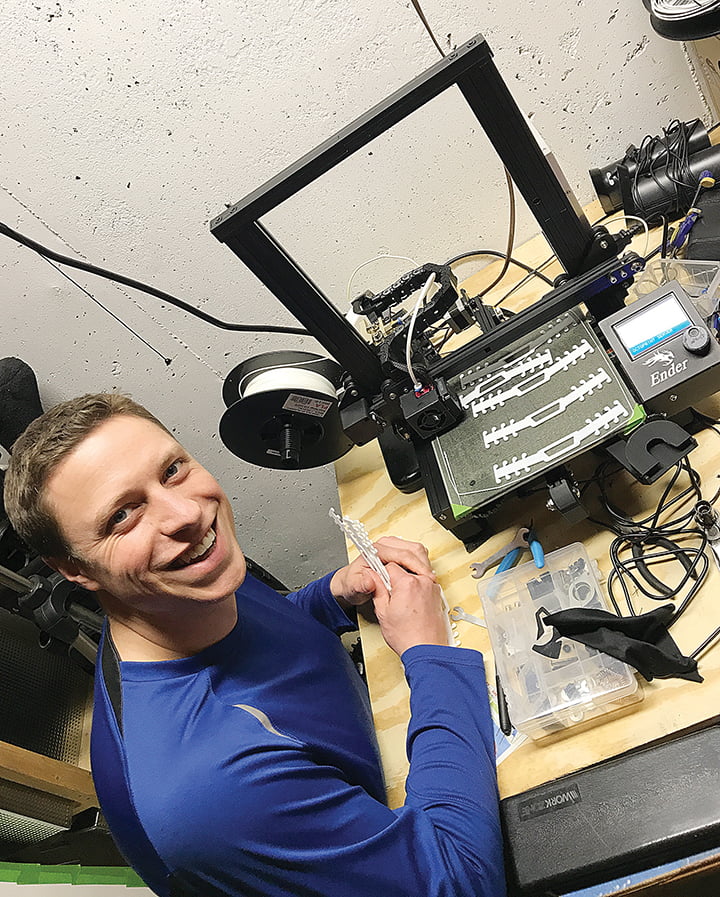 by Joe Bollig
joe.bollig@theleaven.org
OVERLAND PARK — Sometimes the smallest thing can make a big difference — like a bit of plastic to make wearing a medical mask a bit easier.
Making a big difference is what Jake Schmitz and Ryan Johnson, friends and co-workers, are doing in response to the coronavirus crisis.
The two entrepreneurs — who met at Benedictine College in Atchison and work for Overland Park-based Catholic Faith Technologies — are making and donating "surgical mask tension release bands for ear comfort for extended use."
They call them "ear savers."
To protect themselves from the coronavirus, medical professionals and workers — and other people like paramedics — have to wear masks for long hours and many days at a stretch. The elastic bands on the masks that loop around the ears can wear, leading to some serious soreness.
So just as the demand for masks of all kinds has soared, so, too, has demand for "ear savers." There aren't enough to go around.
"It all started after Mass on April 5," said Johnson, a member of Holy Cross Parish in Overland Park. "My wife and I streamed Mass with Archbishop Naumann. I hopped on Facebook for just a few minutes and saw a friend who I'd gone to college with . . . [who shared] a design for facemask tension release holders for surgical masks."
There was such an overwhelming demand for the "ear savers" from a hospital in the friend's community that the hospital put the plans online and made a plea for people to make them with their personal 3D printers.
"I didn't have a 3D printer, but I knew that Jake did," said Johnson. "So, I texted him. I sent him the plans and said, 'Hey, this would be really cool to do together.'"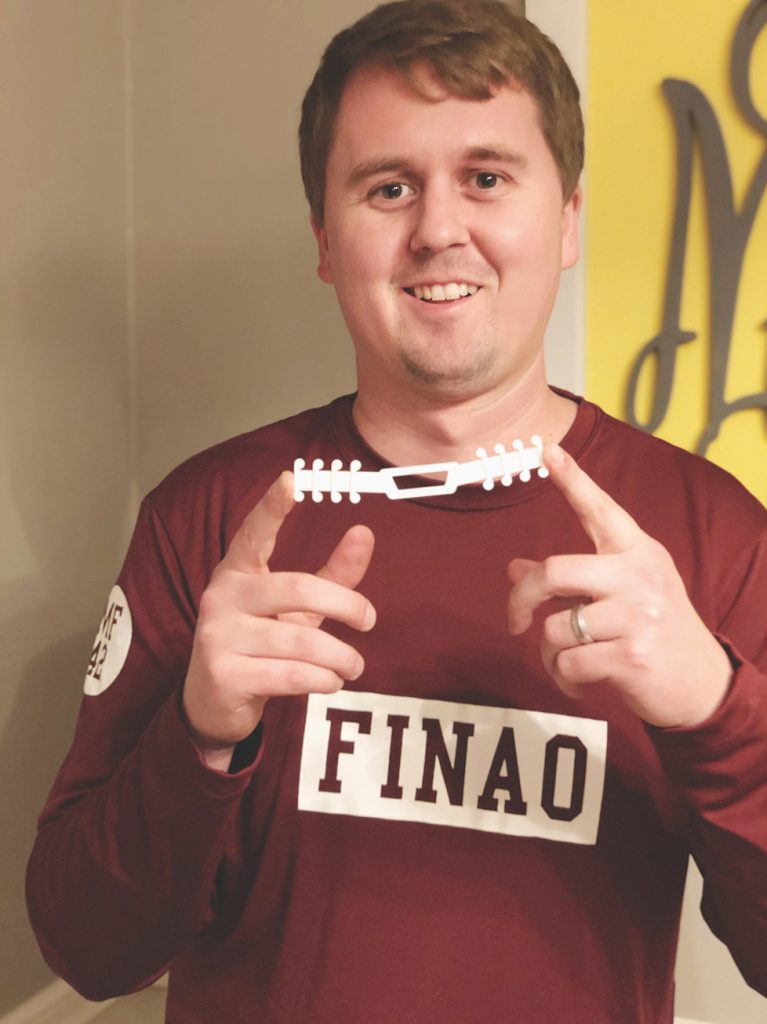 Schmitz saw the same story. When Johnson contacted him, he liked the idea.
"I took a look at the object and said, 'Let's do a test run,'" said Schmitz, a member of Ascension Parish in Overland Park.
The technology involves making a three-dimensional object from a computer-aided design by adding layers of plastic.
"The way the printer does that is with a big spool of plastic filament, like a really, really big fishing line," said Schmitz. "You hook the spool to a printer, and it feeds the wire into the printer, heats it up, and will [build] the object layer by layer . . . from a heated nozzle."
It worked beautifully. Since 3D printers are expensive, Johnson's parents donated some money so he could also start printing at his home. The "ear savers" that Schmitz and Johnson make come in two sizes. Because they have different kinds of printers, Johnson can produce four every 45 minutes, and Schmitz can make eight every three hours.
Schmitz and Johnson used social media to offer the free "ear savers" to local individuals, hospitals, clinics and other entities.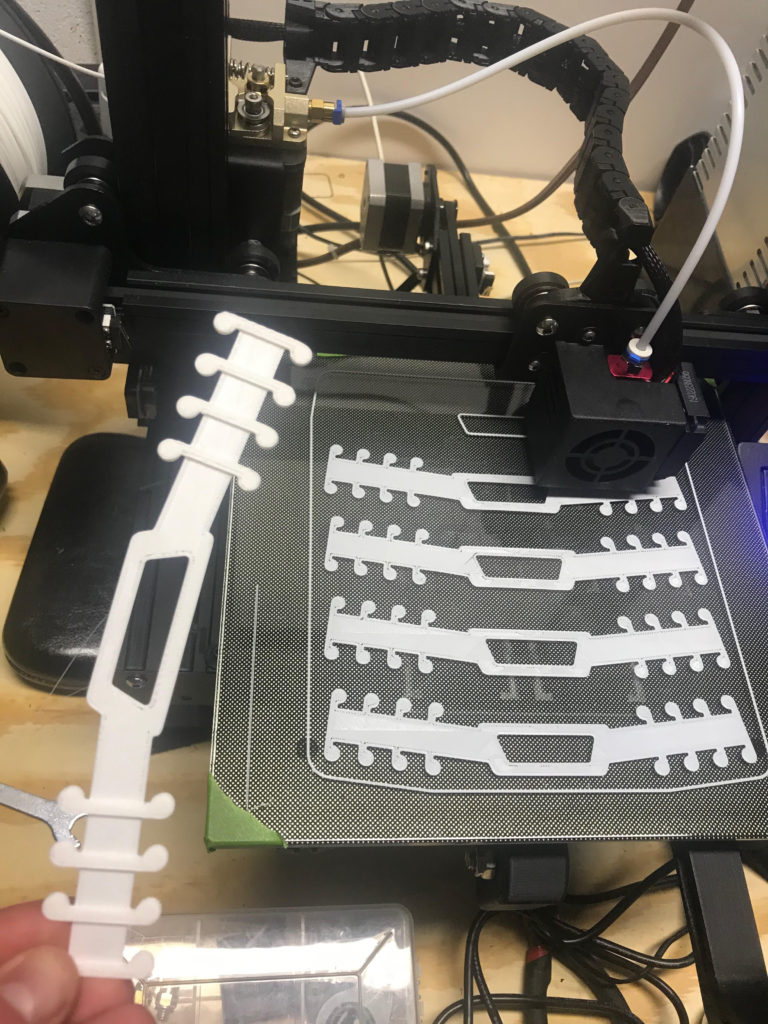 "Locally, we've delivered to nurses [at hospitals]," said Johnson. "There's a local nurse at a neonatal intensive care unit who needed 25 for her floor. We have another local nurse who works on a mother and baby floor . . . who wanted 25 for her floor.
"We've also reached out to local hospitals and clinics. We've contacted fire and police departments to see if we can help. Our goal is to help as many as possible, especially locally. These are completely free of charge. We'd like to have a big impact locally and we're trying to grow that."
Word is spreading beyond the Greater Kansas City metropolitan area.
Schmitz and Johnson are filling an order for a hospital in Dallas. They've sent them to various facilities (urgent care clinics, hospitals, emergency rooms) in Iowa; a hospital emergency room in St. Louis; a children's hospital in Tucson, Arizona; and hospitals in Denver and San Antonio. They've also sent them to a lab in Hiawatha.
"We've delivered close to 200, and have 60 or 70 we're fulfilling for individuals," said Johnson. "We're thinking that number will continue to grow as more people find out about this and we make more contacts."
The demand is always higher than what they can produce. So, the two men are casting about via social media to find other printers.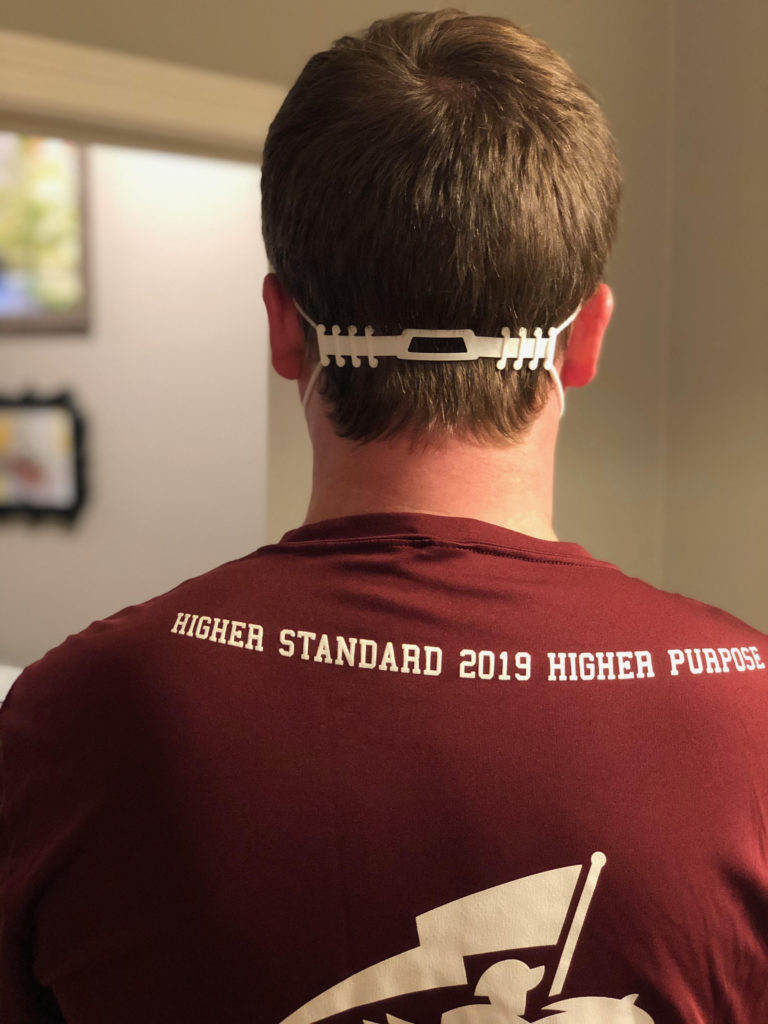 "There is a national effort around providing 3D printed materials for medical professionals, especially if they are personal protection devices," said Schmitz.
"We have reached out to a few schools, because most in the archdiocese are closed," he continued. "If they have a 3D printer that isn't being utilized, my basement is ready to go.
"I've got a whole empty wall we can line printers up on. But the point isn't for us to do it all. If someone has a 3D printer . . . we can handle distribution."
Persons who want to help Schmitz and Johnson print the items — or need "ear savers" — can contact them via email at: johnson.ryan45@gmail.com or jakeschmitz87@gmail.com.