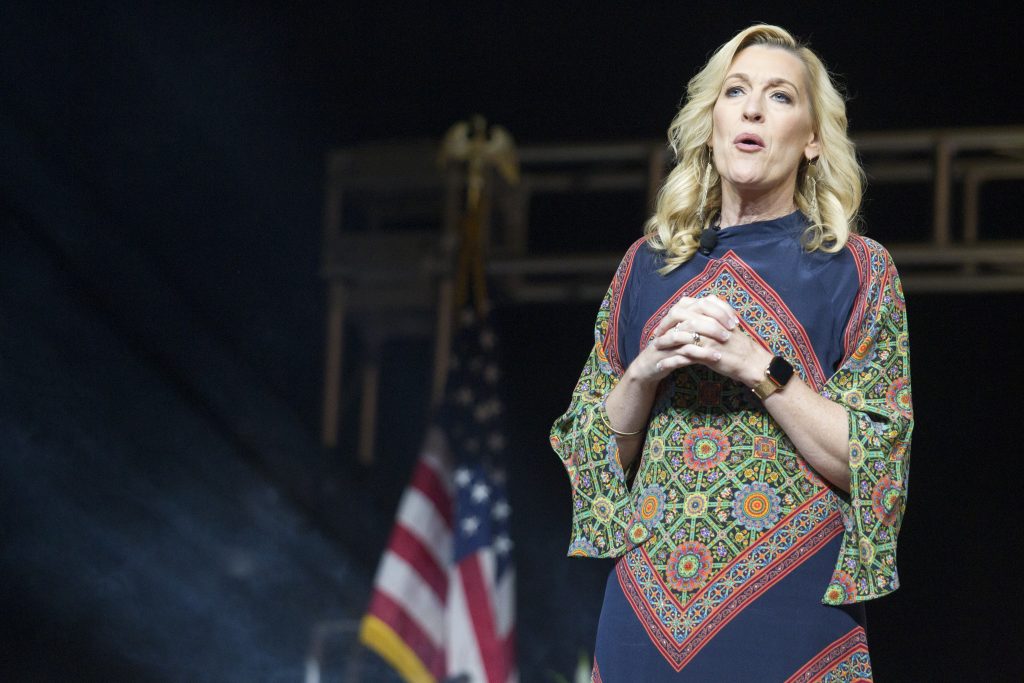 by Moira Cullings
moira.cullings@theleaven.org
Children today face a problem completely unique to their generation, said Lisa Brenninkmeyer.
"They cannot answer the most important questions of life: Why am I here? Who am I? What is my purpose?" she said.
Brenninkmeyer, founder of Walking With Purpose and a mother of seven, addressed the topic of how to "Enflame Our Homes" and bring Christ to those closest to us in this "postmodern world."
"When I was prepping for this talk, all that I could think about was our houses are already on fire," she said. "By that, I don't mean with the power of the Holy Spirit.
"There is a crisis in our homes. Some of that is due to the divorce statistics, some of it is due to the mental health crisis [and] a lot of it is due to the overwhelming busyness [we face today]."
Brenninkmeyer brought up several ways to bring Christ's love to our families, emphasizing the importance of lifting up your spouse and listening to your children, whether or not they are living a faith-filled life.
"What might change if, instead of correcting our children's behavior, we started modeling for them and giving them a vision for what life could be?" she asked. "What if we showed them what they were missing by our own transformed lives?"
Brenninkmeyer also highlighted the power of truth to combat sin and the devil's lies, which demean our relationships with God and our loved ones.
But what are the devil's lies and God's truths?
Lie number one: I don't need to put any more into my marriage than my spouse does. It needs to be an equal effort.
The truth is: Marriage requires my all — regardless of what my spouse is doing.
Lie number two: If I am right, I need to stand my ground.
The truth is: I need to continuously check my pride and respond with humility.
Lie number three: My most important job as a parent is to raise happy kids.
The truth is: My most important job as a parent is to train their hearts to love God and to follow him.
Lie number four: If my kids walk away from the faith, I need to regularly tell them why this is wrong.
The truth is: I need to show them what they are missing.