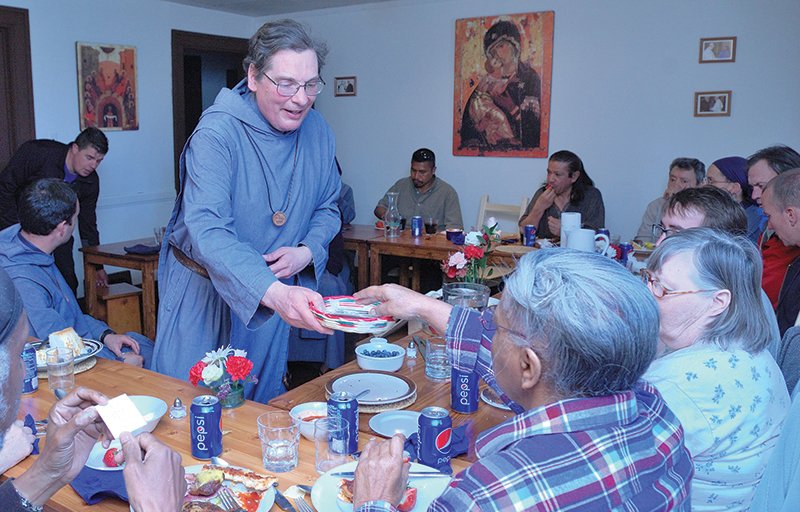 by Jill Ragar Esfeld
jill.esfeld@theleaven.org
KANSAS City, Kan. — Eugene is the first to arrive at the Community of the Lamb Open Table here.
Little Brothers Christophe, Joachim and Francois greet him warmly.
Though it is Saturday, Eugene's dressed in his Sunday best as he enters the refectory where tables have been arranged in a welcoming circle.
Places are beautifully set with white ceramic plates, blue napkins, tall water flasks and bowls of fresh flowers.
Eugene politely removes his hat and takes a seat.
Mike arrives next, less formally attired and complaining of painful blisters on his feet, his only means of transportation.
He brings along Charles who introduces himself as homeless and just out of jail, but "starting to have a better relationship with God."
Guests continue to trickle in: Crystal, Santiago, Melanie, Augustine, Minnesota and many more from this impoverished neighborhood.
Friends come from the suburbs, too, anxious to join in the Little Brothers' community meal and open their hearts to people from a very different walk of life.
"Our purpose is not to have a soup kitchen to serve the poor," explained Little Brother Christophe about the weekly event. "Our purpose is to have the poor at our table, to share life, to share conversation.
"Everybody is made part of the family when they enter this room."
Eat, pray, love and sing
Soon the small refectory is crowded with people and loud with conversation. Then, Little Brother Christophe clinks his water glass with a spoon.
Silence.
The group stands to listen to the day's Gospel, repeating key verses together and giving thanks for the meal they're about to receive.
The din resumes as food is passed from plate to plate, and guests tell their stories and express gratitude for this time together.
The atmosphere is reminiscent of a big family at holiday dinner; yet, many of the people at the table have only recently met.
"People come from one week to another," said Little Brother Christophe. "And they ask news of the ones who are most suffering, the ones who are sick, the ones who have troubles.
"They show concern for the lives of others, and that is a great moment."
In the midst of stories about jail, poverty, addiction, violence and family estrangements, Eugene shouts out, "Praise the Lord, I'm here!"
Little Brother Christophe responds with a smile, "We are glad you are here today!"
This is the fruit of the Brothers' Open Table, a safe place where those worn out by life's struggles put aside their burdens for one afternoon and feel support, companionship and joy.
Melanie, who is sitting beside Eugene, says, "We all need to find happiness wherever we can."
Then she tells the group she feels a need to sing.
"I'm not a singer," she says, "but my Bible tells me I should make a joyful noise."
She sings a hymn from her youth and many from the group spontaneously join in.
It is ad lib at the Open Table, and no one seems surprised.
As the meal winds down, Little Brother Christophe passes a basket containing small cards inscribed with Bible verses and companion prayers.
Each guest takes a card and reads the inscription aloud. People are visibly moved by what they read and how it seems to apply to them personally.
Minnesota, who's had a difficult week, reads, "The world and its desires pass away, but whoever does the will of God lives forever."
She breaks down in tears, and Melanie rushes over to comfort her.
"People are getting to know each other," said Little Brother Joachim. "We are creating a community."
Charles quietly asks if he can keep his card. It's clear he's found a treasure in his verse that he will read over and over again.
A bigger space
The Open Table is one of many reasons the Little Brothers of the Lamb are eager to complete fundraising to build their little monastery.
"The Open Table began in September," explained Little Brother Christophe in his careful English. "And it began very little with maybe five people and then it was 10 and now we have maybe 25.
"But the facility we have here is small. We cannot welcome more."
The Brothers currently share the former St. Joseph Church rectory in All Saints Parish in Kansas City, Kansas.
The monastery they hope to build in the same neighborhood will have a large refectory where they can welcome more guests and continue to build community.
But more importantly, the monastery will provide a place where they can completely embrace their mission, of which the Open Table is only a small part.
The Community of the Lamb is a mendicant order. They rely solely on the charity of others for their subsistence.
It is through the process of begging for their daily bread — in the footsteps of St. Dominic and St. Francis — that they go out into the world and bring Christ to others.
"There is a motto on which the community is founded," said Little Brother Joachim. "'Wounded, I will never cease to love.'
"This message of charity, of Jesus being on the cross, is the center of what we live."
Simple by design
Prayer is central to the life of the religious order. Liturgies are celebrated at Lumen Christi, the monastery of the Little Sisters of the Lamb.
For this reason, the Brothers' monastery will be smaller. In addition to the refectory, it will include a cloister with cells for the Brothers and men wishing to experience their life.
It will also feature a little library for religious study and an office for administrative and liturgical tasks.
A small chapel for daily prayer will be at the center of the monastery.
While any contribution to the construction of their monastery is welcome, the Brothers are asking something else of the people of the archdiocese as well. They are inviting anyone interested in the life of their community to join them for Mass at Lumen Christi and to pray for the successful completion of their monastery. Prayers from those unable to make a visit are also encouraged and appreciated.
With the prayers and assistance of the wider community, the Little Brothers look forward with confidence to a groundbreaking in the spring of next year — and soon after, a bigger Open Table.
"That is our hope," said Little Brother Christophe. "This is our mission: to give the Lord to the people."