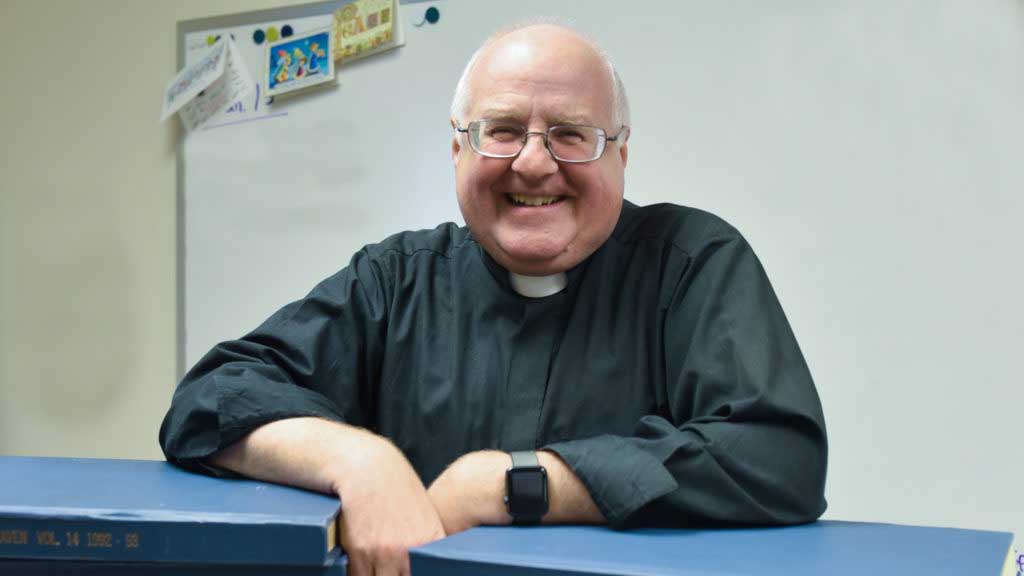 by Father Mark Goldasich
Will someone please tell 2021 that this is a new year, that the crazy year of 2020 ended? If these first couple of weeks are any indication, 2021 did not get the memo . . . and neither did I.
For example, the other morning I found myself staring into space over a cup of coffee, feeling absolutely overwhelmed at the day's schedule ahead of me.
More often than not, I've felt annoyed at selfish, irrational and callous people . . . before I've even stepped outside the door!
Let's not even talk about the news, which details an increasingly large number of COVID cases or our fellow citizens going absolutely bonkers about everything.
And, finally, we can't forget the Kansas City Chiefs, who even though winning, keep us chewing our fingernails until the last few seconds of each game.
All of these situations have robbed me of what I desire most: a feeling of peace. It appears that people everywhere are more polarized and angrier than ever — and that seems to be OK with them.
Well, that isn't OK with me. I draw hope and inspiration from the following story:
Ramsey MacDonald, the one-time prime minister of England, was discussing with another government official the possibility of lasting peace. The latter, an expert on foreign affairs, was unimpressed by the prime minister's idealistic viewpoint.
He remarked cynically, "The desire for peace does not necessarily ensure it."
"Quite true," admitted MacDonald. "But neither does the desire for food satisfy your hunger, but at least it gets you started toward a restaurant." (Found in "Illustrations Unlimited," edited by James S. Hewett.)
Since I've been unimpressed with my start to 2021, I'm letting my desire for peace "get me started toward a restaurant." If you're looking for a bit more peace, maybe some of these practical steps — some borrowed from Henrik Edberg on "The Positivity Blog" — will help:
1. Begin each day by saying the Prayer of St. Francis, which begins: "Make me a channel of your peace."
2. Don't make mountains out of molehills.
3. Slow down.
4. Set limits on how much you can realistically accomplish in one day.
5. Arrive 10 minutes ahead of time for appointments or finish promised tasks early. (I'm still working a lot on this one!)
6. Take deep breaths and close your eyes several times a day.
7. Laugh often.
8. Ask for help.
9. In difficult situations, communicate with others; don't think you can read people's minds or intentions.
10. Do. One. Thing. At. A. Time.
Finally, end the day with this prayer, written by another Francis, our pope:
"God of Love, you created us, and you call us to live as brothers and sisters. Give us the strength daily to be instruments of peace; enable us to see everyone who crosses our path as our brother or sister. Make us sensitive to the plea of our citizens who entreat us to turn our weapons of war into implements of peace, our trepidation into confident trust and our quarreling into forgiveness. . . . Lord, diffuse the violence of our tongues and our hands. Renew our hearts and minds, so that . . . our way of life will always be that of: Shalom, Peace, Salaam! Amen."
Let's join together to pursue peace in 2021 . . . piece by piece.