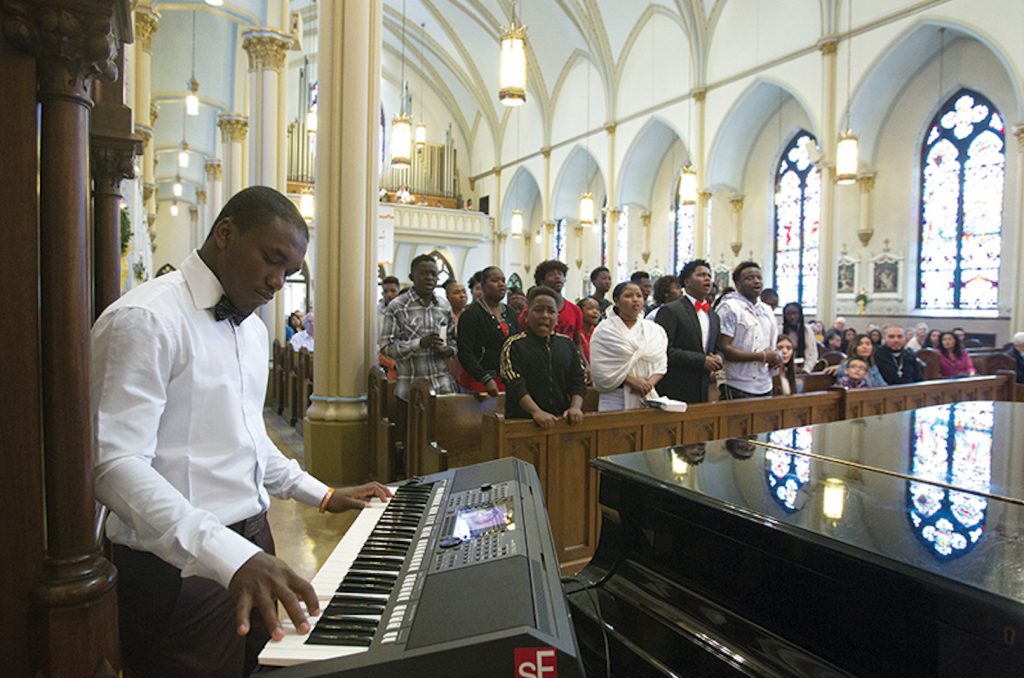 by Olivia Martin
olivia.martin@theleaven.org
KANSAS CITY, Kan. — When noise complaints from neighbors restricted Jafer Alesh and his friends from singing together in their homes, he wasn't sure what to do.
So, he went to their parish, the Cathedral of St. Peter, for help.
And found it.
On May 18 at 2 p.m., Alesh and about 40 others met for the first time in their new practice location: the Resurrection School gym.
The singers are all Catholics from Eritrea, a small East African nation bordered by the Red Sea, Sudan, Ethiopia and Djibouti.
Singing together has sustained their faith in times of war, in Ethiopian refugee camps and now an ocean away in the United States.
Singing for eras
The group trickled in that Saturday afternoon as rain poured outside. In the midst of greetings, conversation and laughter, it became clear that simply being together was more important for them than sticking to a timeline.
"In Eritrea or Ethiopia, we are free to go to church all the time and sing together," said Sembattu Jermiya, 23. "But here, it's too busy. The time is different [and] your friends don't always have time."
But this young group is determined to vigilantly carve out an afternoon of singing every Saturday from now on — and encourage anyone interested to join.
They sing together to grow in faith and honor their heritage.
"Most of us, especially those who go to school here, are forgetting how to sing in our Kunama language," said Alesh.
And that's something the Eritreans don't want to do.
Eritrea is home to nine languages and three ethnic communities, one of which is the Kunama people who speak Kunama. The Eritreans at the cathedral are ethnically Kunama.
Though today the Kunama compose less than 2% of the Eritrean population — which amounts to around 100,000 people — their roots run deep.
"The Kunama people lived in Eritrea before the other languages [were spoken]," said Alesh. "We have been there for more than 2000 years."
And they've been singing ever since.
"I grew up singing with my age [group] in Africa," said Daniel Mussa, 21. "I'm very happy to have this place (Resurrection School) to continue participating in the Catholic Church and to help the young kids of our culture grow up in the Catholic Church.
"For us, if we don't have this space, we don't have a way to grow in the church."
The Kansas Kunama
For the Eritreans in Kansas City, many years passed during which singing was all they had — literally.
In 2000, a war ensued between Eritrea and Ethiopia, heavily affecting an area in which many Kunama people lived. It lasted until 2018.
"Some of us came to Ethiopia during the war where airplanes are bombing everywhere," said Alesh. "And some of us came to Ethiopia after that war — but we all used to live in refugee camps."
Alesh was a seminarian studying theology during the early years of the war. But his studies were cut short when he had to flee to Ethiopia to evade military service.
He left behind his father, mother and younger brother, but hopes to be reunited with them soon.
"Right now, I am applying for citizenship, so once I become a citizen, I will be able to bring my father," he said.
When asked if it's been difficult to become accustomed to life in the United States, Alesh smiled and shook his head.
"The hardest moments for us were in the refugee camp [in Ethiopia], not here," said Alesh. "In the USA, we have every opportunity.
"Here we are doing good because of God who helps us through all of these dangerous situations."
And the cathedral couldn't be happier to claim the Eritreans as their own.
"They're just so friendly, eager and full of life," said parish secretary Mary Kay Traffas. "We hadn't heard of them until they started coming a few months ago. Then I got to know them and said, 'Where have you been all of this time?!'"
Father Harry Schneider, pastor of the cathedral, has also been struck by the Eritreans' warmth and desire to live their faith.
"Some groups aren't sure how to, but they wanted to register and become part of the parish," he said. "We are happy to have them here and just want them to feel welcome."
A taste of Eritrea
In addition to being a source of comfort and a reminder of home, music plays a huge role in the Catholic liturgy in Eritrea.
"In Eritrea, our Masses are so long . . . because all the responses are sung," said Alesh.
And for him, the difference in the liturgy in the United States was shocking at first.
"When I came here, I was so worried [because] Mass was only 45 minutes to one hour," said Alesh.
Then, laughing, he exclaimed, "I didn't even feel like we were doing Mass!"
But on Easter Sunday, April 21, the Eritreans brought a taste of Africa to the 11 a.m. Mass at the cathedral.
They sang in Kunama for the entire congregation — including Archbishop Joseph F. Naumann.
"The music for me was joyous," said Father Schneider. "It was full of spirit and an expression of their lives and faith."
And the Eritreans plan to continue sharing their music with the cathedral, the parish that is beginning to feel like home.
"I am so thankful to the church for accepting us and giving us time to praise God together," said Jermiya. "It's beautiful."