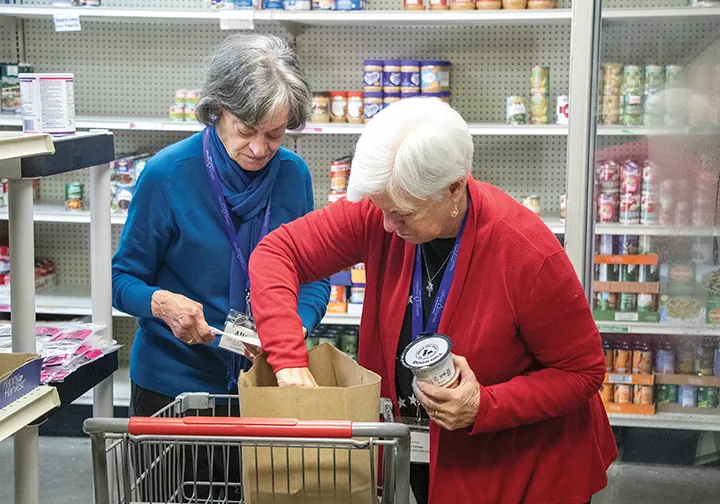 by Therese Horvat
Special to The Leaven
KANSAS CITY, Kan. — While high food prices continue to take a big bite out of household budgets, they actually have a double impact on the food pantries operated by Catholic Charities of Northeast Kansas.
That's because the higher prices reduce the amount of food people can afford to donate at the precise time that the number of people seeking help is going up.
To address this double jeopardy, Catholic Charities is looking for ways to increase donations to its food pantry program. Denise Ogilvie, the chief mission integration officer, is the first to recognize the generosity of the individuals, parishes, schools, businesses, organizations and grocery stores that regularly donate food. And, fortunately, the number of food drives has remained relatively stable.
But in these challenging times, the pantries would need a boost in year-round donations just to meet the new demand, since more people are having to rely on food pantries to meet at least some of their food needs.
In September 2022, for example, the eight Catholic Charities pantry locations served 4,076 families. A year later, 5,080 families obtained food at these sites. The food pantry in Leavenworth alone served 2,600 more individuals this past fiscal year and received 21,000 pounds less food for distribution than it did the year before.
Moreover, in terms of supply, donors' customary level of giving couldn't keep the pantry shelves well-stocked even if the number of clients wasn't going up. Jackie Masoner, manager of the Catholic Charities Family Support Center in Leavenworth, explained how the high cost of food has negatively affected the quantities of food items donated.
"Say a person designates $50 to purchase items for the food pantry," she said. "This amount doesn't buy as much food as it did a few years ago. It's just that simple and just that complicated."
Ogilvie invites additional parishes to join the ranks of those already hosting food drives and those already engaged to increase their involvement. She also encourages individuals to do what they can to support the food drives and the pantries.
These combined efforts will serve the entire archdiocese by stocking the eight pantries and the resource bus that distributes food to people in outlying areas.
The philosophy behind the food pantry program is simple: Food is a basic need. Ogilvie describes Catholic Charities as a safety net that helps provide food so that clients can use their limited financial resources to keep utilities connected and pay their rent. For some people, this is an ongoing challenge; others need help to get through a difficult time.
Pam, 69, has accessed Catholic Charities services in Leavenworth since 2014. She and her 40-year-old son with special needs live on a fixed income.
"If it wasn't for Catholic Charities, I don't know what I'd do," she said. "I am very grateful to Catholic Charities for the help they give us."
Following last year's Thanksgiving meal kit distribution, the Olathe Family Support Center received a heartfelt thank you from a 70-year-old woman who was struggling financially and embarrassed to have to ask for help. She wrote to Catholic Charities: "You were the only thing in my Thanksgiving that demonstrated God's love. Please thank everyone involved and help me claim God's promise that I will be able to come out of this and not borrow but be able to give to others."
Grounded in Christian charity, the food pantry program avoids judgment of individual circumstances.
"When clients have been served and leave our pantries, our goal is that they have experienced hope and hospitality and had an encounter with Jesus Christ," said Ogilvie. "At the end of the day, how well we have loved is how we'll all be judged."
Food donations most needed
• Cereals
• Oatmeal
• Pasta
• Rice
• Macaroni and cheese
• Boxed potatoes
• Pancake mix
• Canned fruit
• Canned vegetables
• Pasta sauce
• Peanut butter
• Canned tuna
• Canned chicken
Ways to help
• Organize a food drive at your church, workplace, school or in your neighborhood or circle of friends.
• Drop off your individual donations at a food pantry location (see list provided below).
• Make a financial contribution to Catholic Charities by going online to: catholiccharitiesks.org; look for the yellow donate button at the top right.
• Volunteer to assist with the food pantry program by calling (913) 433-2100.
To access food pantry services
Clients can walk in with no appointments required. Upon completing an intake form, a new client will be registered in the system. There are no income guidelines. Clients can come in monthly to "shop." Quantities received are based on household size. Individuals or families without permanent residences are welcome to come weekly for a bag of food items.
Feeding involves many
Catholic Charities stocks pantry and warehouse shelves with food from multiple sources and partnerships:
• donations by individuals
• food drives hosted by churches, schools, grocery stores, businesses and organizations
• contracts for "grocery store rescue" whereby Catholic Charities volunteers retrieve fresh food items being pulled from shelves due to meeting "best used by" dates, but still edible based on USDA extended date guidelines
• Purchases from food banks, wholesalers and grocery stores
Catholic Charities food pantry locations
Open Monday through Thursday, 9 a.m. to 4 p.m.
Atchison Family Support Center
502 Kansas Ave., Atchison
(913) 367-5070
Lawrence Family Support Center
1525 W. 6th St., Lawrence
(785) 856-2694
Leavenworth Family Support Center
716 N. 5th St., Leavenworth
(913) 651-8060
Olathe Family Support Center
333 E. Poplar, Olathe
(913) 782-4077
Overland Park Family Support Center
9806 W. 87th St., Overland Park
(913) 384-6608
Topeka Family Support Center
234 S. Kansas Ave., Topeka
(785) 233-6300
WyCo (KCK) Family Support Center
600 Minnesota Ave., KCK
(913) 621-1504
Hope Distribution Center
1708 Steele Road, KCK
(913) 432-3141