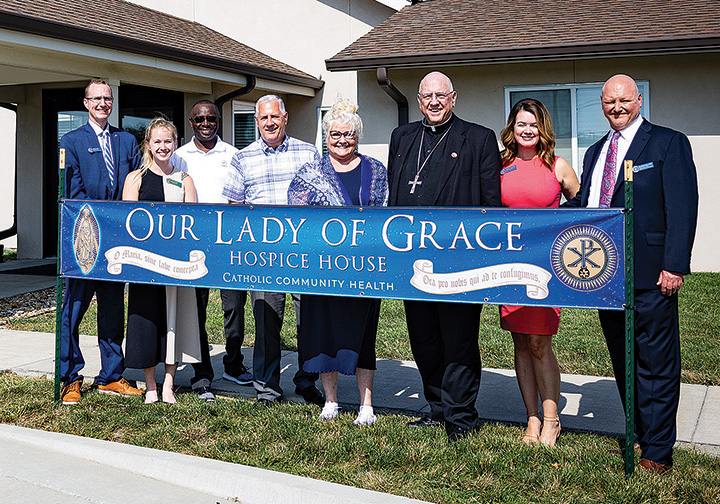 by JD Benning
Special to The Leaven
LENEXA — Our Lady has been vigilant and present at the Catholic Community Health hospice house here since ground was broken on the facility in 2019.
But now it's official. On Aug. 22, the memorial of the Queenship of Mary, Archbishop Joseph F. Naumann, surrounded by a large crowd of supporters and health care professionals, dedicated Our Lady of Grace Hospice House at Villa St. Francis to the Blessed Mother in a special naming ceremony.
New Catholic Community Health CEO Brad Heidrick welcomed all present.
"I'm grateful and humbled to see so many people gathered here for the dedication of the hospice house," he said. "Through the support of people like Barb and Greg Trum and the endorsement of Archbishop Naumann, we have a beautiful facility, complete with a Blessed Sacrament chapel, that those approaching the end of life and their families can go through a challenging time with less stress and worry."
"It's our mission," he added, "to be faithful to Jesus' call to care for the sick and dying. We're proud to be the only Catholic hospice and senior care option in the archdiocese, and glad that this facility is available for those in our area."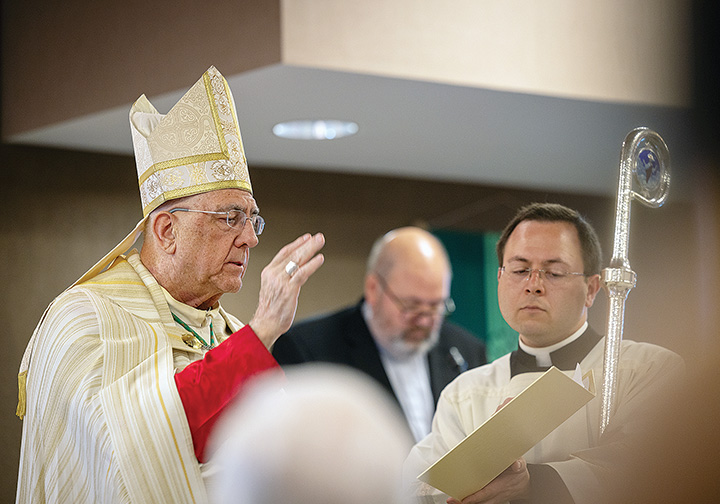 When the hospice house opened in 2020, the Trums had a vision for those approaching the end of life.
"We wanted to create a sacred space that those preparing for the end of life could not only have a blessed place to enter eternal life, but also [where] they would be surrounded by their loved ones, the talented [Catholic Community] hospice staff and volunteers," Greg Trum said.
"Barb and I have sat and prayed with many people during their final hours," he added.
The hospice house at Villa St. Francis was "designed to transform the end of life into a blessed time."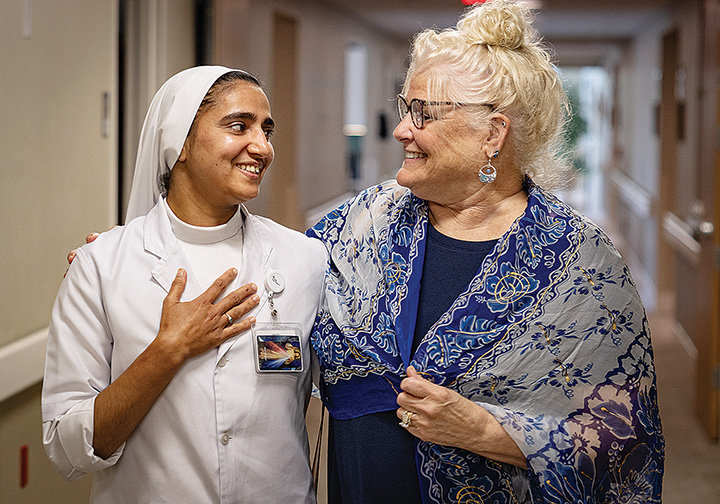 The wing, attached to the north end of Villa St. Francis, features four private suites, six semiprivate respite rooms, the Blessed Sacrament chapel, and a kitchen and dining area for families to gather.
In his remarks, Archbishop Naumann spoke about the excellent service and experience he had when his mother was in the hospice house,
"When we moved my mother here from St. Louis, I was worried she wouldn't survive the trip," he said. "But once she arrived at the hospice house at Villa St. Francis, she not only survived, but improved.
"It was a great blessing for her and she had a great four months of life — really it was transformative. I'm grateful for the important ministry done by Catholic Community Health — helping my mom and our family but helping so many others as well."
Catholic Community Health will recognize the Trums for their dedication to hospice care at their annual Fall Ball on Sept. 23 in Overland Park. For more information about this event, go online to: villasf.org/fallball.
Catholic Community Health is the official senior care ministry in the Archdiocese of Kansas City in Kansas. Adherent to the U.S. Conference of Catholic Bishops' "Ethical and Religious Directives for Catholic Health Care Services," CCH provides skilled nursing, memory care and short-term rehabilitation at Villa St. Francis; home care services; and hospice care at the hospice house and throughout the Kansas City metro area.
For more photos from the naming ceremony, follow us on Facebook.