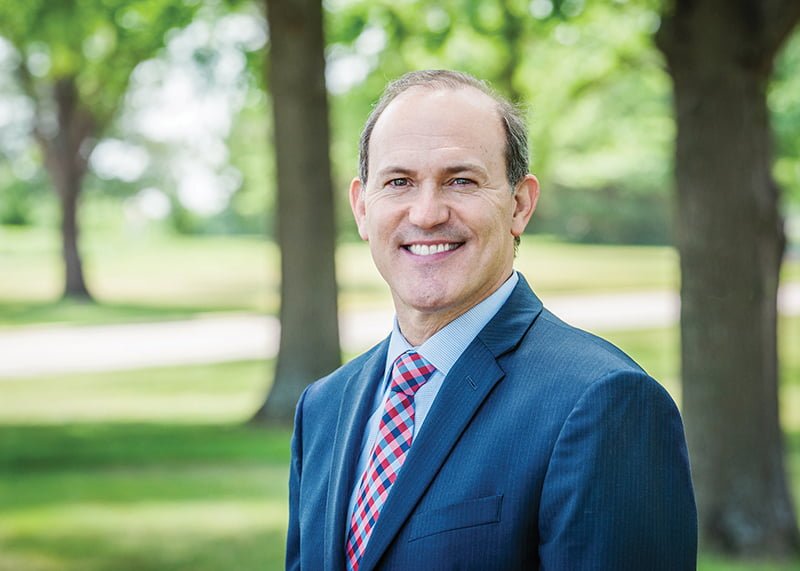 by Vince Anch
One thing that stands out to me when I visit Catholic schools throughout the archdiocese is the high level of pride that our youth have. 
Sure, they have great pride in their own schools. This is easy to detect in any elementary or high school, where school jerseys, pennants, banners and drawings of mascots adorn most hallways.
The pride that really stands out in our schools, however, is the pride that students have in being Catholic. They wear their faith on their sleeves.
When I ask our students what they like about school, I get many answers about favorite subjects, but many also exclaim how happy they are to be in a Catholic environment. Many mention attending Mass or learning about Jesus and the saints as favorite school activities.
They share these stories gleefully with guests I bring on school tours. They radiate so much joy and pride about their Catholic faith that I can feel it in my own heart each time I visit with them.
Their enthusiasm leads me to reflect on the times that I have downplayed my Catholic faith or have not been as proud as I should have been about the joy of being Catholic.
Our Catholic school students inspire me and give me great hope that our church is in good hands with them as its future torchbearers.
Our Catholic schools are about more than just high academic achievement and faith formation. They are also about developing good citizens and strong Catholic advocates.
In a modern world where being Catholic comes under increasing attack, we can be confident that our schools are building modern-day crusaders. Instead of carrying swords and shields, our students carry a burning love of Christ and an eager desire to share his love.
What is most impressive about our students is that they are evangelizing their friends, families, teachers and, frankly, people like me. They are evangelizing not necessarily by their words but by their actions, their joy and their childlike pride in being Catholic.
During this autumn as the leaves change color and the temperatures drop, one thing I am confident about is that our Catholic school students will continue growing in their Catholic faith and will continue sharing their contagious pride with many others.
We are very proud that the Catholic Education Foundation will provide scholarships for more than 1,400 youth this year. CEF scholarships are supporting children whose families otherwise could not afford to send their children to Catholic schools.
Because of so many generous supporters of CEF's Gaudeamus dinner and annual scholarship drive, these 1,400 children can attend a Catholic school and spread their contagious pride for being Catholic.