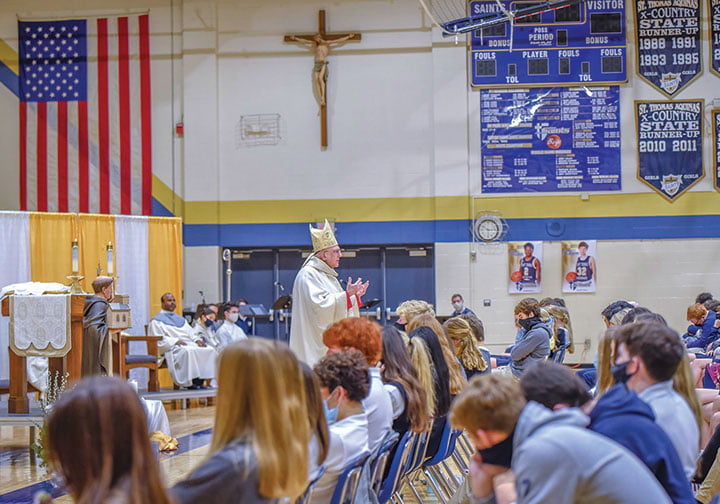 by Katie Peterson
Special to The Leaven
LEAVENWORTH — The annual celebration of Catholic Schools Week, slated for Jan. 31 through Feb. 6 this year, is right around the corner. And Catholic schools throughout the Archdiocese of Kansas City in Kansas are gearing up to celebrate.
Even with COVID-19 restrictions causing schools to make adjustments, plenty has been planned, including days celebrating teachers, essential workers, parents, grandparents and vocations, and activities over Zoom.
The schools' principals agreed it was important to find ways to still celebrate despite the pandemic.
"Our kids have made a lot of sacrifices this year, and they're extremely flexible and willing to do that, but we don't want to cancel everything just because it's too hard to do, and I think we've tried to stick with that theme throughout the year," said Darby O'Neill, principal of Sacred Heart School in Emporia. "Just because it might take a little more planning or we might have to completely rethink how we've done things in the past, we want to make sure it happens."
"Celebrating Catholic schools is incredibly important to us here in Emporia because we are the only Catholic school in about a 50-mile radius, so we want to celebrate our families for continuing to make that decision to send them to a Catholic school," he continued. "We also want to share with the community what we're doing as a Catholic school and why Catholic schools are so vital to our society and to our kids."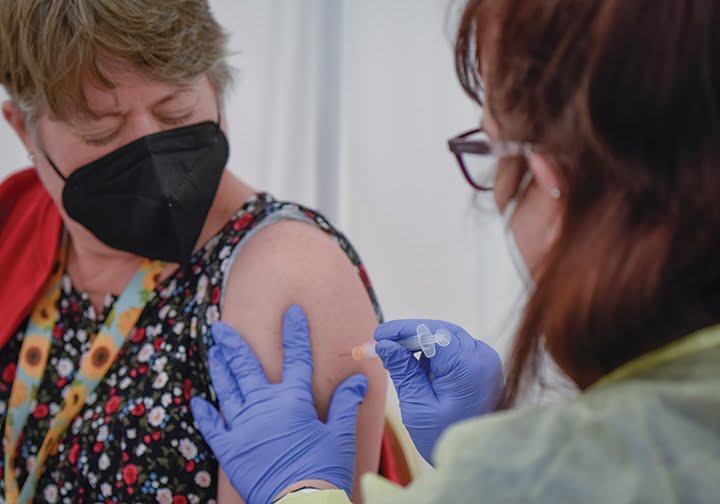 Janelle Hartegan, principal of Xavier Elementary School in Leavenworth, said Catholic Schools Week allows Catholic schools to celebrate their uniqueness.
"We talk a lot about the rich history and tradition of Catholic education and how we approach not just helping students develop for this life, but also that God calls us to something greater. . . . Catholic schools take the opportunity to keep the faith at the front of what we're doing and then everything else falls behind that," Hartegan said. "We want students to know that God has a purpose in their life and that's the most important thing we want to instill in children.
"Creating that awareness in the community is part of the mission of the Catholic school and just supporting the mission of the church and educating and evangelizing."
Dr. Ann Connor, principal of St. Paul School in Olathe, agreed.
"That's just who we are. We are so different than our public school counterparts," Connor said. "I think that's been obvious this year with being able to be in-person every day and being able to make those adjustments."
"We just need to celebrate who we are, and being Catholic is our primary focus," she added. "We're trying to get all of our kids to heaven."
Each school is also finding ways to help the community, too, with canned food drives, making toiletry bags in partnership with church food pantries, raising money for school families battling illness, having a teddy bear drive for Children's Mercy and more.
Those acts of service and the focus on the Catholic faith are what the principals said they hoped the students hold onto.
"I want them to know that our school is unique and that we are special . . . because we want to honor Our Lord and we want to value the time that we give to our faith every day," said Jodie Maddox, principal of St. Joseph School in Shawnee. "It's not just a class that we take. It's a way of life for us."
Kathy Rhodes, principal of Sacred Heart of Jesus School in Shawnee, said she hopes students learn the blessing of having faith in God's plan.
"We want them to prepare their minds for the future and souls for eternity. An education where we know that God has a plan for us and that we are happiest when we follow that plan is a blessing," Rhodes said. "[We know] that our prayers for each other make a difference and that we can always make a difference by praying."
"Celebrating our Catholic school should bring pride, joy and a spirit of appreciation," she added.
Randy Smith, principal of Holy Name of Jesus School in Kansas City, Kansas, said he hopes the students learn two things from the week.
"I would hope that they would value and understand the great opportunity that they have to attend a Catholic school — an opportunity to pray in a school on a daily basis and an opportunity to get closer to Christ and live as a disciple," Smith said. "I would hope that they would continue to reexamine their own faith and see if there's things they would like to improve upon in their personal life, here at school or even outside the school setting."