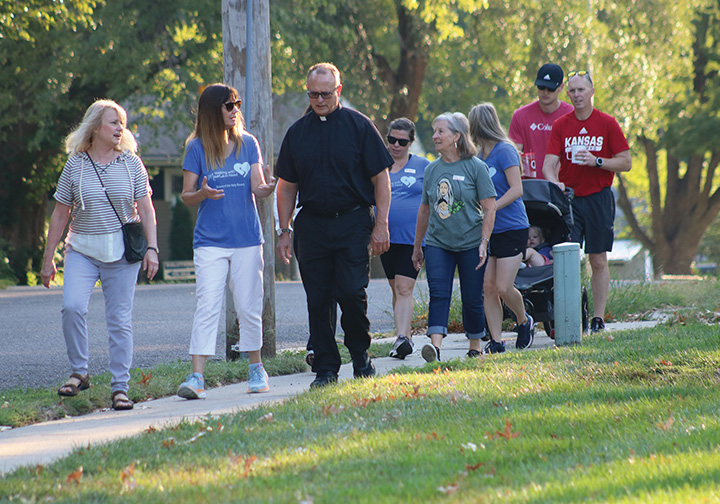 by Marc and Julie Anderson
mjanderson@theleaven.org
OVERLAND PARK — Some 40 walkers took to the streets here Sept. 30 in the first-ever Walking with Moms in Need (WWMIN) walk. Organizers hope the walk will become an annual event. The walk started on the grounds of Queen of the Holy Rosary Parish and went into the neighborhood with a dual purpose — that of educating the community about what the Catholic Church is doing to assist women facing unexpected pregnancies and to celebrate the pro-life ministries offered across the archdiocese at its parishes.
The idea for the walk came from Emma Heinen, a parishioner of Queen of the Holy Rosary. She found the WWMIN initiative to be quite a different approach.
"We want to do what people don't think people who are pro-life will do," she said. "Give them resources, gain community, etc.
"That really spoke to me."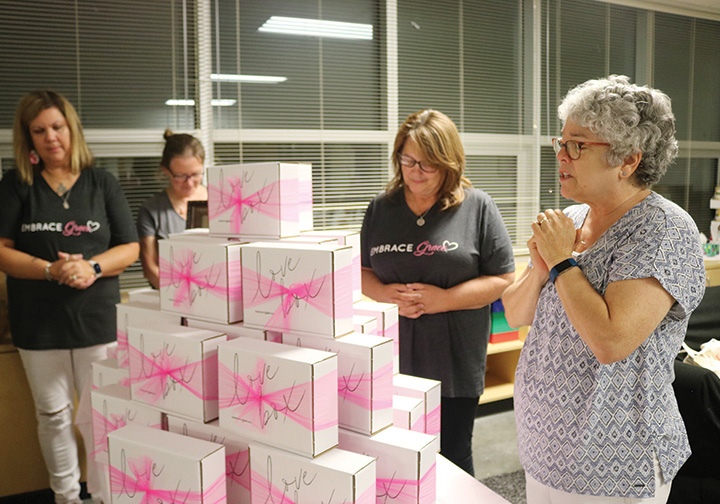 Many women don't know where to go and/or don't have the means to get to the resources. That's when Heinen suggested having a walk to show women "there are a lot of people out there who want to help you and who want you to be a mother."
In a November 2021 meeting of the U.S. Conference of Catholic Bishops, Archbishop Joseph F. Naumann put forth a challenge to his brother bishops: "The vision of WWMIN is that a pregnant or parenting mother in need can turn to any local Catholic parish and be connected with the life-affirming assistance and accompaniment that she needs."
It seems parish-based groups across the archdiocese are meeting that challenge.
Called to leave her comfort zone
Cindy Durbin is a case in point. A member of Sacred Heart of Jesus Parish in Emporia, Durbin said that after growing quite discouraged in June 2022 over the polling on the "Value Them Both" amendment, she was led by the Holy Spirit to leave her comfort zone.
"He led me to my parish office," she said. "I will never forget this. I just drove to the office, and I just felt like I had to talk to someone. I really had no idea what that meant or who I would express my concerns to."
That's when she met Shawn Gerleman, the parish's director of evangelization.
"Shawn said that he was just praying that morning for someone to come into his office and say the things I had just said."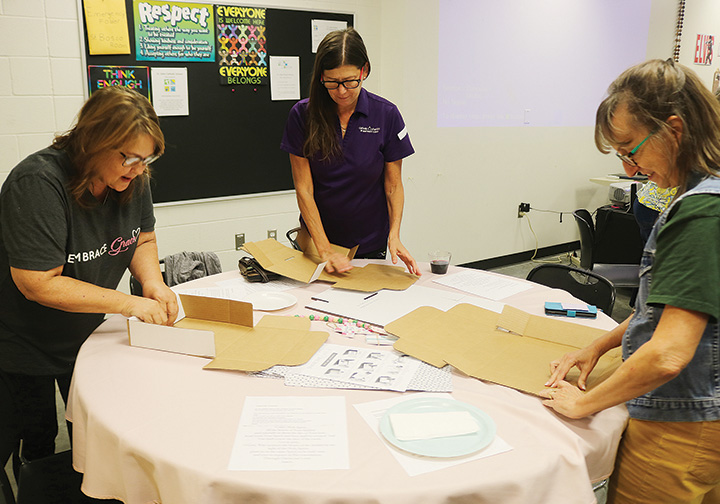 Gerleman encouraged Durbin to learn about WWMIN.
A retired teacher, Durbin took to the task, reading and taking notes on everything she found.
By August, Durbin had formed a regional core team with leaders from the three Emporia parishes of St. Catherine, Sacred Heart and the Didde Catholic Campus Center at Emporia State University. The group also includes representatives from St. Mary Parish in Hartford and St. Joseph Parish in Olpe.
The group's first event was called Donuts for Diapers. For every package of disposable diapers donated, Durbin and the team doled out donuts at the regional parishes. The diapers and wipes were then delivered to Shiloh Home of Hope for Heaven (www.shilohhomeofhope.org).
Now the WWMIN group meets monthly. One month, the group invited the director of Lyon County's public transportation who, Durbin said, was so impressed that he stayed the entire meeting, leaving behind a dozen passes for moms needing transportation.
"We just try to meet the local needs however we can," Durbin said.
And meeting the local needs is what another group is trying to do in the Kansas City area.
'A really big ask'
As a client advocate at Advice & Aid Pregnancy Center, Katie O'Hara, a member of Queen of the Holy Rosary Parish in Overland Park, said she saw a lot of assistance available for clients who decided to parent or place their children for adoption, but none connected to a parish.
"That's how you really form community is to be in a parish," she said. "So, that's what kind of spurred me to revisit the WWMIN that I had heard of in 2020.
"A lot of people when they are having trouble don't go to the church because they think they'll be judged. That's what we're really trying to break down. . . . Jesus is up on the cross because he wants us to come to him. . . . I want them to feel welcome to come back."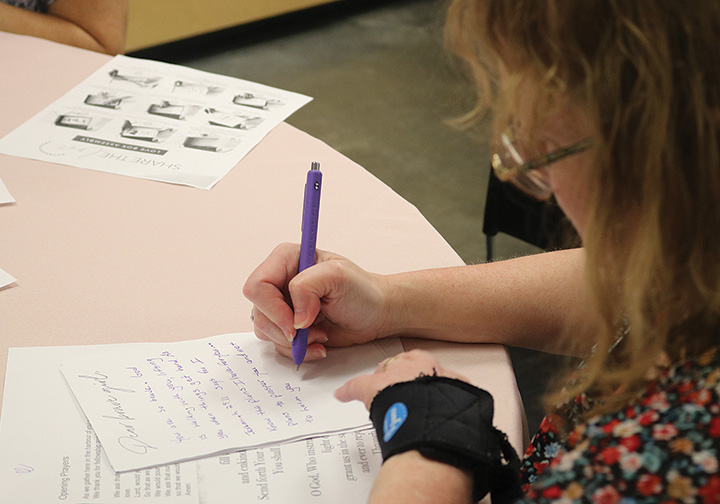 Initially, two dozen parishioners signed up after she placed an invitation in the bulletin, but that number keeps growing.
For example, about 40 to 50 people now take turns providing meals when families welcome a new baby.
Beth Guerra, a member of the parish's WWMIN group, said she personally found the meal train "very, very helpful" and noted many of the people providing meals have young families of their own.
"I was just kind of shocked and surprised that they were able to cook for me and for my family as well," she said. "So, yeah, I think it would be great to just echo: We know there are a lot of good cooks in this parish.
"For example I know, within my own family, when the kids left the house, my mom was trying to readjust and my dad, too. How do you cook for only two? Well, maybe go ahead and cook for six and bring that meal to a young couple learning how to take care of a newborn."
Another person who benefited from the parish's meal trains is Lyedi Guiterrez Alegria, an immigrant from Chappas, Mexico.
Having moved to the area in February as a result of her husband's work, she knew no one in the United States. Already expecting, she attempted to get care at an emergency room. Doctors wouldn't see her. So, she kept praying and researching services available to her.
Eventually, she found Advice & Aid Pregnancy Centers and was given an ultrasound there. That's where she met Susie Boster, a volunteer from Church of the Nativity in Leawood.
Guiterrez doesn't know how to drive, and she and her husband have just one car. So, she needed transportation to doctors' appointments.
"We looked for Spanish-speaking [individuals], but I couldn't find anyone. So, I drove, and we used Google Translate," Boster said.
Eventually, Boster found O'Hara who connected her with Arlette Romo, a member of Queen of the Holy Rosary's group. The two became instant friends, and the parish immediately welcomed Guiterrez, offering to throw her a baby shower.
"I was lucky enough to take her to the hospital when it was time. It was such a blessing," Boster said.
O'Hara, meanwhile, found a dresser for the baby and organized a meal train.
Speaking through Romo, Guiterrez said she's been grateful for the emotional support she's received from WWMIN. So are her parents and husband.
Of her parents, Guiterrez said, "They are thankful to God that there still exist people like that."
But the baby shower was just a start.
As a speech therapist at a public school, Abbie Hughes said when she visited a single mother and her three boys, she was saddened to learn how little the single mother and children had in terms of furniture, clothes and food.
So, she showed up at her very first WWMIN meeting in July with "a really big ask."
When members were discussing what project should follow the baby shower, she piped right up.
"Please help 'my' family next," Hughes said.
Within a week, Erin Hayes, another WWMIN group member, had created an online sign-up for a list of things the family needed. It included everything from food and clothes to shoes and furniture. Within the course of four weeks, nearly everything on the list had been given to the family.
O'Hara said she continues to be amazed by the graces God has showered upon the ministry.
And grace is what a new archdiocesan pro-life ministry is all about.
Embracing a new ministry of grace
About 18 months ago, Suzy Novotny, a member of St. John the Evangelist Parish in Lawrence, received some information about a program called Embrace Grace.
Founded in Texas in 2008 by Amy Ford and Salina Duffy, Embrace Grace, according to its website, "exists to help inspire and equip the church to love and encourage single and pregnant young women and their families."
The premise is simple: A single woman facing an unplanned pregnancy is given a love box. Each box includes a personal invitation to a church-based support group, a letter of hope and encouragement, a journal with writing prompts, a "Best Gift Ever" onesie and a book of testimonies. Each recipient is then invited to participate in a 12-week Bible study program, after which the parish throws the women a baby shower.
Novotny approached her pastor about initiating the program at St. John. Eventually, the pro-life office of the archdiocese also came on board and started rolling it out, first with St. John the Evangelist and Corpus Christi parishes in Lawrence and then across the archdiocese.
"There is no limit to where we are going to go with this message that says, 'If you know anybody that is single and pregnant and needs some love and support, we are doing this ministry at St. John's," said Novotny.
"It leads these girls to a 12-week Bible study that we'll do in hopes of sharing our faith with them and also leading to their own personal relationship with Jesus and a whole congregation and community of a faith family," she added.
For more information about the Walking with Moms in Need initiative, visit the website at: www.walkingwithmoms.com or call the archdiocesan pro-life office at (913) 647-0350.